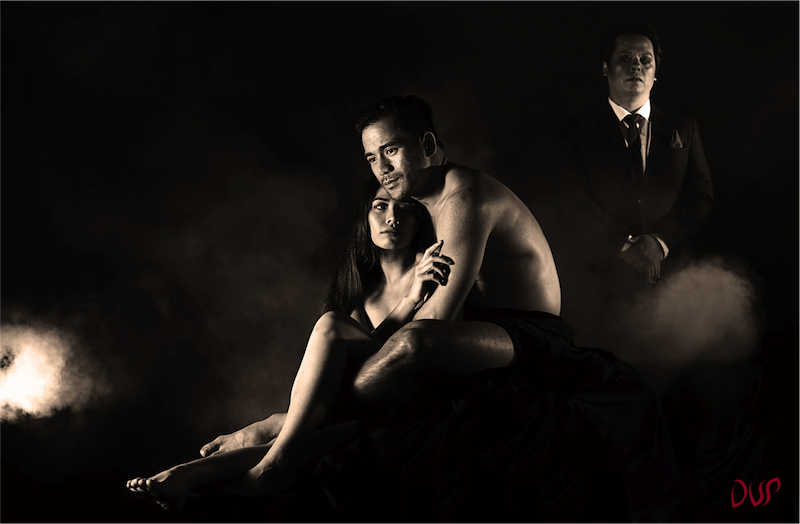 Dulaang UP Stages Rody Vera's Adaptation of 'Faust'
"Man errs, till he has ceased to strive" so sighs God in the prologue to Wolfgang von Goethe's romantic tragic masterpiece FAUST. Driven by a boundless desire for knowledge, Faust struggles to fathom "what holds the world together in its innermost self." Directors and theatre audiences around the world have been asking similar questions in their relentless pursuit to comprehend this masterwork.
On its 41st Theater Season, Dulaang UP brings you Rody Vera's adaptation of FAUST. The play opens in heaven where the devil, Mephisto, wagers with God that he can corrupt his most virtuous servant FAUST. What follows in the play is a series of events that questions our preconceived notions of justice, rationality, and morality.
Cast
Neil Sese and Jack Yabut alternate in the title role of Faust while Paolo O'Hara and Mailes Kanapi as Mephisto − a cultivated, witty and cynical servant from hell who is an embodiment of a complex doctrine of philosophical nihilism and negation as some scholars point out. Karen Gaerlan plays the innocent and pious Gretchen who is transformed into a tragic heroine as the play develops.
Artistic Team
FAUST is directed by José Estrella with an artistic team led by Sir Anril Tiatco, Jem Javier, and Bryan Viray (Dramaturgy), Barbie Tan-Tiongco (Lights), Carlo Pagunaling (Costume), Ed Lacson (Set), JM Cabling (Choreography), and Jon Lazam (Sounds).
As it problematizes the entanglement of religion, morality, and folk narratives, FAUST is Dulaang UP's participation in Salaysayan: K'wentong Bayan, Kaalamang Bayan (UP Diliman Month 2017) and National Arts Month in February.
Show Details
The play will open on 15 February 2017 (Wednesday), 7:00pm at the Wilfrido Ma. Guerrero Theatre, Palma Hall, UP Diliman. The performance dates are: February 15, 16, 17, 22, 23, 24, 28, March 1, 2, 3, 7:00pm and February 18, 19, 25, 26, March 4 and 5 10:00am and 3:00pm.
For further inquiries, please contact Arkel Mendoza, DUP's Marketing Manager, through 0917-967-3616.
For more details about what's happening in the Manila theater scene, please view our Theater Calendar.
Erratum: An earlier version of this article had a headline which said "Dulaang UP Stages Rody Vera's Faust." We have corrected it to reflect a more accurate description. We apologize for the error.
Comments