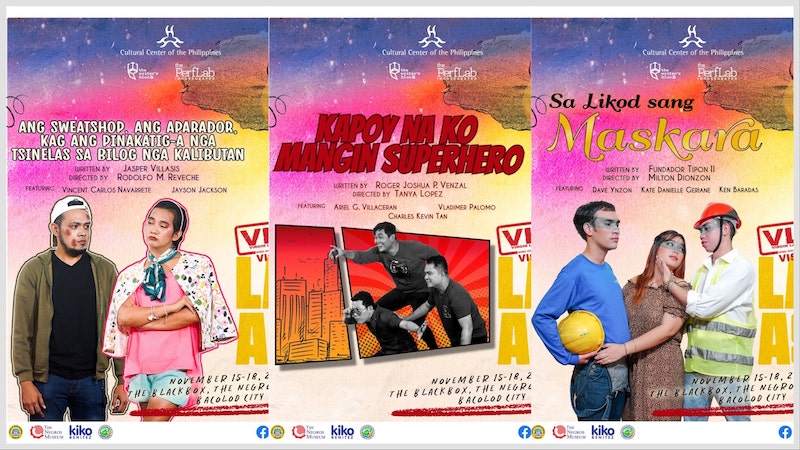 CCP's Virgin Labfest Premieres in the Visayas with 7 Hiligaynon Plays
The Cultural Center of the Philippines (CCP) and its partners is set to stage a regional edition of its annual theater festival of untried, untested, and unstaged plays in Bacolod City for the first time in 18 years.
The Virgin Labfest in the Visayas (VLF Lab-As) showcases seven one-act Hiligaynon plays. Six were chosen from a total of 18 original entries submitted during an open call in May 2023, and one is a revisited version of a work originally staged in Manila.
Following the theme "Lab-as," a Hiligaynon interpretation of "freshly-cut and freshly harvested" plays written by emerging and veteran Visayan playwrights, the theater festival organized in collaboration with Bacolod-based theater company The Performance Laboratory, Inc. (PerfLab) and Manila-based independent playwrights group The Writer's Bloc, Inc. runs from November 15 to 18, 2023, at The Negros Museum's Black Box Theater.
According to VLF Visayas festival director Tanya Lopez, "Visayas boasts a vibrant, diverse, and dynamic theater scene, and it's high time that we shine a spotlight on this integral part of our rapidly growing creative industries."
The four-day festival will commence and culminate with the revisited play "Ang Pag-ulianon ni Olivia Mendoza" by Negrense playwright Rolin Migyuel Obino, which originally premiered in Filipino in the 2019 VLF held at the CCP in Manila.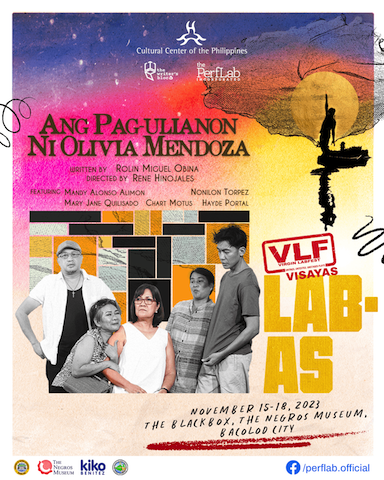 Ang Pag-ulianon ni Olivia Mendoza follows a 75-year old woman living in a home for the elderly, who keeps her dark past to herself in fear of losing the hard-fought relationship she has with the man she loves. When Alzheimer's disease suddenly reveals her deepest secrets, everything she holds dear falls apart, leaving a fractured memory she might never mend back again.
Directed by Rene Hinojales, it will be staged on November 15 at 2pm, and November 18 at 6:30pm.
The six original Hiligaynon plays are divided into three sets of back-to-back performances. You can find the full festival schedule below.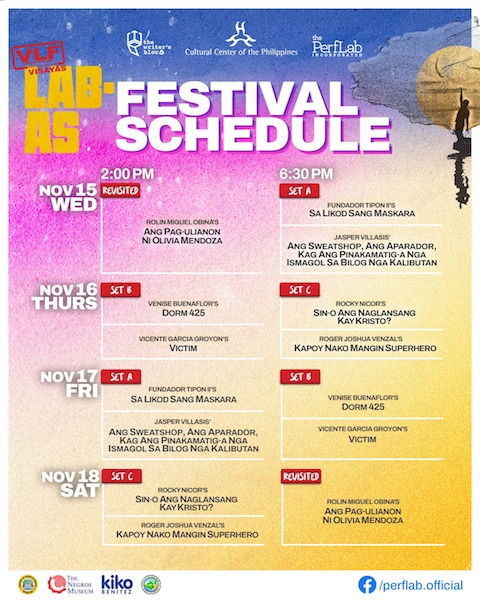 SET A (November 15, 6:30pm; November 17, 2pm)
1. Sa Likod Sang Maskara by Fundador Tipon II
Directed by Milton Dionzon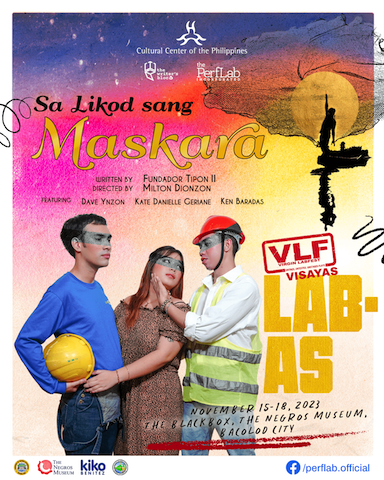 Sa Likod Sang Maskara shows what's behind a night of fun and frivolity in the annual Electric MassKara Festival in Bacolod. While two electrician friends, Taguy and Atan, troubleshoot an electrical glitch in a giant mask decoration at a hotel's fifty-feet-above-the-ground hanging scaffolds, comic tension arises when Taguy's fiancée, Sonia, surprisingly joins them; thereby, leaving the three to mask and unmask their relationships and conditions in life amid the frolic festivity.
2. Ang Sweatshop, Ang Aparador, kag ang Pinakatig-a nga Ismagol sa Bilog nga Kalibutan by Jasper Villasis
Directed by Rodolfo Reveche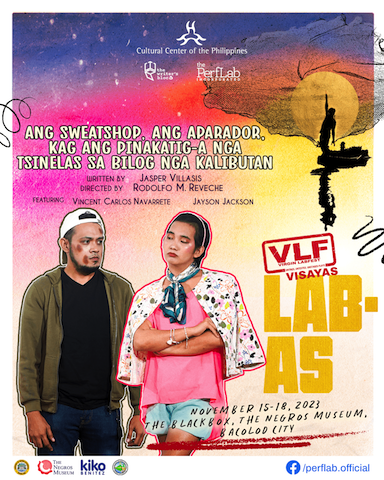 Ang Sweatshop, Ang Aparador, kag ang Pinakatig-a nga Ismagol sa Bilog nga Kalibutan is about a slave-worker turned unionist and his parlorista lover. The couple reunites and indulges in the retrospection of the events that happened before, during, and after the slipper factory where the slave-worker worked at burned down. At the height of the recollection, they divulge a never-to-be forgotten encounter with the police that only fueled their love and resistance.
SET B (November 16, 2pm; November 17, 6:30pm)
1. Dorm 425 by Venise Buenaflor
Directed by Mai Montelibano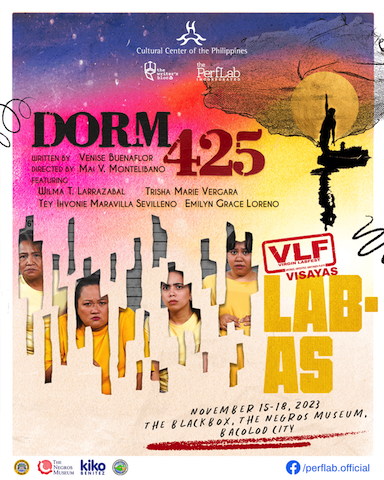 Dorm 425 revolves around the story of four women inmates residing in one prison cell of a local correctional facility. What was deemed an exciting day for Mamu who looks forward to her long-awaited parole has turned into a series of unexpected exposition of personal dilemmas and external struggles. This heightened when an unexpected incident further forced the other members to reveal and admit their respective challenges as women inmates and reveal in different forms, the battles and desires they face with motherhood.
2. Victim by Vicente Garcia Groyon
Directed by Jade Snow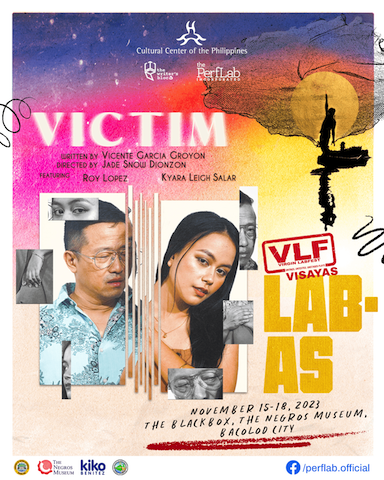 Victim is about a young woman and an older man who meet in a public place. Their conversation starts awkwardly and quickly turns into an investigation and a negotiation. What exactly happened between them? Is there any cause for concern? Should higher authorities be involved? Victim explores the broad gray area between yes and no as the characters try to pin down the point when a consensual encounter tips turns into sexual abuse.
SET C (November 16, 6:30pm; November 18, 2pm)
1. Sin-o Naglansang Kay Kristo by Rocky Nicor
Directed by Alejandro "Bundo" Deoma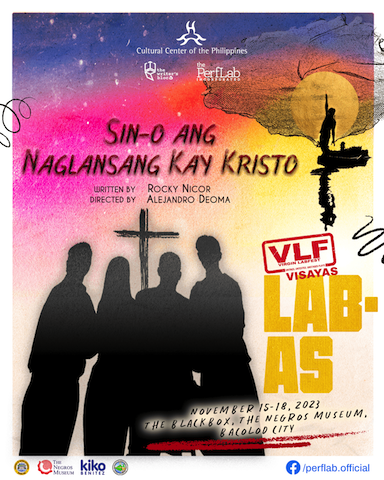 In Sin-o Naglansang Kay Kristo, a slate of Barangay officials is organizing a performance of "Taltal" just before the upcoming barangay elections as part of the Holy Week celebration.
2. Kapoy Nako Mangin Superhero by Roger Joshua Venzal
Directed by Tanya Lopez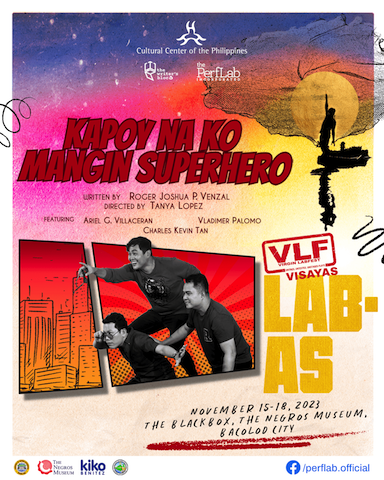 Kapoy Nako Mangin Superhero follows three extraordinary individuals with superhuman abilities who find themselves entangled in a secret organization dedicated to maintaining peace in the city. However, as they confront the never-ending challenges of their heroic roles, one of them begins to question the worthiness of their sacrifices.
"We are incredibly fortunate that Bacolod City has been chosen to host the first Visayan edition of Virgin Labfest," added Lopez.
Local organizers are planning a restaging of VLF Lab-as between December 2023 and March 2024 at the Gallaga Theater at the University of St. La Salle Bacolod to accommodate a larger audience. The venue is currently undergoing renovation and should be re-launched within the year.
Produced by the CCP, in partnership with its resident theater company Tanghalang Pilipino and the playwright group Writer's Bloc Inc., VLF is an annual theater festival that is dedicated to provide a venue for new works by aspiring playwrights.
More information about VLF Visayas is available at PerfLab's Facebook page at www.facebook.com/perflab.official.
Comments