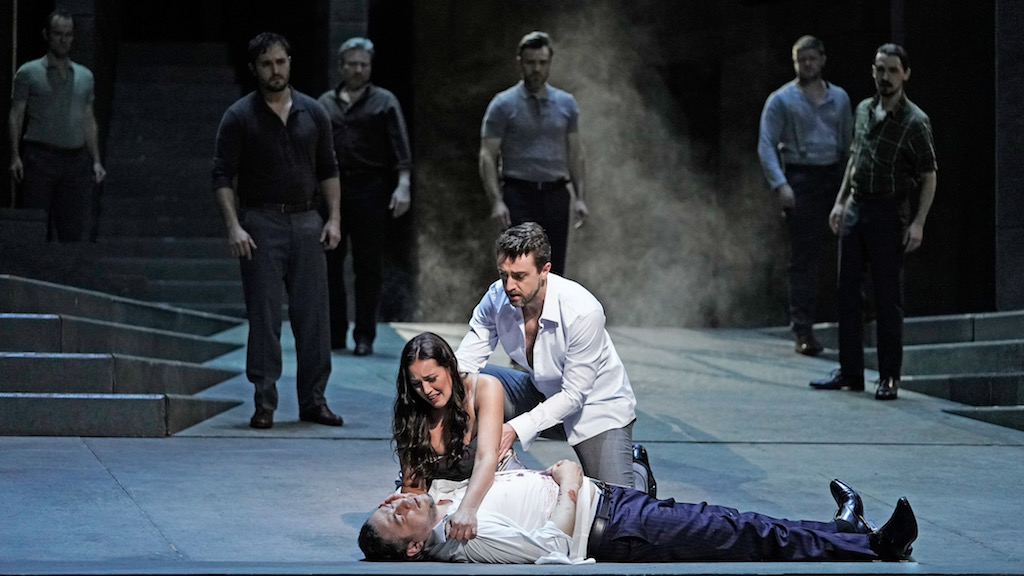 CCP's 'The Met: Live in HD' Returns with Mozart, 'Hansel & Gretel', and more
Now on its 8th season, the CCP's The Met: Live in HD returns with 6 operas — 3 from Mozart, 1 from Shakespeare, a well-known childhood fairytale by Engelbert Humperdinck, and an opera favorite.
One opera per month will be screened from July to December at 5:30 p.m. at Cinema 1 Greenbelt 3 in Makati City. Tickets are priced at PHP450.00, and PHP100.00 for students and young professionals upon presentation of valid ID. Tickets are available at Greenbelt ticket booths and the website sureseats.com.
The season opens with one of Wolfgang Amadeus Mozart's Die Zauberflöte on July 11. For this Met opera version, English director Simon McBurney took a more modern approach to the classic adventure of Prince Tamino and Papageno to find Pamina, the daughter of the Queen of the Night.
In his Met-debut staging, McBurney lets loose a volley of theatrical flourishes, incorporating projections, sound effects, and acrobatics to match the spectacle and drama of Mozart's fable.
Receiving its first new Met staging in 19 years, the cast includes soprano Erin Morley as Pamina, tenor Lawrence Brownlee as Tamino, baritone Thomas Oliemans in his Met debut as Papageno, soprano Kathryn Lewek as the Queen of the Night, and bass Stephen Milling as Sarastro.
Nathalie Stutzmann conducts the Met Orchestra, with the pit raised to make the musicians visible to the audience and allow interaction with the cast.
Another Mozart work, Don Giovanni, follows on August 1. This opera is a dramatic retelling of the story of Don Juan, a lustful womanizer who finds his desires to be the cause of his destruction by the end of the day.
Tony Award–winning director Ivo van Hove made his Met debut with a new take on Mozart's tragicomedy, re-setting the familiar tale of deceit and damnation in an abstract architectural landscape and shining a light into the dark corners of the story and its characters.
Maestro Nathalie Stutzmann made her Met debut in this opera staging, conducting a cast led by baritone Peter Mattei as Don Giovanni, alongside the Leporello of bass-baritone Adam Plachetka. Sopranos Federica Lombardi, Ana María Martínez, and Ying Fang play Giovanni's conquests and tenor Ben Bliss is Don Ottavio.
Giuseppe Verdi's glorious Shakespearean comedy, Falstaff, will be screened on September 5. In this Robert Carsen's staging, baritone Michael Volle sang his first Verdi role at the Met as the caddish knight Falstaff, gleefully tormented by a trio of clever women who delivered his comeuppance. Reuniting after their production's 2019 run are soprano Ailyn Pérez as Alice Ford, mezzo-soprano Jennifer Johnson Cano as Meg Page, and contralto Marie-Nicole Lemieux as Mistress Quickly. Soprano Hera Hyesang Park and tenor Bogdan Volkov are the young couples Nannetta and Fenton, and Maestro Daniele Rustioni conducts.
Come October 3, opera fans can watch Umberto Giordano's Fedora, which made a comeback after 25 years for Met Opera's season 2022-23. The cast is led by soprano Sonya Yoncheva, who takes the titular role of the 19th-century Russian princess who falls in love with her fiancé's murderer, Count Loris, sung by star tenor Piotr Beczała. Completing the cast are Rosa Feola as Olga, Piotr Beczala as Loris Ipanoff, and Lucas Meachem as De Siriex.
Director David McVicar delivers a staging based around a fixed set that, like a Russian nesting doll, unfolds to reveal the opera's three distinctive settings—a palace in St. Petersburg, a fashionable Parisian salon, and a picturesque villa in the Swiss Alps.
Engelbert Humperdinck's Hansel and Gretel is coming to the Ayala Cinema on November 7. A  dark take on the beloved Brothers Grimm fairy tale, this opera stars Alice Coote and Christine Schäfer as the famous siblings lost in the woods who battle the ravenous Witch, portrayed by tenor Philip Langridge. The Met Orchestra, under the baton of Vladimir Jurowski, performed a folk-inspired score.
The season ends with Mozart's Cosi Fan Tutte on December 5. Part of the Met's popular English-language holiday series, this opera is a twisted tale about two pairs of lovers who find themselves on one emotional, and sometimes literal, thrill ride after another.
The production features a cast of breakout young artists – soprano Amanda Majeski, mezzo-soprano Serena Malfi, tenor Ben Bliss, and bass-baritone Adam Plachetka. Baritone Christopher Maltman, as the scheming Don Alfonso, and Tony Award–winning actress Kelli O'Hara, who made her 2014 Met debut in Lehár's The Merry Widow. David Robertson conducts Mozart's colorful and heartfelt score.
Director Phelim McDermott and his team of designers have updated the opera's setting to a boardwalk amusement park inspired by Coney Island in the 1950s.
CCP's The MET: Live in HD is a special program of the CCP Film, Broadcast, and New Media Division (CCP FBNMD), under the Production and Exhibition Department, in partnership with The Metropolitan Opera of New York, the Filipinas Opera Society Foundation, Inc., and Ayala Malls Cinemas. The series showcases operatic productions through the High-Definition (HD) digital video technology and Dolby Sound, recreating the experience of watching an opera production at the Met "live."
Comments