Broadway Open Mic Comes Back with "Thoroughly Modern"
The title of the tenth installment of Sixteen Bars' Broadway Open Mic series, "Thoroughly Modern," — a tribute to the 2002 Tony Award Winner for Best Musical — simply and succinctly captures the evening's theme: 21st century musicals. For this Broadway Open Mic, attendees are invited to take the stage to perform selections from shows that were first performed in the new millennium — from the year 2000 onwards.
Musical theatre in the new millennium is rich in stories and songs that are tailored to the experiences of a new generation going through the unique magic of the art form. Familiar stories from the page (Wicked, Matilda, Fun Home, A Very Potter Musical) and screen (Waitress, Legally Blonde, Newsies) were given new lives on stage. Popular music took to the stage in jukebox musicals like Jersey Boys, Rock of Ages, and American Idiot. Alongside these familiar stories also came innovative new works like Hamilton, Dear Evan Hansen, Avenue Q, and Next to Normal, and In the Heights that, through their own ways, showcase just how varied and beautiful the spectrum of human experience is.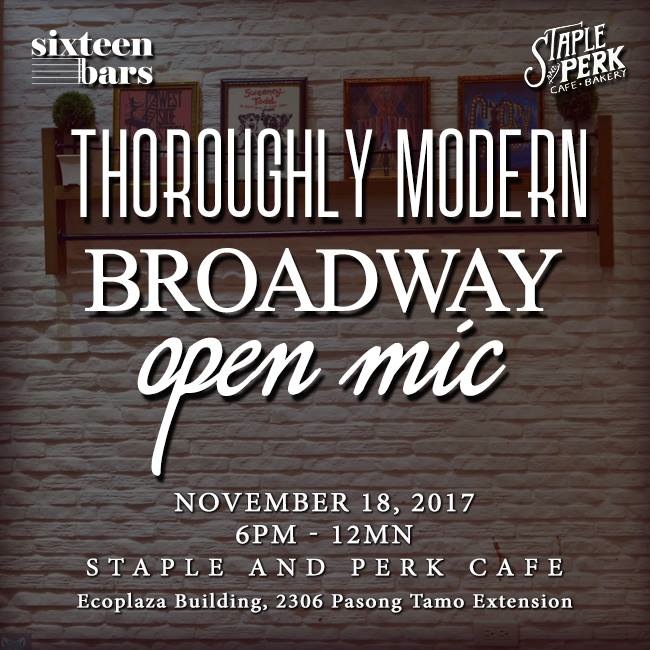 THOROUGHLY MODERN: Broadway Open Mic will be held on November 18, 2017, at Staple and Perk Café in Ecoplaza Building (2305 Chino Roces Ave., Makati City). Registration starts at 06:00 PM, and the event runs from 07:00 PM – 12:00 MN. Performance slots are first-come, first-served, and will only be reserved upon registration at the entrance.
Php 250 Door Price with a slot for a Song or Scene
Inclusive of Staple & Perk Café gift voucher.
Prepare music sheets.
For inquiries, contact 0917-315-0090 / 0915-502-1497
ABOUT SIXTEEN BARS
Sixteen Bars is a performing arts education company whose goal is to provide the needs of developing theatre practitioners in Metro Manila. Our services mainly consist of master classes, workshops and various other events geared towards artistic training and comprehensive education in music, acting, dance, and writing.
ABOUT STAPLE AND PERK CAFÉ
Staple and Perk Café started out as a commissary supplying breads and pastries to restaurants and hotels in Metro Manila. With the opening of its first 24-hour shop in Ecoplaza Building in Makati, Staple and Perk Café has been serving meals, coffee, breads and pastries to the people of Pasong Tamo Ext. Apart from being a café/bakery, Staple and Perk Café acts as a venue for various art performances and events.
For more details about what's happening in the Manila theater scene, please view our Theater Calendar.
Comments