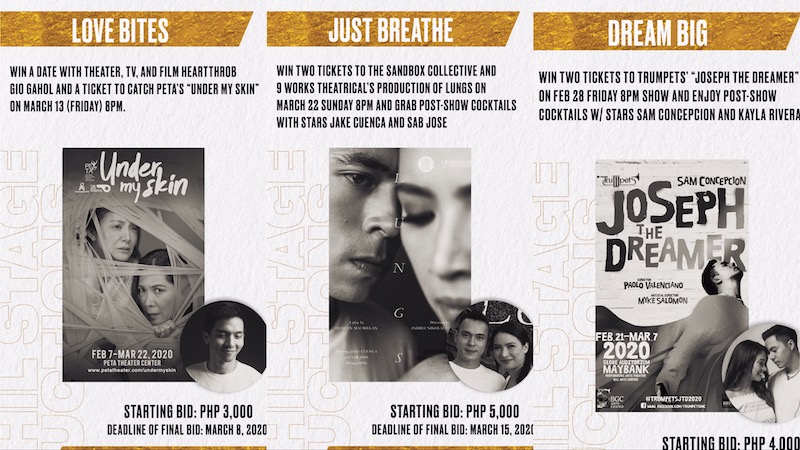 Bid on Theater Experiences with "Philstage Auctions!"
Get a chance to win priceless theater experiences with Philstage Auctions!
Philstage is an alliance of professional companies in the theatrical arts, founded in 1997. Members include 9 Works Theatrical/The Sandbox Collective, Actors Actors/The Necessary Theater, Ballet Manila, Black Box Productions, Culturtain Musicat Productions, Full House Theater Company, Gantimpala, PETA, Philippine Opera Company, Red Turnip Theater, Repertory Philippines, Stages, Tanghalang Pilipino, Trumpets, Twin Bill, and newest member, Upstart Productions.
The Philstage Auctions is a fundraiser for Philstage's 2020 programs and advocacies. Audiences may place their bids starting this weekend at the theater lobbies of the venues playing host to this season's Philstage productions. Participating venues include Onstage Theater, PETA Theater Center, Maybank Performing Arts Theater, Tanghalang Aurelio Tolentino (CCP), and Aliw Theater. Audiences may also place their bids online via the Philstage Facebook page.
Each auction item has a starting minimum bid, and a deadline for the final bid. Participants with the highest bidder will be notified immediately if their bid has been topped, for which they will be given the opportunity throughout the duration of the auction if they'd like to increase their bid.
AUCTION ITEMS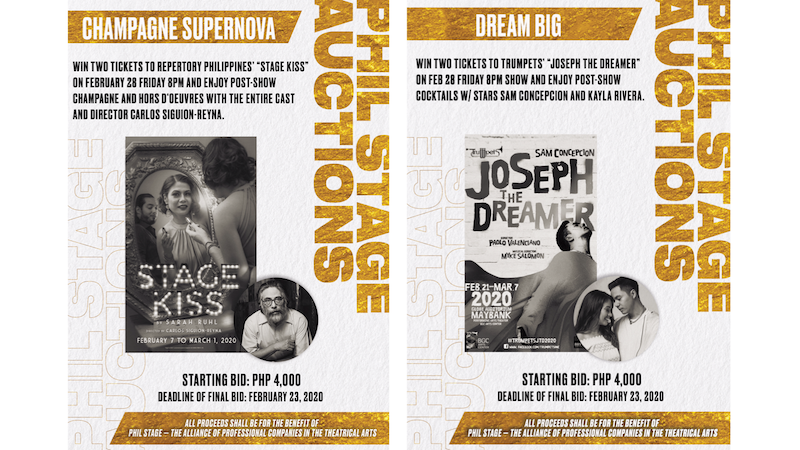 CHAMPAGNE SUPERNOVA:
Win two tickets to Repertory Philippines' "
Stage Kiss
" on February 28 Friday 8PM and enjoy post-show champagne and hors d'oeuvres with the entire cast and director Carlos Siguion-Reyna
Starting Bid: P4000
Deadline of Final Bid: February 23

DREAM BIG:
Win two tickets to Trumpets' "
Joseph the Dreamer
" on Feb 28 Friday 8pm show and enjoy post-show cocktails w/ stars Sam Concepcion and Kayla Rivera.
Starting Bid: P4000
Deadline of Final Bid: February 23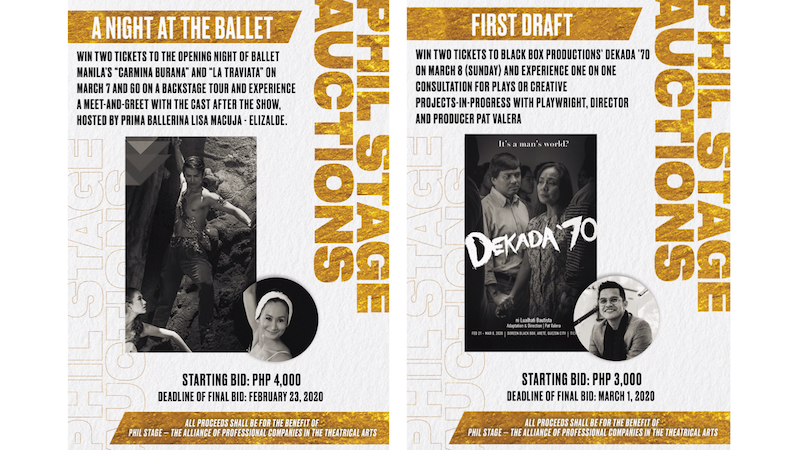 A NIGHT AT THE BALLET:
Win two tickets to the opening night of Ballet Manila's "Carmina Burana" and "La Traviata" on March 7 and go on a backstage tour and experience a meet-and-greet with the cast after the show, hosted by prima ballerina Lisa Macuja – Elizalde.
Starting Bid: P4000
Deadline of Final Bid: February 23
WORD ON THE STREET:
Win two tickets to Black Box Productions' "
Dekada '70
" on March 8 (Sunday) and experience a one on one consultation for plays and creative projects in progress with playwright, director, and producer Pat Valera
Starting Bid: P3000
Deadline of Final Bid: March 1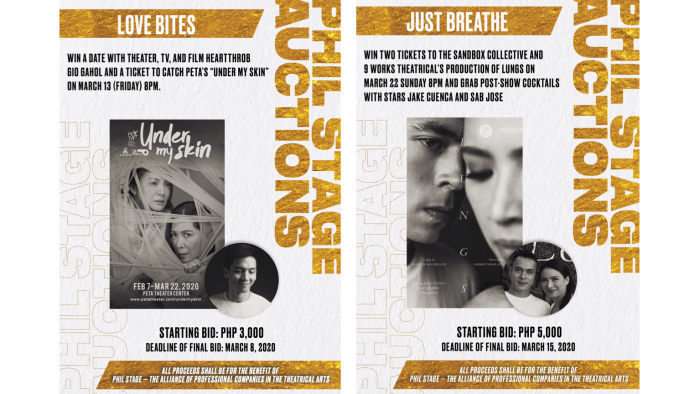 LOVE BITES:
Win a date with theater, TV, and film heartthrob Gio Gahol and a ticket to catch PETA's "Under My Skin" on March 13 (Friday) 8pm.
Starting Bid: P3000
Deadline of Final Bid: March 8
JUST BREATHE:
Win two tickets to The Sandbox Collective and 9 Works Theatrical's production of "
Lungs
" on March 22 Sunday 8pm and grab post-show cocktails with stars Jake Cuenca and Sab Jose
Starting Bid: P5000
Deadline of Final Bid: March 15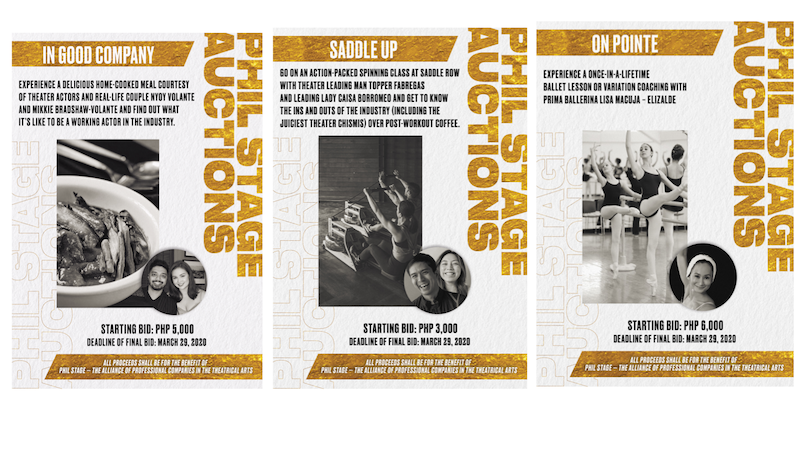 IN GOOD COMPANY:
Experience a delicious home-cooked meal courtesy of theater actors and real-life couple Nyoy Volante and Mikkie Bradshaw-Volante and find out what it's like to be a working actor in the industry.
Starting Bid: P5000
Deadline of Final Bid: March 29
SADDLE UP:
Go on an action-packed spinning class at Saddle Row with theater leading man Topper Fabregas and leading lady Caisa Borromeo and get to know the ins and outs of the industry (including the juiciest theater chismis) over post-workout coffee.
Starting Bid: P3000
Deadline of Final Bid: March 29
ON POINTE:
Experience a once-in-a-lifetime ballet lesson or variation coaching with prima ballerina Lisa Macuja-Elizalde
Starting Bid: P6000
Deadline of Final Bid: March 29
Comments