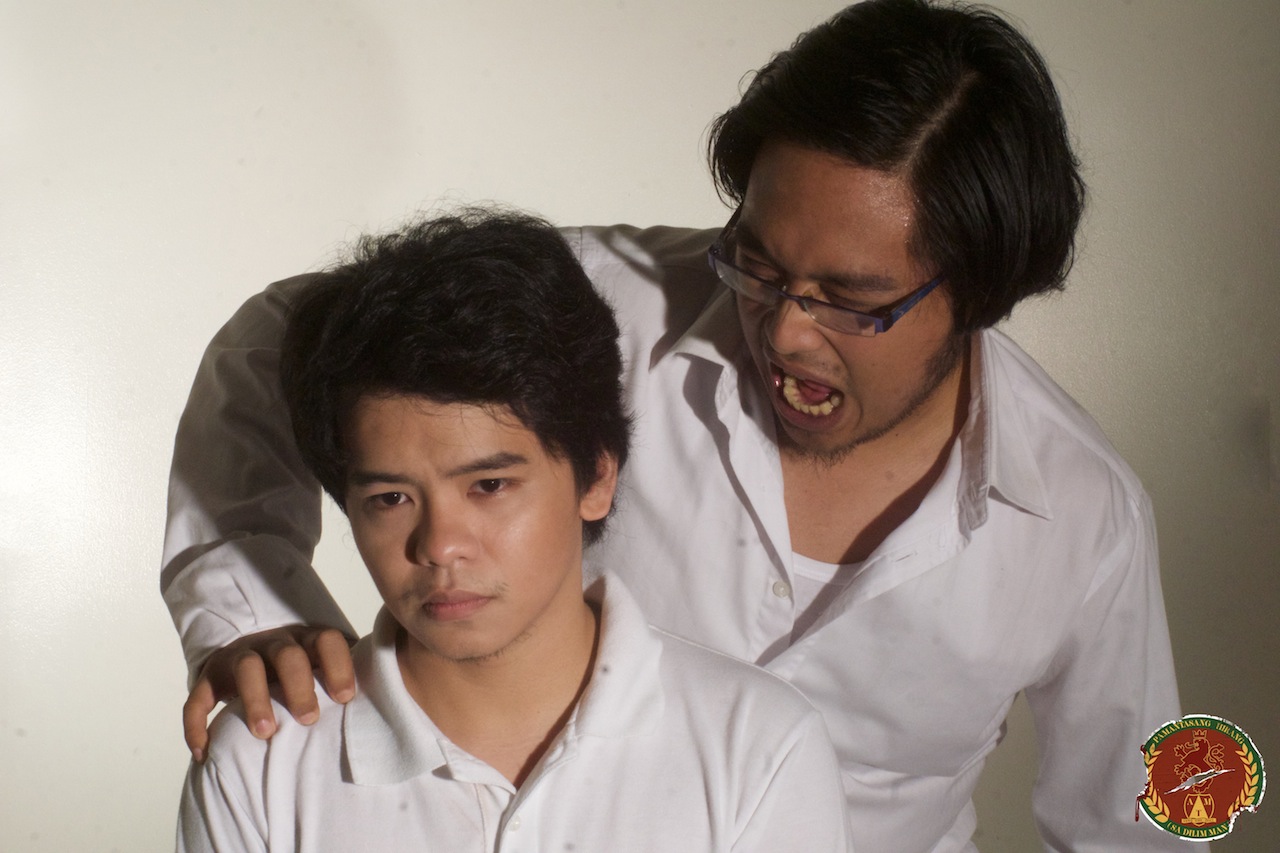 Benilde stages Tim Dacanay's Pamantasang Hirang (Sa Dilim Man)
The Arts Management Program of the De La Salle – College of Saint Benilde stages Pamantasang Hirang (Sa Dilim Man) written by Palanca Award-winning playwright Tim Dacanay this November 23 – 25, 2017 at the Benilde Black Box Theater under the direction of Tuxqs Rutaquio.
Pamantasang Hirang (Sa Dilim Man) first premiered at the Virgin Labfest 4 in 2008. It is a one-act play focusing on brotherhood and coercion as expressed in the narrative of a fictional fraternity at the state university. In an attempt to help his panicking roommate, Raji (Jerome Dawis/ Kyle Confesor), Dan (Tim Castillo) learns that an initiation rite is going to be conducted in their dorm room. This same fraternity was the one he had left 15 years ago. He later discovers that the frat alumnus regulating the activity was his college buddy and now congressman, Chok Villanueva (Theo Dacanay). Their reconnection reveal a dark history as the unfinished initiation of Dan into Alpha Mu Tau unfolds.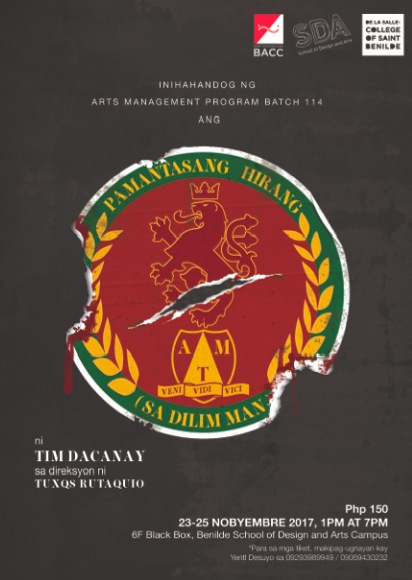 Tim Dacanay won the second prize at the Carlos Palanca Memorial Awards for Literature for the Teatro Porvenir Series in 2006.  A senior member of the Philippine Educational Theater Association (PETA), Dacanay's works have been staged by PETA, CCP Tanghalang Pilipino, Dulaang Unibersidad ng Pilipinas, Ateneo de Manila University Fine Arts Program, and Harlequin Theater Guild of De La Salle University. He is currently the chairperson of the Design Foundation Department at the De La Salle – College of Saint Benilde.
The play is produced as a requirement of the Arts Management Program Batch 114 for their Seminar on Arts Management class under the guidance of Eric Dela Cruz.
The Arts Management Degree Program trains its students in design and arts management techniques and technologies relevant to the needs of the arts industry today. Students are also being taught about cultural programming and its resources. The program also covers basic proficiencies such as art history, theory, and criticism.
It opens at the 6th floor Black Box Benilde School of Design and Arts Campus on November 23, 2017 (Thursday), and runs until November 25, 2017 (Saturday). Showtimes are at 1:00 PM and 7:00 PM. Tickets are priced at Php 150.00 and can be purchased by the visiting our ticket booth at the 9th floor elevator lobby of the School of Design and Arts Building or by contacting Yentl Desuyo at 0929 398 9949/0906 943 0232.
For more details about what's happening in the Manila theater scene, please view our Theater Calendar.
Comments