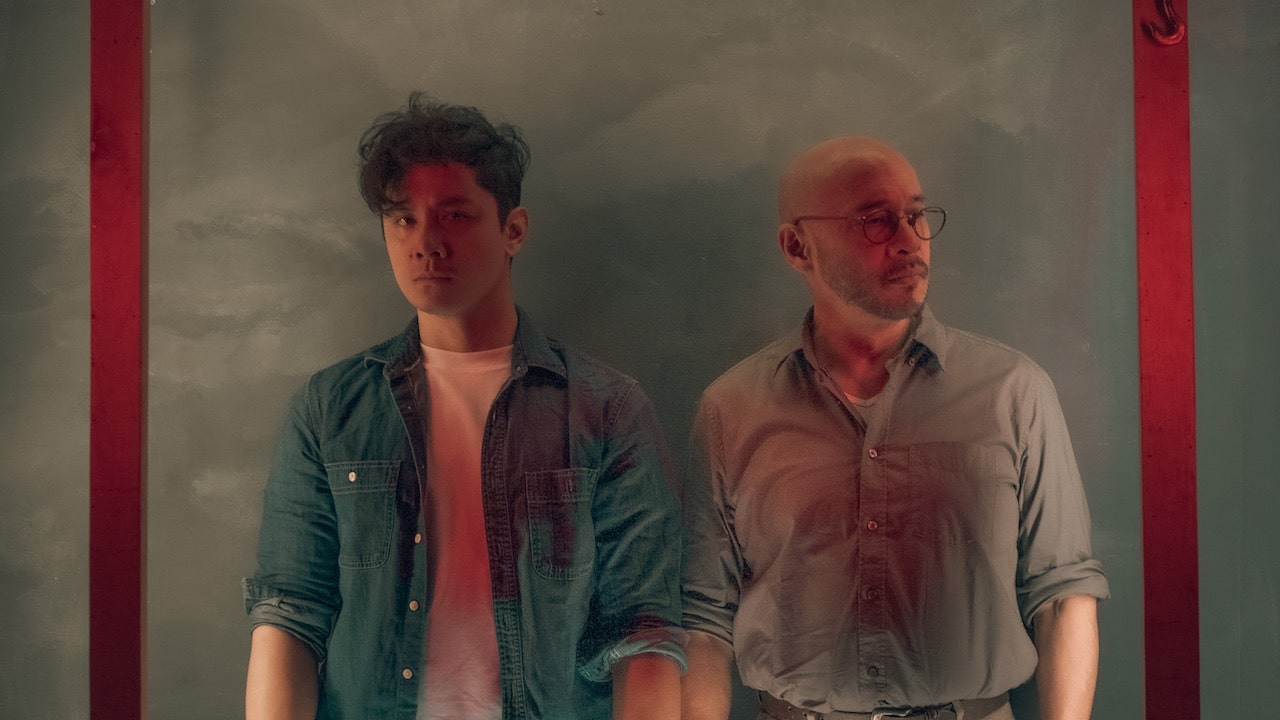 Bart Guingona and JC Santos Tackle 'Red' for a Contemporary Audience
The Necessary Theatre is returning to the stage with John Logan's Red, a play the company staged 10 years ago with Bart Guingona at the helm while playing lead character Mark Rothko opposite co-star Joaquin Valdes.
This time, Guingona is revisiting the two-hander with JC Santos as his co-star. When asked what it is about the material that keeps drawing Guingona back to it, he says that after 10 years since doing the show, he realized that there was so much about the first production that he missed out on. "I think I understand Rothko much better now and I think I can defend him better because in truth, he is not a very likable man," says Guingona. "I mean you can accuse him of intellectual snobbery, you can accuse him of so many things, but like someone who's uncompromising, he sacrificed being likable for sticking to his rhythm."
Set in the 1950's and based on a series of real events, Red follows artist Mark Rothko, who is at the height of his career. Viewed through the lens of his youthful new assistant Ken, audiences will get to witness Rothko at the pinnacle of his creativity, but struggling through the creation of a series of large paintings, commissioned as a series intended to be featured in New York's brand new Four Seasons Restaurant. As Ken and Rothko paint, they challenge each other to ask big questions about art: what it takes to create it and what its role should be in the world. 
Guingona says that it was actually Santos who encouraged him to revisit the play again. Santos said that he first came across the material in 2011 while working in Hong Kong Disneyland when his friend Faust Peneyra, also a theater artist, gave him the script. "I read it, and then I kept asking people to read it with me because I was obsessed with the material," he says. "And then they were doing it in the Philippines, sabi ko, 'Nakakainggit naman. I wanna do that'. Tapos ngayon lang ako nagka-opportunity."

"I miss the whole two-hander play. It's exhilarating. Challenging. (…) Nami-miss ko iyung napapaisip ko ulit iyung audience. Gusto ko lang ulit mang-disturb ng tao. (…) Let's appreciate artwork again in general."  
What can audiences take away from the show? Guingona says that in an age where smart shaming is a thing, Rothko actually wore his erudition like a badge of honor. "And you could hate him for it because he was exacting. And I'm thinking, 'Oh you know what? That's so relevant for today.' I think we should start getting attracted again to intellectual expansion rather than populism." 
"A recurring line in the play is, 'What do you see?' Ngayon, si Rothko was so uncompromising, that he believed you should sit in front of his art for hours and contemplate on it for it to actually work. In other words, the viewer has to work as hard as the painter. This is a reminder in a time where we swipe after 10 seconds that sometimes the best things require time and commitment. You need to sit in front of it and let it swallow you up. Pulsate around you." 
He adds, "I think that Rothko is such a titanic presence, but by the end, we hope that [the audience] will be electrified by the sheer force of his personality and the sheer weight of his philosophical underpinnings. I guarantee you that it will be an hour and 15 minutes of edge of your seat interaction between two men. It's pretty intense."

For Santos, he thinks that this could be a reminder of how it is to be an artist again especially for those who were hit hard by the pandemic. "Gusto ko lang ulit mangsindi ng fire inside, [and serve] as a little inspiration to the kids nowadays kasi marami kaming nakilalang Rothko nung panahon namin eh. They became our mentors, and they became our fathers, so it's just a reminder, kahit isa lang maremind namin at mainspire ulit, then that would be great.

In terms of production design, assistant director and production designer Mark Dalacat says that this is going to be a fuller production compared to the previous staging. "We'll see much more of the world than before. It was very bare back when they first did it, and I think that was appropriate for the time. For now, we really wanted to bring the world to life, the artist studio to life, so you'll get to see that it's a working studio on stage."
The show will run from June 9 to 18 at the PETA Theater Center. Tickets are available on Ticket2Me. You can watch an excerpt of Red performed by Bart Guingona and JC Santos in the video below.
Comments