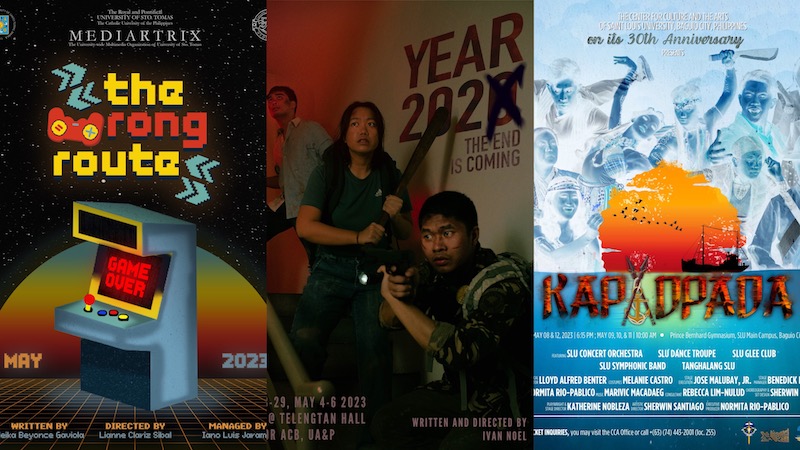 4 University-based Productions this May 2023
There are 4 university-based productions, 3 live and 1 online, that you can watch this May. From Pasig to Baguio City, here are the shows in chronological order.
1. Year 202X by UA&P ViARE
Directed and written by Ivan Noel, UA&P ViARE's 
Year 202X
explores what could have happened if the COVID-19 pandemic was the end of the world. What if we didn't lockdown on time? What if we didn't mask up when told? What if we ignored all the warnings?
Year 202X provides a new perspective on the Covid-19 pandemic, following a trio of survivors as they grapple with the fact that they might be the last humans left alive, fighting through the worst of the apocalypse, and themselves. The play stars Anne Lamug, Nissi Serrano, Matty Puno, Jam Elloso, Jose Gertes, Javier Coromina, and Alyanna Dalisay, along with ViARE's Ensemble directed by Jamie Alabin, and consisting of Ja Berones, Franco Cariño, Mahana Del Castillo, Abram Erna, Eisen Gagalang, Kadienne Lautengco, Jherly Montes, Chris Paculaba, and Mariella Suemith.
Year 202X runs from May 4-6 at Telengtan Hall, 5th Floor ACB, University of Asia & the Pacific. You can book tickets here.
2. Kapadpada by Saint Louis University (SLU) Center for Culture and the Arts, Baguio City
The SLU Center for Culture and the Arts is celebrating its 30th anniversary with Kapadpada, a musical dance drama
that draws inspiration from a historical narrative highlighting the emergence of unfavorable stereotypes about the Igorots and other indigenous Filipino communities. Despite enduring immense hardship, these groups displayed remarkable resilience and dignity. The narrative strives to deepen the understanding of the "Human Zoo" phenomenon that occurred during the 1904 St. Louis, Missouri exposition and offers audiences a poignant exploration of how racism can perpetuate cultural misunderstandings and injustice for all.
The show will run on May 8 (6pm), 9-11 (10am), and 12 (6pm) at the SLU Prince Bernhard Gymnasium. You can register for tickets here.
3. Back-to-Back-to-Back To Iskul: A Twinbill Theater Production by UE Drama Company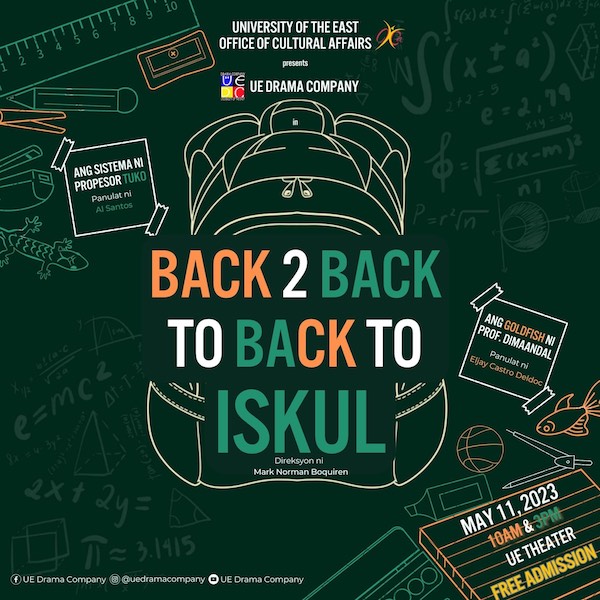 The production is a staging of two one-act plays– Eljay Castro Deldoc's Ang Goldfish ni Prof. Dimaandal' and Al Santos' Ang Sistema ni Propesor Tuko. The students are hoping that mounting plays about school or school life will help them reflect more on the things that have stayed the same or things that have changed since the covid-19 pandemic.
The show will be staged at UE Theater, UE Manila on MAY 11, 2023 at 10 a.m. and 3 p.m. It is free for UE students and outsiders. For show access, contact production manager John Vicente Sarmiento at 0909-0887797.
4. The Wrong Route by UST's Mediartrix (Online Production)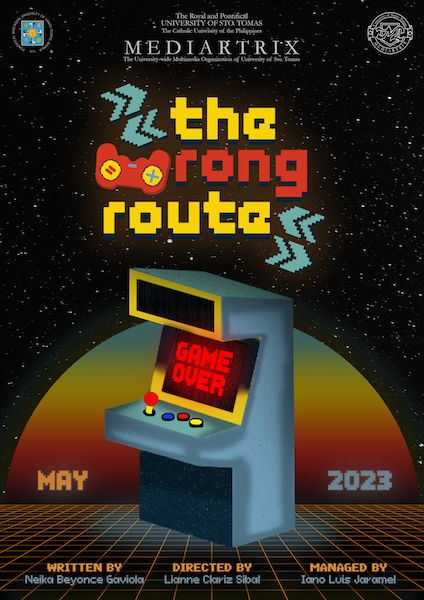 UST's Mediartrix will be streaming a musical film entitled The Wrong Route from May 26-27 via YouTube.
As Charlie navigates through life under the challenge of an extreme level, things take an unexpected turn when a game pops up — warping the virtual world into reality as we know it. Charlie's got one life to live, but this game grants them a bonus of multiple lives to play in the
midst of their journey. With the routes to the past and future uncertain, will Charlie be able to restart once more and accomplish their quest in this game called life?
The Wrong Route is managed by Iano Luis Jaramel, written by Neika Beyonce Gaviola, and directed by Lianne Clariz Sibal. To watch the upcoming production, you can register here. Once registered, an e-ticket will be sent to your respective emails as well as the link to access the show.
Update, 5/22/23: An earlier version of this article stated that the UST Mediartrix production would be streaming from May 18-19. It has since been moved to May 26-27.
Comments