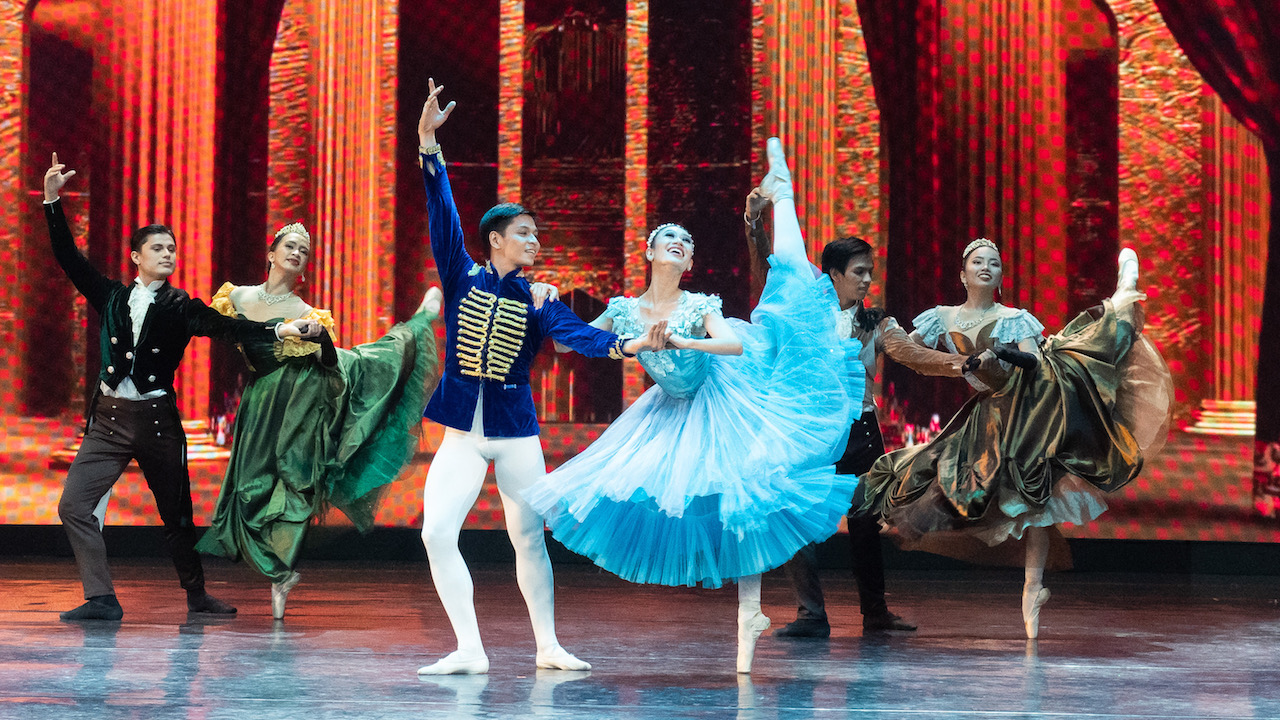 Ballet Manila Unveils its 25th Performance Season
Because of the devastating fire that wreaked havoc in their theaters in 2019, along with the overwhelming effects of the COVID-19 pandemic to live performances, Ballet Manila has had to make a lot of adjustments. 
The lockdowns delayed the company's plans for repair and renovation, but since all live productions had to be put on hold, they had the time to rest, recover, rebuild, and rethink their future. "Now, we are back," says Ballet Manila CEO and Artistic Director.  "Yes, smaller. We are back with a smaller company, and with people we built the company with no longer able to join us, with one less theater as Star Theater burned down beyond restoration. Only 1 remains, but a better one. In [the newly renovated Aliw Theater], we start a new journey and a new vision."
The company used to have 50-60 dancers (with 32 strong corps de ballet girls), which gave them the ability to do full-length classical ballets. Now, they have been reduced to 20 dancers, making them currently unable to perform the classics.
Macuja-Elizalde says, "We cannot do a Swan Lake, we cannot do a Giselle, but we can do Romeo and Juliet next season, we are doing Cinderella, we are doing Don Quixote, we are combining our efforts with the Lisa Macuja School of Ballet to enter into the stage and to work with our more advanced students and our children in the school to put up the classical ballet productions."
"There are many changes, many challenges that we are facing, but I feel that the phoenix is rising and as I said, leaner, meaner, better, and ready to adapt to any kind of change that the wind shall bring." she continues. These changes also include the exit of co-artistic director, Osias Barroso due to health problems.
Before the start of the 25th performance season in February 2023, the company will have two special shows this year. First is a twin-bill entitled Rise!, featuring La Traviata and Ballet & Ballads. La Traviata, previously mounted as a twin-bill with Carmina Burana, was the last ballet that the company performed before the 2020 lockdown. 
The upcoming twin-bill will be a special event meant to mark the return of Ballet Manila to full live performances in its home venue, Aliw Theater. It is also meant to showcase the full capabilities of the newly renovated venue. The show will feature classical ballet, live opera singers, pop singers, and a full orchestra. Gerard Salonga will be the musical director and conductor, featuring a performance by baritone Andrew Fernando. The show will be staged on October 7, 8pm and October 9, 5pm.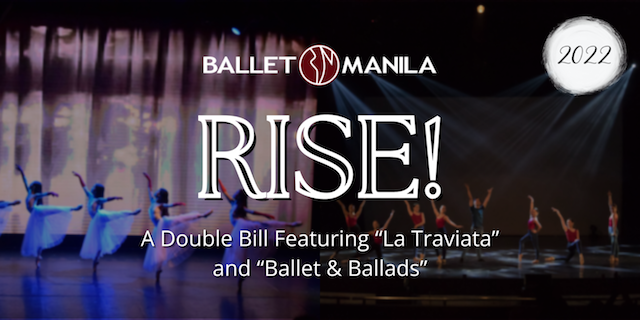 The second special production is a rerun of Lisa Macuja-Elizalde's Cinderella, which will be the company's holiday offering for the year. It will be staged from December 25-30, 4pm at the Aliw Theater.
And finally, the company's 25th Season will comprise 3 productions. The first one is Martin Lawrance's Romeo & Juliet, a new take on the classic love story that asks the question, "What if Romeo and Juliet had cellphones?" 
When asked what made her decide to make this the first production of the new performance season, Macuja-Elizalde says, "It was basically a continuation of a project that we had, which was called Tuloy ang Sayawan, which was 3 years ago in Star Theater. [Martin Lawrance] created a Romeo and Juliet using music from West Side Story and Sana'y Wala Nang Wakas, and so he began it with that Romeo and Juliet suite, which was so different from your regular Prokofiev Romeo and Juliet. So we wanted to build on that idea and I think Martin is the best person to build on that original idea of a new Romeo and Juliet for the company that is unusual. It is unexpected and we wanted to make it a full length ballet instead of just a suite." This production will run on February 18 and 19, 2023, 5pm.

The second production is a performance of Don Quixote, with guest artists from San Francisco Ballet, on May 27, 2023, 8pm and May 28, 2023, 5pm.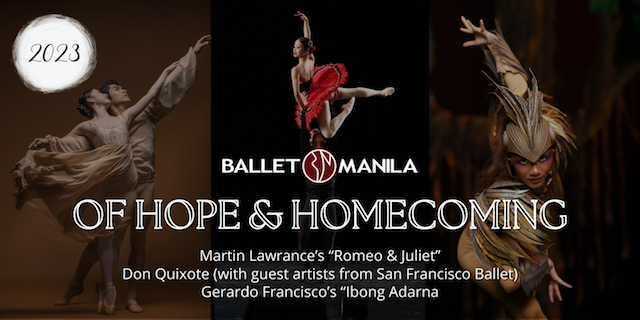 And the last production is a rerun of Gerard Francisco's Ibong Adarna, which will be staged on August 19 and 20, 2023, 5pm.
"Every time we finish a season, I always think to myself, how are we gonna top this?," shares Macuja-Elizalde. "Every time we finish a performance, it's like, everything needs to get better and better with every performance that we do. And after a performance drought of 2 years, going on video, making dance films, teaching ballet online, boy it's great to be back with a real live performance! There is nothing like live!"
Comments