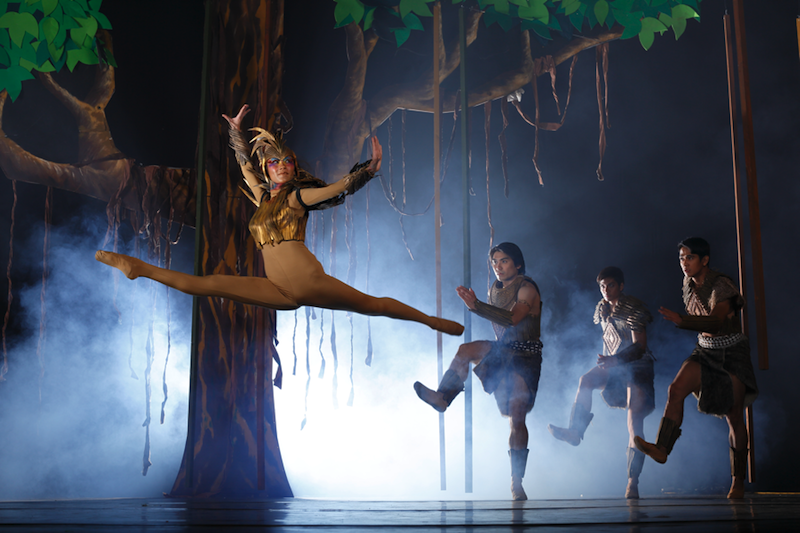 WATCH: Ballet Manila To Premiere Two All-Original Ballets With 22nd Performance Season
Manila's storytellers on toes are finally back with their newest performance season!
Ballet Manila further elevates the medium to unthinkable heights, as they gracefully take off with their 22nd Performance Season—Flights of Fantasy. Quite literally, this season soars with two 'bird' ballets, a much-loved fairytale and the latest installment of their widely-popular series Ballets & Ballads. All their fantastical storytelling and magnificent routines weave through everything the dance company has in store this season.
Two all-original ballets will premiere this season, brought to life by internationally award-winning dancers, musicians and costume and set designers, aimed to reinforce Ballet Manila as the bastion of excellence in classical dance in the Philippines.
"We understand that we need to up our game if we want to appeal to more people," Ballet Manila CEO and Artistic Director Lisa Macuja-Elizalde said when plans were made earlier last year for the 22nd Season. This is why Ballet Manila have continuously been widening their horizons, with last season's Rebel as a prime example, while staying true to their Vaganova roots and the Russian style of dancing they've always been known for.
Opening the 22nd Season is Ibong Adarna, first of two original ballets which will have their world premieres this year. Ibong Adarna is the tale of Don Juan and his search for the eponymous magical curative bird to aid in the recuperation of his ailing father. Drawing inspiration from Swan Lake and his previous works, especially Ballet Manila's 18th Season's Corvus, Gerardo Francisco brings the magical Kingdom of Berbanya to life with his breathtaking choreography.
Ballet Manila soloist Abigail Oliveiro will enchant audiences as she takes on the role of Ibong Adarna herself. It will feature music by Diwa de Leon, with Gia Macuja Atchison as the voice of Ibong Adarna. It will also showcase captivating set and costume design by Make It Happen Workshop, and script by Angela Blardony Ureta.
Ballet Manila's second offering this season is the timeless ballet warhorse, Tchaikovsky's Swan Lake — one of the world's most loved classical romantic ballets. Set to live accompaniment by the ABS-CBN Philharmonic Orchestra under Maestro Alexander Vikulov of Russia's Marinsky Theater, it will feature the original Lev Ivanov choreography for the white acts. A brand-new set design by Miguel Faustmann and similarly brand-new costumes by Michael Miguel will grace the stage come October.
"Ballet Manila has always been known as a company that strictly adheres to the Vaganova technique and Russian style of dancing. That's something that we've always stressed out by staging classical ballets that highlight our technique's strength," said Macuja-Elizalde. Swan Lake will be testament to their commitment to have at least one classical ballet in their repertoire every performance season.
Following Swan Lake is the second original ballet this season, Lisa Macuja-Elizalde's second full-length choreography work after last season's Cinderella — Snow White. Her take on the classic children's story will be half Brothers Grimm and half Disney, while remaining wholly a Ballet Manila production at heart.
"We are making Snow White a more magical and musical experience for everybody — from toddlers to the lolos and lolas," says Macuja-Elizalde. Surely, their heartwarming version of the tale will leave "a mark that will make the holidays more memorable and spectacular."
For their last production for the 22nd Performance Season, Ballet Manila will stage Martin Lawrence's Aria, the newest installment of its widely-popular Ballets & Ballads. Aria, a world premiere work of the British choreographer, is set to music from five of Lawrence's personal favorite Arias from operas by Bizet, Puccini, and Verdi.
Possibly the most romantic all season-long, it will be staged February 2018, right on time for the Valentine season. It will feature live music by the ABS-CBN Philharmonic Orchestra, in collaboration with singers like Christian Bautista, among many others.
Watch a few highlight excerpts from the press launch in the video below!
—
Ibong Adarna makes its world premiere on August 26 at 6:00 PM. Other show dates are: September 2 at 6:00 PM and on August 27 and September 3 at 3:00 PM.
Swan Lake goes on stage on the following dates: October 7 and October 14 at 6:00 PM and October 8 and October 15 at 3:00 PM.
The Snow White world premiere is set for November 25 at 6:00 PM. Other show dates are December 2 at 6:00 PM, and November 26 and December 3 at 3:00 PM.
You can catch Ballet & Ballads on the following dates: February 10 and 17, 2018 at 6:00 PM, and February 11 and 18, 2018 at 3:00 PM.
For more information on tickets and schedule information, visit www.balletmanila.com or follow Ballet Manila on Facebook, Twitter and Instagram. Tickets and season subscriptions are already available through TicketWorld. For TicketWorld inquiries, call 891-9999 or visit www.ticketworld.com.ph.
You can buy tickets HERE.
Comments