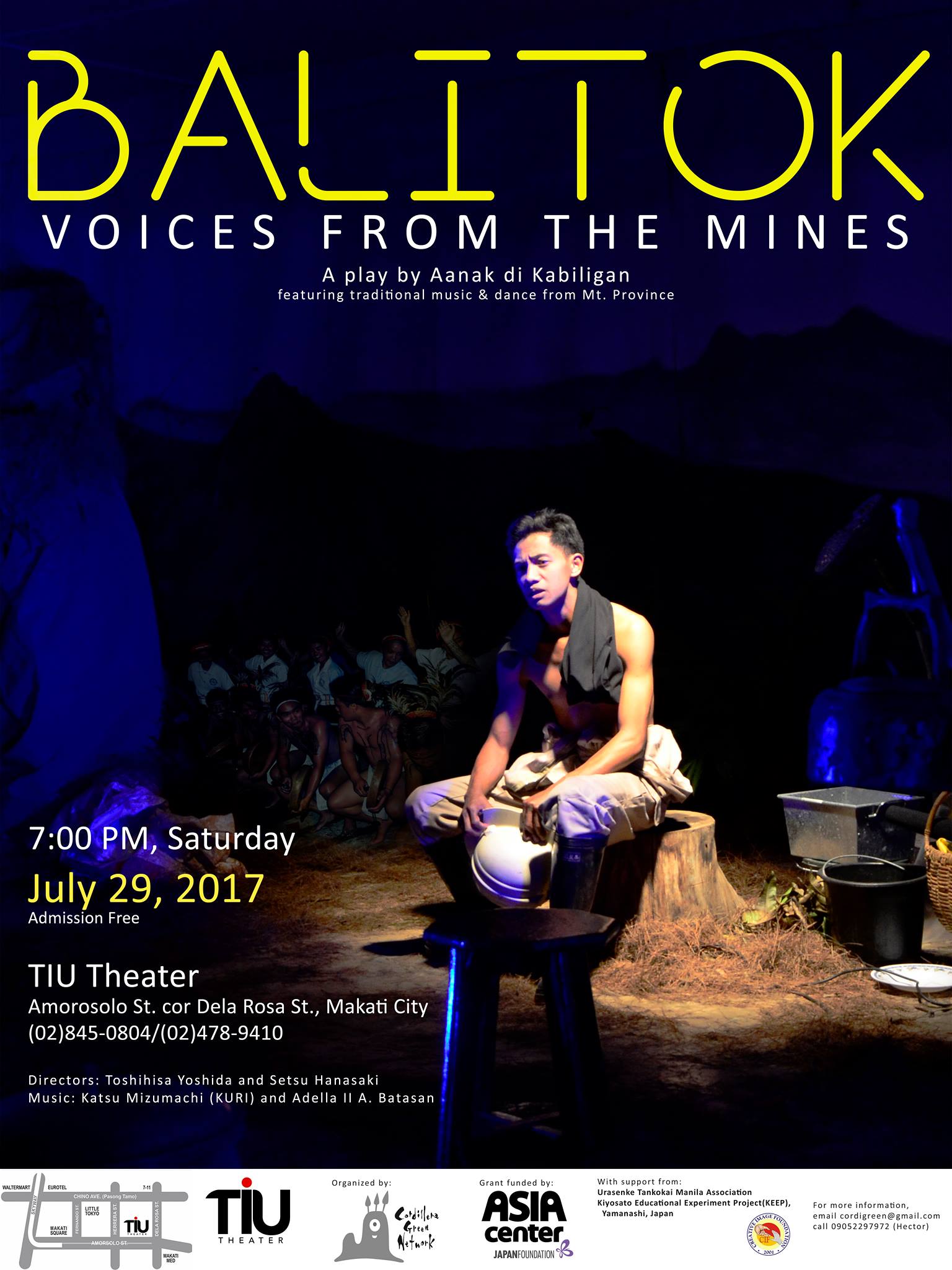 'Balitok: Voices from the Mines' Tackles State of Mining in the Cordillera
Dealing with the state of mining in the Cordillera, youth from various Cordillera communities will stage "Balitok: Voices from the Mines" at the TIU Theater, Amorsolo St., cor dela Rosa St., Makati City on July 29, 2017.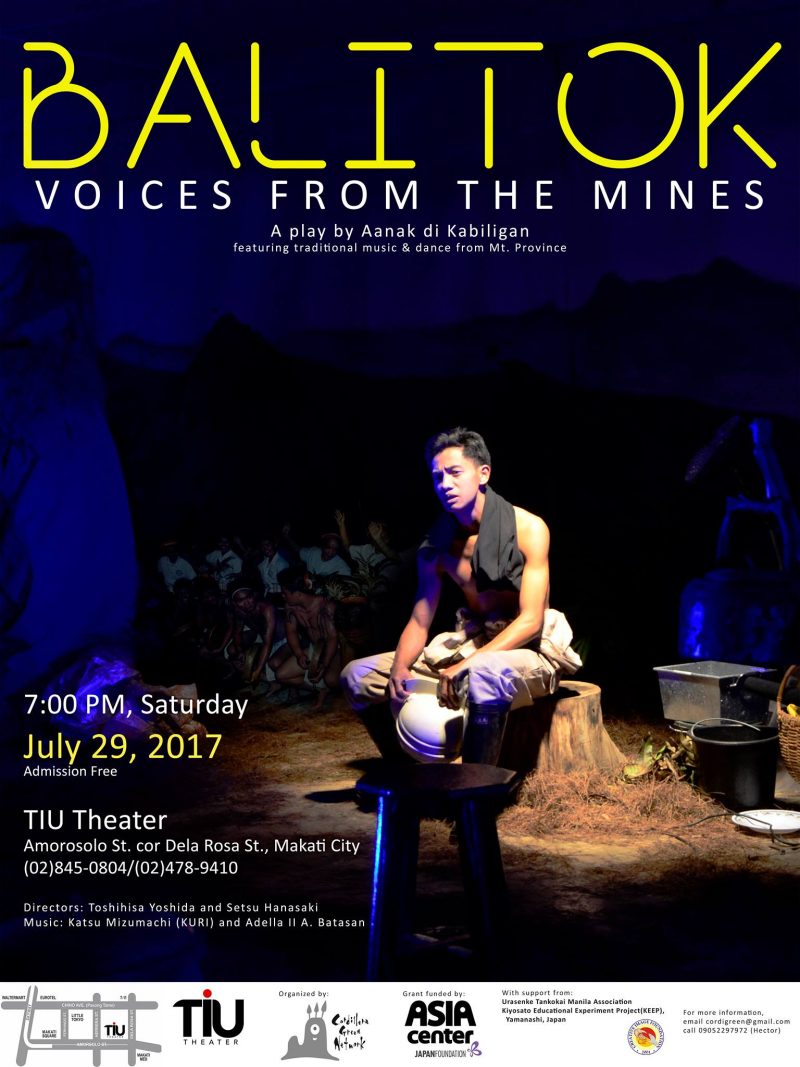 About the Show
The TIU Theater show is part of a three-part caravan that begins in Baguio City, then in Makati, before heading to Aceh, Indonesia. A post-production theater workshop will also be held in Banda Aceh, Indonesia. The play is organized through the Cordillera Green Network's (CGN) Environmental Education Program – Theater Project on Environmental Issues for Indigenous Youth in the Philippines and Indonesia. It continues last year's theater project called "Mining Stories", where young actors researched inside mining areas in Benguet and Mt. Province. Miners, community elders, and other researchers were interviewed and mining sites were visited before a workshop series was conducted.
This year's project, larger in scale and production, will pick up elements from last year's process-based documentary theater including Forum Theater, an interactive theater experience developed by the late Brazilian director Augusto Boal.
Funded by the Japan Foundation Asia Center under the Grant for Cultural Collaboration, the play is supported by Creative Image Foundation, TIU Theater, Urasenke Tankokai Manila Association and Kiyosato Educational Experiment Project (KEEP). CGN partnered with the non-profit organization Komunitas Tikar Pandan for the Aceh leg of the project.
Artistic team
Seasoned stage directors Toshihisa Yoshida and Setsu Hanasaki are back at the helm for this year's production. Both specialize in experimental and process-based theater productions and have previously worked with Baguio-based CGN in facilitating theater projects in the Cordillera Region.
Rocky Cajigan will work on set design while Katsu Mizumachi and Adela II Bantasan will collaborate for music.
Show Details
July 26, 2017 – 6:00 PM
CAP Development Center Auditorium, 4th Floor CAP Building, Baguio City
FREE ADMISSION
July 29, 2017 – 7:00 PM
TIU Theater, Amorsolo St. near Dela Rosa St. Legazpi Village, Makati City
FREE ADMISSION
Cordillera Green Network
CGN​ ​is a non-government organization established ​in 2001 ​to promote a wholesome environment in the Cordillera.
Aanak di Kabiligan
The theater group was established in 2007 under the Cordillera Green Network (CGN), an environmental NGO that does re-greening projects in the Cordillera Region. One of the programs of CGN is to use theatre as a medium for cultural and environmental preservation and protection. In 2007, CGN launched the "Cordillera Youth Eco Summit" wherein different artists from Cordillera and Japan and high school students from the six provinces of the Cordillera were gathered to perform their songs, dances, music and stories from their own community. This program continued until 2010 with different participants each year. Aanak di Kabiligan was born out of these youth eco summits. Membership has grown in size throughout the years with the help of CGN initiated projects involving more workshops and performances in both the Philippines and Japan.
TIU Theater
Since its founding in May 2014, the TIU Theater has served as a venue for the growing art scene in Metro Manila. Formerly known as Louie's THX Cinema, the TIU Theater has opened its doors to various theater performances and artistic groups looking for a home to call their own. The TIU Theater is located at Amorsolo Street in Makati City, Philippines.​
For more details about what's happening in the Manila theater scene, please view our Theater Calendar.
Comments