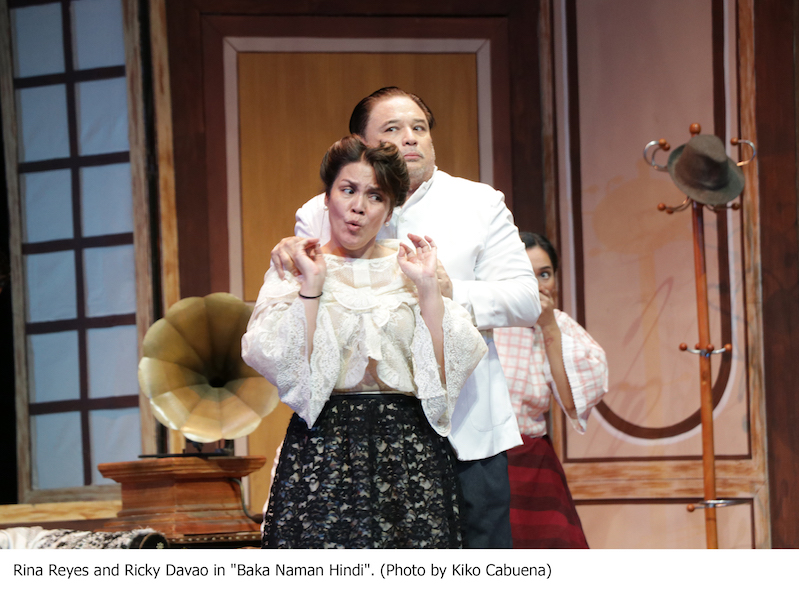 "Baka Naman Hindi" Returns to the CCP This April
"Baka Naman Hindi", the Filipino adaptation of Georges Feydeau's play "La Puce L'Oreille" ("A Flea in Her Ear") returns to the CCP Little Theater from April 25 to 28, 2019 (3pm and 8pm).
A classic farce filled with innuendo, physical comedy and snappy dialogue, "Baka Naman Hindi" features Ricky Davao and Rina Reyes, together with other notable names in Philippine theater, television, and film– Rafa-Siguion Reyna, Tex Ordoñez-De Leon, Nazer Salcedo, Randy Villarama, Raffy Tejada, Wenah Nagales, Lao Rodriguez, Mosang, Jonathan "Tad" Tadioan, Marco Viaña, Jef Henson Dee, Felipe "Ronnie" Martinez, Kathlyn Castillo, and Aldo Glenn Vencilao.  
Feydeau's "A Flea in Her Ear" is known for being an archetype of the well-made play. First staged at the CCP in the 1970s under the direction of CCP President Arsenio "Nick" Lizaso, this new production brings back the rollicking sexual comedy popular during the period. Set in 1907, this humorous tale deals with jealousy, love and lust between long time couples and friends.  In this play, set during the "belle epoque," a woman, suspecting her lawyer husband of having an affair, plots to catch him in the act.
A presentation of the Cultural Center of the Philippines with CCP President Arsenio J. Lizaso as producer, "Baka Naman Hindi" was adapted by Virgilio Beer Flores. Ohm David designed the sets, James Reyes is costume designer, TJ Ramos is sound designer, and Dennis Marasigan is director and lighting designer.
You can buy tickets HERE.
Comments