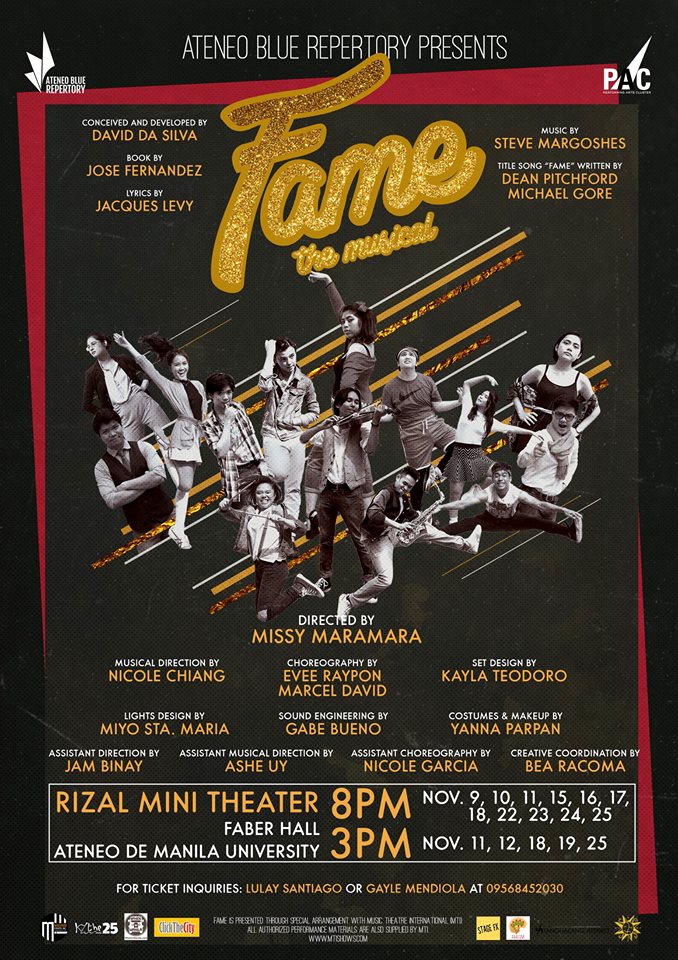 Ateneo blueREP Stages 'Fame' this November
Coming off its silver jubilee season and a successful season premiere, Ateneo blueREP is back to present its 26th Season Newbie Production: FAME.
Based on the 1980 film of the same name, Fame follows the students at New York City's historical High School for the Performing Arts and their four-year journey. Fame takes audiences through the triumphs and failures of pursuing what and who you love.
Fame, the Laurence Olivier award-nominated Broadway musical by Jose Fernandez, Steve Margoshes, and Jacques Levy, is directed by Missy Maramara, known for her work on Real-Life Fairytales and as Theater Arts Faculty of the Ateneo's Department of Fine Arts. Also in the artistic team are seasoned blueREP performers: musical direction by Nicole Chiang, choreography by Evee Raypon and Marcel David.
Showing from November 9 to 25 at the Rizal Mini Theater in Ateneo De Manila University, Fame brings the talents of our newest batch of members to the stage, and through them, a story that dares to ask what the price of a dream is, and what it takes to, through fame, live forever.
For more inquiries, you may also visit Ateneo Blue Repertory's official website: http://www.bluerepertory.org and its accounts on Facebook: https://www.facebook.com/blueREPERTORY, Twitter: @_blueREPERTORY and Instagram: ateneobluerepertory.
Comments