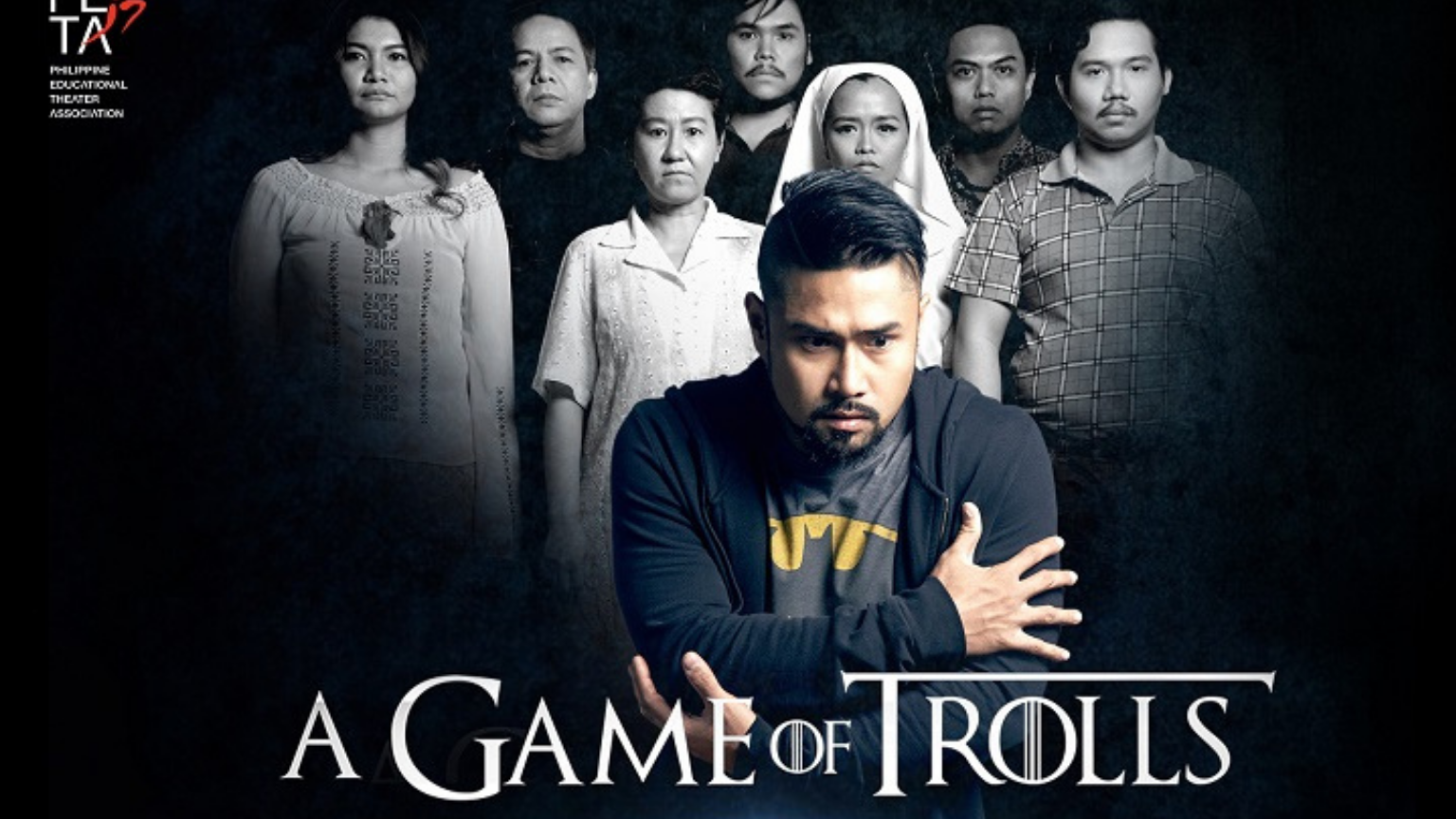 'A Game of Trolls' Martial Law Musical Will Stream this April
A Game of Trolls, PETA's original musical about Martial Law, will be streaming online this April.
Written by Liza Magtoto (book) and Vincent DeJesus (lyricist, composer, and musical director), the production was last staged in October 2018 at the PETA Theater Center for its third full-length run. It is PETA's advocacy musical against historical revisionism and fake news, which will be streamed this April 8 and 22-23. The streaming production was recorded from the 2017 run.
The story follows Hector, a professional keyboard warrior who works for Marshalls of History, a troll center who is running a pro-Martial Law campaign led by Bimbam. Hector, being the tactless and detached Internet tough guy that he is, effortlessly infuriates anti-martial law advocates with his insensitive and random unsolicited comments about the victims of Martial law, making him the top guy in the trolling game. This prompts the "visits" of the Ghosts of Martial Law from the Internet Cloud, reminding him to never forget their struggle to liberate the country from the dictatorship. Their stories, along with his own mother's, Tere, made Hector re-examine his involvement in the trolling business.
The streaming cast features Myke Salomon (who alternated with TJ Valderama) as Hector, Gold Villar-Lim as Cons, Upeng Galang-Fernandez (who alternated with Gail Guanlao-Billones) as Nanay Tere, Vince Lim as Bimbam, Lemuel Silvestre (who alternated with Joseph Madriaga) as Makisig, Kiki Baento as Jude, John Moran (who alternated with Juan Miguel Severo) as Emman Lacaba, Gie Onida as Bobby Dela Paz, Norbs Portales as Ed Jopson, Roi Calilong (who alternated with Jasper Jimenez) as Macli-ing Dulag, Ada Tayao as Sis. Mariani, and Lea Espallardo, Icee Po, Dan Cabrera, Jason Barcial, and Justin Castillo (with Nieves Reyes) as members of the Ensemble.
The production is directed by PETA's Artistic Director, Maribel Legarda. Also in the Artistic Team are Phil Noble (Associate Director), Daniel Cabrera (Choreographer), Joee Mejias (Video Designer), Ellen Ramos (Video Animator), Mike Lavarez (Sound Designer), Kiki Baento and Roi Calilong (Production Designers), Gwyn Guanzon (Costume Designer), Hershee Tantiado (Costume Supervisor), and Jonjon Villareal (Lighting Designer).
Tickets to the stream are P150. For ticketing information, visit PETA's Facebook page.
Comments