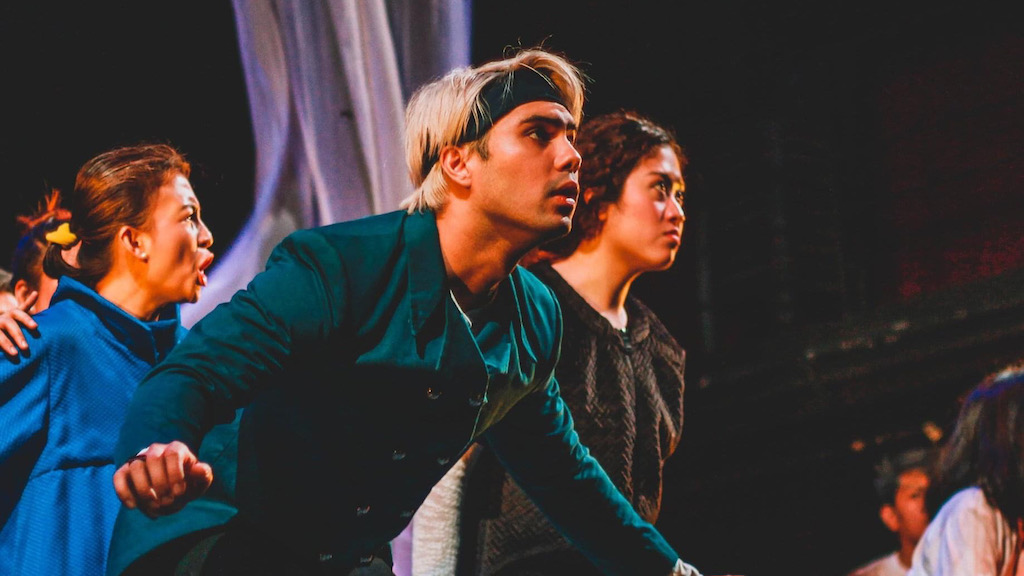 9 Online Workshops to Join this August
As we all try our best in dealing with what is currently the longest lockdown in the world, theater artists continue to bring us some light. 
If you're interested to hone some of your creative skills, or if you're looking at performing professionally as soon as it's safe to do so, there's no better time than the present to learn from our industry's seasoned talents.
Here are nine theater companies and independent artists who are conducting online workshops this August:
1. PETA
PETA is launching an exclusive and immersive theater workshop program for adults called Let's Get Creative PLUS! The program includes Acting for Stage, facilitated by Ian Segarra and Dudz Teraña from August 24-September 3, 1-4pm and August 22-September 5, 1-4pm, Acting for Screen, from August 24-September 3, 5-8pm and August 22-September 5, 5-8pm, 
Creative Musical Theater for Adults, facilitated by Jeff Hernandez from August 25-September 4, 1-4pm and August 25-September 4, 5-8pm, Intro to Visual Arts, facilitated by John Moran from August 22-September 5, 9am-12nn, and Intro to Writing for Performance, facilitated by J-mee Katanyag from August 17-21, 1-4pm.
You can register via www.bit.ly/PETAOnlineWorkshop or get in touch with Betita at 0926-406-6858 or betitasarmiento@petatheater.com. Limited slots only.
2. Repertory Philippines
REP's August batch of online theater classes, which include Musical Theater, Voice, and Dance and Movement classes, will run from August 3-29. Schedules for Musical Theater are M-W-F, 1:30-3pm for kids (aged 4-8), 3:30-5pm for pre-teens (aged 9-12), T-TH-S, 1:30-3:30pm for teens (aged 13-16), and 4-6pm for adults (aged 17 and up). 
Available slots for Voice Class are M-W-F, 11am-12nn, 1-2pm, 2:15-3:15pm, 3:30-4:30pm, and T-TH-S, 11am-12nn, 1-2pm, 2:15-3:15pm, 3:30-4:30pm. The schedule for Dance and Movement classes, with emphasis on musical theater performance, is T-TH-S, 2-4pm. All classes are P6,000 with a total of 12 sessions each.
Visit www.bit.ly/2zMOV14 or send us an email to marketing@repphil.org or repphilfoundation@gmail.com for further inquiries.
3. Tanghalang Pilipino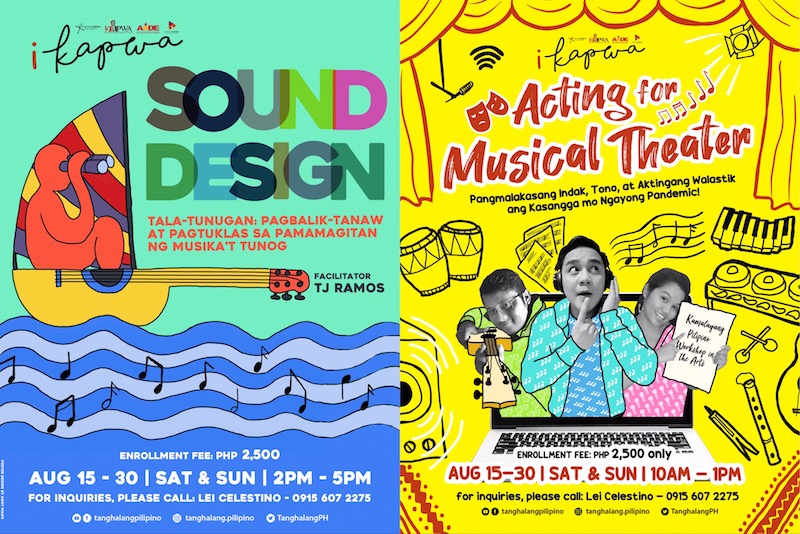 Tanghalang Pilipino will be holding online classes for Musical Theater Acting and Sound Design. The acting workshops will be conducted from August 15-16, 22-23, 29-30 from 10am-1pm, facilitated by JV Ibesate, Eunice Pacia, and Remus Villanueva, while the sound design workshops will be conducted from 3-5pm on the same dates by TJ Ramos.
For further inquiries, you can visit Tanghalang Pilipino on Facebook.

4. Trumpets Playshop
After its launch in July, Trumpets Playshop's Artist Development Program continues its Artist Development Program, an intensive program that offers training courses from industry professionals and experts to all aspiring thespians. Classes for this round include Modeling and Personality Development with Bb. Pilipinas- International of 1991 Patty Betita, Scriptwriting 101 with Luna Griño-Inocian, and Acting for Commercials with Sheenly Gener.  
Sessions for the Modeling workshop will run from August 15 to September 19 for 6 Saturdays from 1-3pm, open to 13 years old and up. The scriptwriting workshop will run from August 15 to September 26, for 7 Saturdays, from 10am-12nn, open to students 16 years old and above. Acting for Commercials will have 8 sessions, Wednesdays and Saturdays, from August 15 to September 9, 5-7PM, open to students 13 years old and above.  All classes are P5000, open to beginners.
Click here to enroll or contact 09175864177 for further inquiries.

5. Onstage Online
Entitled Going Pro, Onstage Online will be offering Professional Development Workshops from August 4-7. The classes are specifically catered to teens and young adults who would like to develop a specific set of skills for working in a professional performance setting in the future. 
Anatomy of An Audition, facilitated by Jillian Ita-as, will break down what happens at a professional musical theater audition. Classes will run for two sessions on August 4 and 6, from 4-5pm, open to 10 years old and up. The Dance Callback will break down how to nail a dance callback. This class will be conducted by Jim Ferrer on August 5, 4-5pm, open to 12 years old and up. 
Breaking Down the Text will cover how to dissect and tackle different types of text, be it a monologue or a song, and will include tips on how to succeed at a cold reading for audition and how to personalize your material, among other topics. This will be taught by Chaye Mogg on August 7, 5-6pm, open to 12 years old and up.
For inquiries, visit their Facebook or Instagram, email them, or contact them via Viber at 0977 821 4792. 

6. Artist Playground
The Artist Playground is offering a number of online classes, including Creative Acting for Kids (7 to 12 years old), facilitated by Paul Jake Paule, Acting Techniques for Camera (14 years old and above), facilitated by Andre Tiangco, and Introduction to Acting (14 years old and above), facilitated by the company's Artistic Director Roeder Camañag. Classes will be taught as a group through Zoom, with 6 sessions at 1.5 hours each. 
One on one private sessions are also available. Click HERE for more information.

7. Caisa Borromeo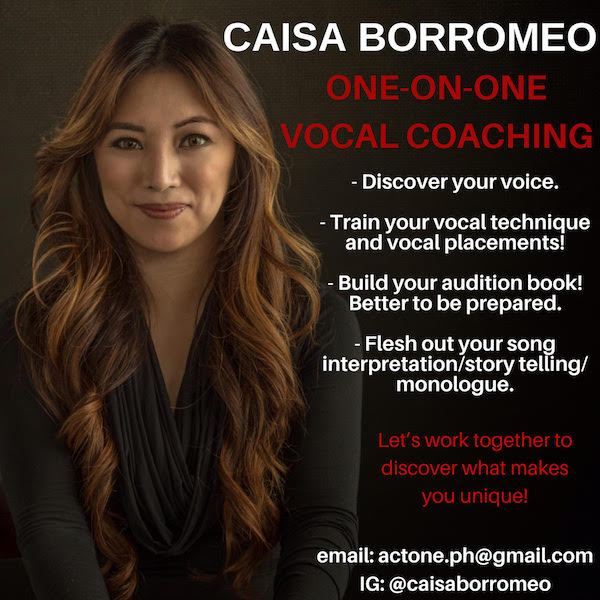 Professional theater actress Caisa Borromeo is continuing her one-on-one vocal sessions, which focuses on vocal placement and technique, refining and fleshing out song interpretation and story-telling, and building her students' audition book. Her goal, she says, is to help her students discover their own voice and what makes them unique. Classes will be taught via Zoom. 
Caisa is a professional theater actress with a Bachelor's Degree in Music, Major in Voice Performance. Aside from performing, she has also been a vocal coach for several years. 
For inquiries you can email actone.ph@gmail and fill out the sign-up sheet here.
8. Steven Conde 
Theater actor and director Steven Conde is holding a workshop called Acting Through Song, which focuses on solo song interpretation and performance in musical theater. Classes will have 10, 1.5 hour, one-on-one sessions, catered to 13 years old and above. 
Interested parties can email stevencondedirector@gmail.com or text 0919-0009169. Click here for more information.

9. Third World Improv
Third World Improv is holding an Online Improv Workshop entitled The Joy of Improv on Saturdays. Through eight synchronous sessions, students are introduced to the fundamental principles of improv and its practical applications. Prior improv or performance experience is not required. 
The classes will run for 8 Saturdays, from 9-11am from August 1 to September 19. You can register HERE.
Comments