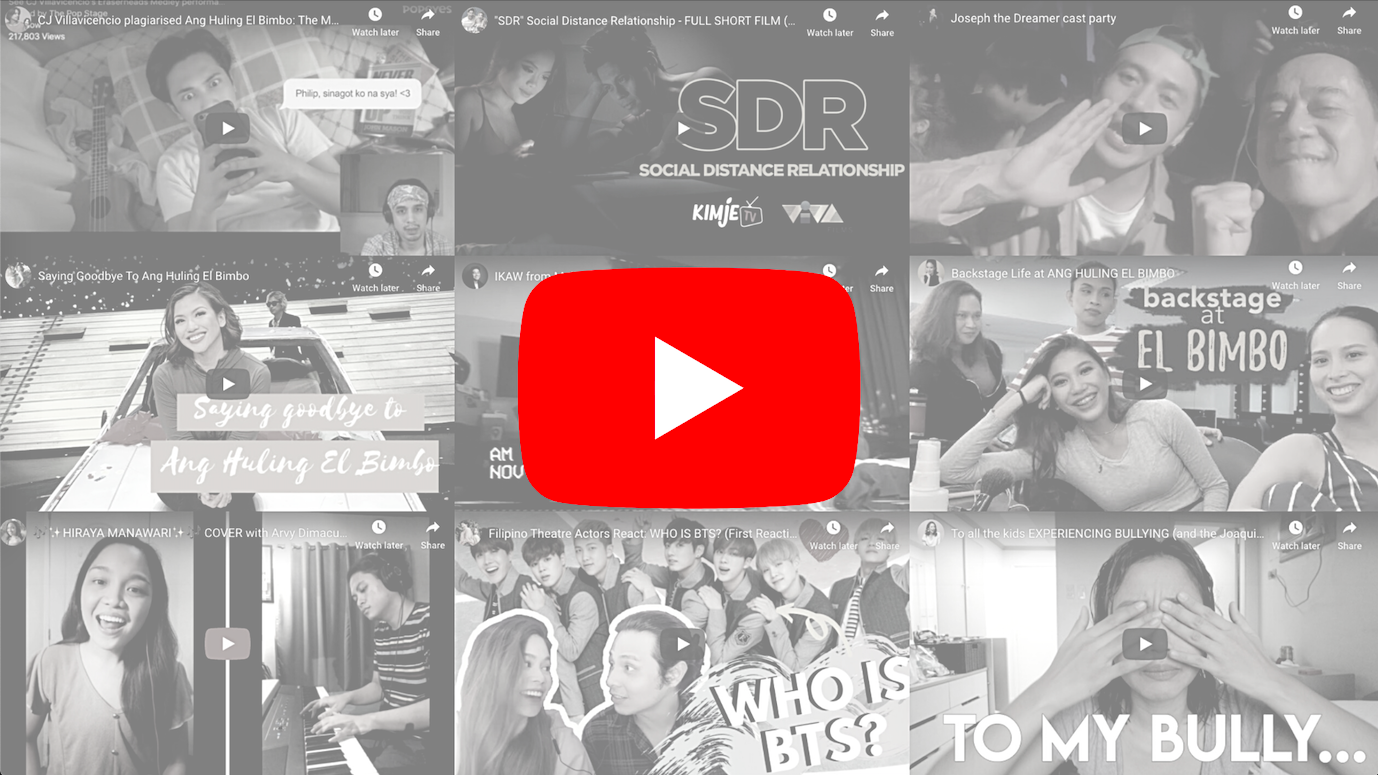 11 Theater Faves on YouTube
We miss everything about nights at the theater from pre-show chimes to even trying to book a Grab ride home (ok, maybe not the surges). It's already August and 2020 continues to be The Worst™️. It doesn't look like we're getting back our nights at the theater any time soon.
Ok, we're done whining. Looking at the bright side, the last few months have given us a smorgasbord of theater-related things we can watch in the comfort of our homes. You know about the show streams and the concerts, of course, but in case you're missing some theater faves in particular, we've put together a list of YouTube channels that deserve a subscribe.
These are just some of the many theater artists who have embraced YouTube and filled the gaping hole that the pandemic left in our theater-addicted hearts:
If you're looking for good vibes to soothe your anxious days, KimJe TV is your next favorite channel. These two are certified superstar YouTubers, with chemistry and comedy that reminds us of Tolits and Aileen in the best way. Aside from their regular vlogs, they also post some scripted content on their channel, including the short film above!
He was last on stage in Joseph the Dreamer, but Audie is always posting new videos on his YouTube channel. If you're looking for inside look at shows in Solaire (not just the theater ones!), you should definitely subscribe to his channel. If you missed an OPM concert or show, you might find snippets of it there!
Neo played one of the princes in Repertory Philippines' The Quest for the Adarna. He was also in Dirty Old Musical and even has some behind the scenes stuff from the musical on his YouTube channel. He posts covers of songs like the one above of him singing 'Ikaw' from Mula sa Buwan and his experiences as cabin crew a few years ago!
Last seen on stage as ensemble member of Ang Huling El Bimbo, Kiara Dario's YouTube channel features makeup tutorials, vlogs, dance videos, and covers of Broadway hits like 'The Schuyler Sisters' and 'What Baking Can Do'.
We often seen Mica in Repertory Philippines straight play offerings like A Comedy of Tenors and Vanya and Sonia and Masha and Spike, as well as a frequenter of One Night Stand! Her channel features a mishmash of fun vlogs like her travels and experiences.
Another theater pair who have embraced YouTube are leads of Ang Huling El Bimbo, Reb and Tanya! Their vlogs show their interests as well as theater-related stuff like stage makeup tutorials and fun challenges like acting while eating spicy noodles!
If you've seen Himala and Eto Na! Musikal nAPO!, then you're definitely familiar with Jef's work. He's also a musicman himself, sharing how-to videos on making music. He also made a detailed video showing why and how one contestant may have plagiarised an arrangement from a certain musical (see video above).
Yanah is a frequenter of Full House Theater Company shows like Chitty Chitty Bang Bang and was also part of the Ang Huling El Bimbo ensemble. She hasn't posted a lot of videos yet, but we enjoyed this one about the show's closing night.
We last saw Teetin on stage of Tabing Ilog, but she was featured in hit shows like Beautiful and Desaparasidos, as well as the star of Dulaang UP's Ang Nawalang Kapatid that streamed a few months ago. On her channel, she posts her covers of songs including the one above– a cover of the Hiraya Manawari theme song!
Let us cheat for a bit and give our own channel a little plug! Like our website and socials, we post the latest video content on anything and everything local theater. We've even started making list videos! While we're all waiting for the curtains to rise again, revisit your favorite shows through our channel. You're bound to find a video or two featuring your faves!
Comments