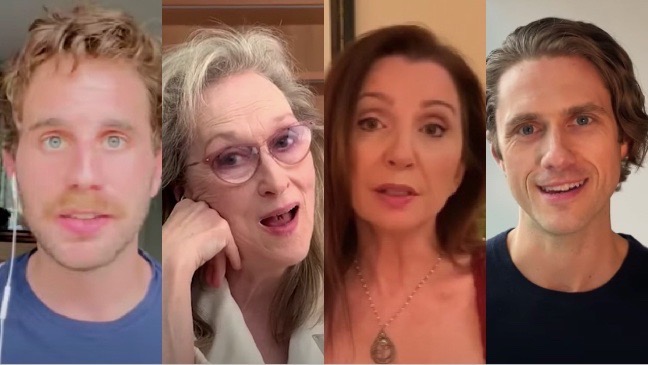 9 Highlights from #Sondheim90Concert
Stephen Sondheim's 90th birthday celebration, Take Me to the World, was a star-studded affair that also gave us some unforgettable performances of hit songs from Sondheim's musicals. Legends such as Patti Lupone, Bernadette Peters, Mandy Patinkin, Michael Cerveris, Chip Zien gave nostalgic renditions of Sondheim classics. Broadway stars Lin-Manuel Miranda, Lea Salonga, Laura Benanti, Sutton Foster, Kelli O'Hara, and many more also paid tribute to the iconic composer.
The two and a half hour special also featured heartfelt messages and greetings from Sondheim's friends and collaborators such as Steven Spielberg, Victor Garber, Nathan Lane, Joanna Gleason, and Jason Alexander. Some of the performers shared a short anecdote about how working with Sondheim shaped their careers and taught them about music. The concert was also to benefit Artists Striving to End Poverty (ASTEP) and the audience was encouraged to donate whatever they could during the livestream.
With so many amazing performance of iconic songs, it was tricky to choose only nine but these are the moments that stood out the most in a sea of greatness:
1. Neil Patrick Harris – "The Witch's Rap" (Into the Woods) 
Harris (Company, Assassins, Sweeney Todd) expertly performs the tongue-twisty number with the menace of the Witch. This tribute also features the special participation of his children, who adorably act the parts of the Witch's victims.
2. Aaron Tveit – "Marry Me a Little" (Company)
Tveit (Assassins, Company) gives an understated rendition of the song, his voice and facial expressions taking us on a complicated, emotional journey. There's expectation and there's confusion all captured in a few minutes. 
3. Beanie Feldstein & Ben Platt – "It Takes Two" (Into the Woods)
Feldstein and Platt (both cast in the upcoming film adaptation of Merrily We Roll Along) bring a fresh new energy to the duet between the Baker and his Wife. They manage to sing in harmony and even move in sync despite the split screens, showing an undeniable chemistry.
4. Randy Rainbow – "By the Sea" (Sweeney Todd)
Comedian Rainbow gave a genderbent version of Mrs. Lovett's romantic fantasy, complete with props and special effects. He remarks that Sondheim wrote the best songs for female leads so he took the opportunity of performing one while Lupone and Lansbury are in quarantine.
5. Ann Harada, Austin Ku, Kelvin Moon Loh & Thom Sesma – "Someone in a Tree" (Pacific Overtures)
Another successful split-screen performance, this time featuring four singers, the all-Asian cast of Pacific Overtures bring life to Sondheim's favorite song about the power of memory. They never miss a beat and all throughout the song, they manage to seamlessly interact with each other through different screens.
6. Raúl Esparza – "Take Me to the World" (Evening Primrose)
Esparza (Company, Sunday in the Park with George, Merrily We Roll Along) performed the title song in a bare room with a blank background, keeping the focus on the music. He conveys a plethora of emotions through the inflections of his voice and the changing expressions in his eyes and the performance is powerfully affecting.
7. Donna Murphy – "Send in the Clowns" (A Little Night Music)
Murphy (Passion) takes us through the heartbreaking journey of this iconic song through a performance that infuses each lyric with profound meaning. One feels the raw emotion behind every word.
8. Christine Baranski, Meryl Streep & Audra McDonald – "The Ladies Who Lunch" (Company)
Baranski (Follies), Streep (Into the Woods), and McDonald (Passion) steal the show as these legendary ladies sarcastically sing about the lifestyle of the wealthy while sipping their alcohol. A whole book could be written about this number but we must limit ourselves to a few lines. "A toast to that invincible bunch," Baranski, Streep, and McDonald, disheveled in their white bathrobes while drunkenly toasting to Sondheim, and giving the world the gift of this glorious performance.
9. Ensemble – "I'm Still Here" (Follies)
As a grand finale and in a collage of multiple screens, all performers give a memorable rendition of this song from the 1971 musical Follies. Seeing all those faces on screen was a reminder of just how massive an undertaking the concert was and how many performers were eager to pay tribute to the legendary composer.
As a touching reminder to everyone in isolation during quarantine, Bernadette Peters chose to sing an a cappella version of "No One Is Alone." Sondheim's lyrics resonate even stronger today than when they were written decades ago, a testament to his profound understanding of what makes us all human.
Comments