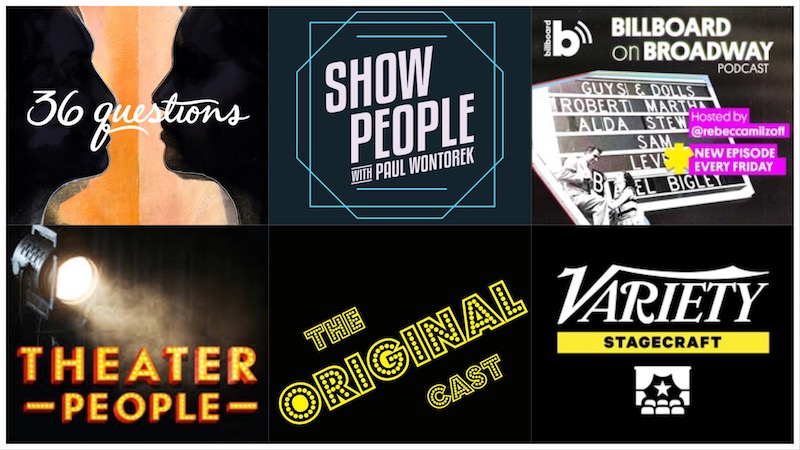 10 Podcasts To Listen To If You Miss Theater
With most of the world physical distancing, theaters and theater districts have temporarily shuttered. Don't let that stop you from diving into the art form anyway.
The COVID-19 pandemic has shown no signs of stopping or even slowing down, and it's caused Broadway and West End's shutdowns to extend until June. It's hard to be a theater fan in a time like this—the art form demands physicality, after all. Thankfully, several creators have released many of their works for free, and others are producing shows for the quarantined audience. 
But beyond the livestreams and uploaded releases, there's another way to consume our beloved medium: through podcasts. Whatever you're in the mood for, we've rounded up 10 of the best theater podcasts, from the audio version of Broadway.com's Show People to 36 Questions starring Jonathan Groff and Jessie Shelton. 
1. Show People with Paul Wontorek
If you're a Broadway fan, odds are you've watched your fave on Show People, an online talk show hosted by Broadway.com's founder and editor-in-chief, Paul Wontorek. If you don't have time to sit through 20-minute videos, turn to its podcast version instead! On Show People, Paul brings in artists (often currently performing on the Great White Way) to promote the shows they're on and to get to know a little bit about them. Notable guests include Idina Menzel, Sutton Foster, and Stephanie J. Block, but Paul's had just about everyone come on the show at least once.
You can listen to it through Spotify below.
2. Theater People 
Theater People, though inactive now, is still a goldmine for theater lovers, especially if your fave artists are a little bit on the lowkey side. Hosted by Patrick Hinds, Theater People, from 2014 to 2018, brought in Broadway's biggest and brightest stars, from Laura Benanti to Jeremy Jordan. Each conversation offers a less formal and more lighthearted way to see—or rather, listen to—your favorite Broadway artists.
You can listen to it on Apple Music HERE.
3. Billboard On Broadway
Billboard on Broadway explores the intersections of musical theater and pop music, bringing in guests like Sara Bareilles (found comfortably in the center of the musical theater and pop music Venn diagrams), Rachel Bloom, and Aaron Tveit, and discussing hit musicals like Hadestown, Moulin Rouge!, and more. 
You can listen to it on Spotify below.
4. Loveville High 
Loveville High is a 9-part podcast musical by David Zellnik and Eric Svejcar, with each episode running for 10 minutes, transpiring in the fictional town of Loveville, Ohio. It's prom night, and loves of all kind are a-happenin'.  
You can listen to it on Spotify below.
5. Little Known Facts with Ilana Levine
Little Known Facts is another theater-related talk show, this time hosted by You're A Good Man Charlie Brown's Ilana Levine. She's brought on guests like her co-star and good friend Kristin Chenoweth, Kelli O'Hara, Amber Gray, Eva Noblezada, and more. The episodes are candid and thoughtful, revealing and inspiring. 
You can listen to it on Spotify below.
6. Broadway Backstory
Also hosted by Theater People's Patrick Hinds, the documentary-style Broadway Backstory brings in the cast and creatives of some of Broadway's most successful and beloved shows to talk about the makings of, including The Light in the Piazza, In the Heights, Hamilton, Next to Normal, and more. 
You can listen to the episodes HERE.
7. 36 Questions 
Starring Jonathan Groff and Jessie Shelton, 36 Questions is a three-act podcast musical about a young couple on the verge of divorce, who use the 36 questions experiment—designed to make strangers fall in love—to save their marriage.
You can listen to it on Spotify below.
8. The Spark File with Susan Blackwell and Laura Camien
Though not purely a theater podcast, hosts Susan Blackwell and Laura Camien bring in a lot of their theater friends anyway, from Gavin Creel to Lin-Manuel Miranda, to talk about creativity, inspiration, and the 'spark file'—a place where one consistently collects creative inspirations and fascinations.
You can listen to it on Spotify below.
9. The Original Cast
Hosted by fans and theater enthusiasts, The Original Cast discusses original cast albums, with a new guest and a new cast album to talk about every week. They've gushed over Sweeney Todd, The Wild Party, Assassins, and more. 
You can listen to it on Apple Music HERE.
10. Variety's Stagecraft 
Variety goes behind the scenes of Broadway and Off-Broadway in Stagecraft, a podcast that talks about shows on the Great White Way and beyond. In the past, they've brought on guests like Andy Karl, Karen Olivo, Andrew Garfield, and the cast and creators of The Band's Visit and more, but recently, they've done episodes on how the theater community has been coping with the coronavirus shutdowns.
You can listen to it on Spotify below.
Comments