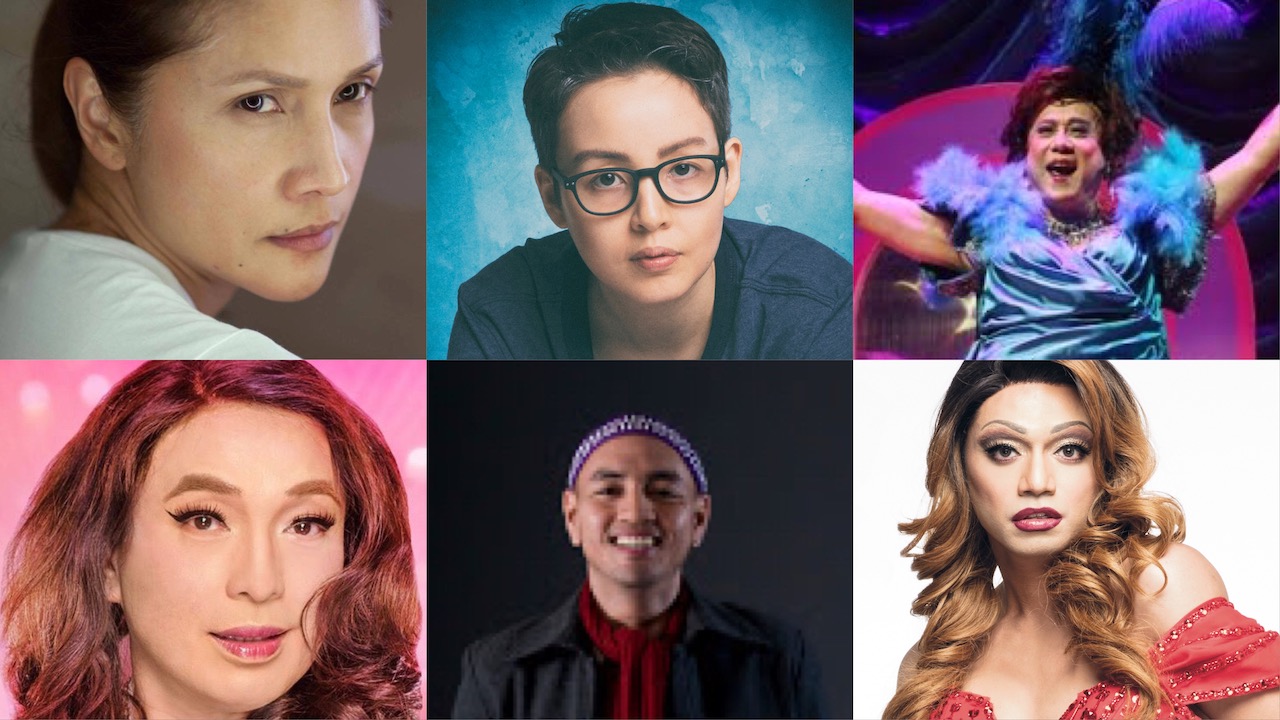 9 Characters On Stage That Show LGBT+ Pride
It's Pride Month and what better way to celebrate than looking back at some of the most inspiring LGBT+ characters we've witnessed on stage in recent years.
Here are some of our favorites portrayed by some of the most formidable actors in our local theater scene. Each of these characters is the definition of strength, and each of them is a stunning example of what a friend and partner should be, regardless of gender.  
1. Lola of Kinky Boots performed by Nyoy Volante (Atlantis Theatrical, 2017)
Lola is a confident drag queen who dances to the beat of her own drum. Charlie, the young owner of a struggling shoe factory, asks Lola to collaborate with him on a new line of footwear– strong, high-heeled boots that can carry a man's weight. While Lola tries to help the company find its footing, she encounters discrimination and bigotry from her co-workers. With her cunning and empathetic nature, she manages to get rid of their prejudice while helping the company out of its financial situation.
2. Alex of Changing Partners performed by Agot Isidro and Jojit Lorenzo (Munkeymusic, 2016)
Changing Partners is an original musical that exposes the complexity of romantic relationships regardless of gender. In two out of the four relationship scenarios that the show explores, Alex is either a lesbian or a gay man who's older than partner Cris by 15 years. Being the older and the more mature person in the relationship, Alex is the breadwinner and motivates Cris to be productive. Alex tries to see the relationship through in spite of a wide age gap, a vast difference in perspective, and a looming suspicion of infidelity.
3. Alison Bechdel of Fun Home performed by Mikkie Bradshaw-Volante, Cris Villonco, and Katie Bradshaw/ Andee Achacoso (Atlantis Theatrical, 2016)
In Fun Home, we follow lesbian cartoonist Alison Bechdel's journey of self-discovery while peeling through the layers of her complex relationship with her deceased, closeted, gay father. As a child, Alison feels an unexplainable connection with a butch delivery woman she sees at a luncheonette. As a college student, Alison stumbles upon books about the gay community and realizes that she identifies with them. Soon after, she falls madly in love with a girl named Joan and fully embraces her sexuality.
4. Jewel of Rak of Aegis performed by Phi Palmos (PETA, 2014)
Jewel is a hardworking owner of a local sari-sari store. Proud gay best friend to principal characters Aileen and Kenny, Jewel is very supportive, especially when it comes to Aileen and Kenny pursuing their dreams. Jewel is also an outspoken and creative free spirit whose self-expression is through fashion and confident demeanor.
5. Ned Weeks of The Normal Heart performed by Bart Guingona (The Necessary Theatre, 2015)
Ned Weeks is a Jewish-American writer and gay activist in the early 1980's. He is strong-willed and determined in his fight to raise awareness about the AIDS epidemic amidst pushback from the government. He is also a loving boyfriend to Felix, a New York Times reporter who is HIV positive.
6. Albin of La Cage aux Folles performed by Audie Gemora (9 Works Theatrical, 2015)
Albin is a drag queen and the star performer of 'La Cage aux Folles', a nightclub owned by his life partner Georges. Things heat up when Jean-Michel, Georges' 24-year old son, brings home his fiancée along with her conservative family. Initially, Albin vehemently refuses to act masculine for Jean-Michel, but eventually agrees because of unconditional love for him. When the family gets into trouble with the press towards the end, Albin saves the day only by revealing his true identity and being himself.
7. Anthony 'Tick' Belrose aka Mitzi Mitosis of Priscilla Queen of the Desert performed by Leo Valdez (Resorts World Manila, 2014)
Mitzi, along with fellow drag queen Felicia and transgender Bernadette, buy a budget van they call 'Priscilla Queen of the Desert' to help Mitzi reunite with her family in Alice Springs, Australia. The trip proves to be challenging as the trio encounters homophobia and hate crimes along the way. Their friendship and strength of character sustain them in the face of adversity while they find the true meaning of family with each other.
8. Chelsea of Care Divas performed by Melvin Lee (PETA, 2011)
Chelsea is a kind and loving transgender OFW caregiver to an old Jewish employer named Isaac. She is warm and patient, which makes Isaac regard her as a daughter. To make ends meet while finding a way to express herself in a conservative society, she and her friends Shai, Thalia, Kayla, and Jonee work as drag queen performers at night.
9. Tom Collins of Rent performed by OJ Mariano (9 Works Theatrical, 2010)
Tom Collins is a strong gay man who teaches at NYU. When he meets and falls in love with his partner Angel, we learn that both of them are struggling with AIDS. Tom is an optimist who dreams of opening up a restaurant with Angel in Santa Fe. When Angel dies from the disease, we see him completely distraught and heartbroken. He sings a reprise of their song, 'I'll Cover You' at Angel's funeral as a sign of his unending love.
Comments