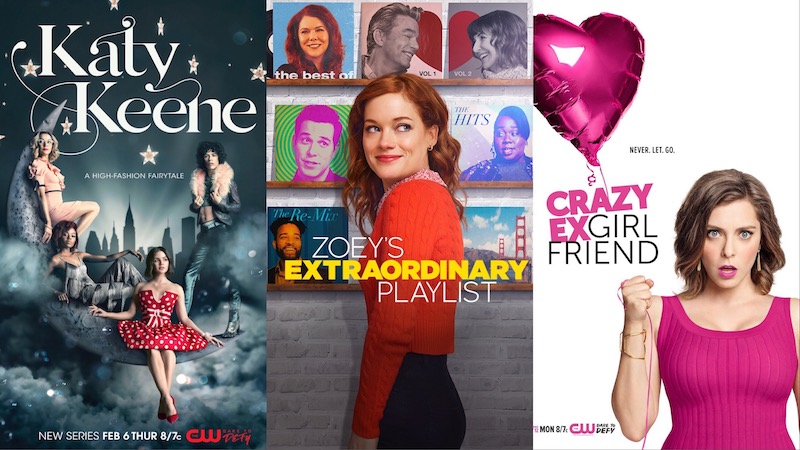 8 TV Show Musicals You Should Check Out
Musicals are taking over television!
In the post-Glee era of peak television, the trend of having characters burst into song and dance in any given episode has not slowed down. Audiences always enjoy some well-crafted musical numbers in their dramas and comedies and the demand for more music has already prompted many TV series to include musical episodes in their seasons, to various levels of success. 
Beyond episodes, so many series have been recently released fully integrating musical numbers into the plot of the show. And with the development of Tina Fey's Girls5Eva and the as-yet untitled AppleTV+ project with Kristin Chenoweth and Aaron Tveit, and even upcoming local musical TV series 'Still', more musicals are on their way and the genre is here to stay.
Some showrunners innovate by adopting creative and exciting premises, while others follow the classic musical tropes but execute them well. After all, if it ain't broke, why fix it? 
Suffice to say there is a wealth of musical television for theater fans to feast their eyes on and sing along to, both in live-action and animated forms.
Here are some of our favorites:
Galavant
This musical fantasy series comes from the genius of Dan Fogelman with music from Alan Menken and Glenn Slater. 
It's the standard fantasy quest scenario. Valiant knight Galavant (Joshua Sasse) seeks to rescue his lady love, Madalena (Mallory Jansen) from the clutches of the evil King Richard (Timothy Omundson). He is accompanied on his journey by his loyal squire, Sid (Luke Youngblood), and the superior fighter, Princess Isabella (Karen David). But nothing is as it seems and all these characters end up subverting your expectations of a high fantasy series while delivering a thoughtful, delightful, and engaging adventure filled with tons of jokes and songs that will get stuck in your head for days to come.
Galavant a real treat for those who grew up with the Disney Renaissance musicals because the show both contains very Disney-ish elements while hilariously deconstructing them as well. The songs are catchy but self-aware and it's clear that Menken has enough of a sense of humor to make fun of his own legacy while creating a new one through Galavant. The second season really subverts all the fantasy tropes and leans into a very meta brand of humor that should appeal to an older audience. 
Galavant was sadly cut down in its prime but Menken is reportedly planning to bring it to the stage at some point. 
In the meantime, both seasons are streaming now so do yourself a favor and binge them all today and you'll find yourself belting out: GAAAALLAAAAVAAAANNT!
Crazy Ex-Girlfriend
Rachel Bloom created this amazingly unique and entertaining musical TV series about a real estate lawyer named Rebecca Bunch who decides to leave behind her life in New York to pursue love and happiness with an old flame in West Covina, California. What follows this incident is Rebecca's journey towards self-actualization across four seasons of musical misadventures and romantic shenanigans.
The episodes feature catchy and hilarious songs but also some vulnerable and endearing moments. The show has been lauded for its destigmatization of mental illness with songs like "Antidepressants Are So Not a Big Deal" and its exploration of LGBTQ themes with songs like "I'm Getting Bi." The show isn't afraid to tackle dark and serious themes and to make them more relatable to the audience. Over the course of the four seasons, the main characters get their moments to shine while growing up in profound ways.
Joining Bloom in the cast are Vincent Rodriguez III, Santino Fontana, Donna Lynne Champlin, Peter Gardner, Vella Lovell, Gabrielle Ruiz, David Hull, Scott Michael Foster, and Skylar Astin. It even featured a cameo from Lea Salonga herself!
Zoey's Extraordinary Playlist
When an earthquake happens during her MRI, computer programmer Zoey Clarke (played by Jane Levy) finds a huge playlist of popular songs downloaded into her brain. She is then able to perceive the innermost thoughts of the people around her interpreted in songs and dance. 
This is the unique premise of Zoey's Extraordinary Playlist, reminiscent of that musical episode of the hospital sitcom Scrubs. The main character goes about her life witnessing the people around her burst into song but she is the only one who has this point of view. These characters include her co-worker and love interest, Max (Skylar Astin), her DJ neighbor Mo (Alex Newell), her father (Peter Gallagher) and her mother (Mary Steenburgen.) 
Beyond the fun of using jukebox tropes, Zoey's Extraordinary Playlist, like Crazy Ex-Girlfriend before it, is another musical show that doesn't shy away from delving deep into the characters' motivations and exploring other complex themes.
Go! Vive a tu manera (Go! Live Your Way)
A young musical prodigy pursuing her dreams of stardom at a prestigious performing arts school. The classic setup for a musical coming-of-age series. 
And since most people are already pretty familiar with shows and films like Fame or High School Musical, we opted for a non-English show that nevertheless contains all these familiar tropes and beloved themes. 
Go! Vive a tu manera, or Go! Live Your Way in English, is an Argentinian musical series centered on a talented young girl named Mía Caceres, who wins a scholarship to a prestigious performing arts school called St. Mary's. Mía dreams of stardom and works diligently to showcase her singing and dancing abilities. 
But like all musical shows in this sub-genre, Mía has to contend with a jealous and bitter rival, Lupe, another talented performer and also the daughter of the school principal. It doesn't help that Mía develops feelings for the captain of the basketball team, Alvaro, who also happens to be Lupe's brother. More complications ensue when Lupe's boyfriend, Juanma, becomes interested in Mía as well.
Go! is equal parts teen romance, musical comedy, and coming-of-age drama all rolled into one. The young cast is dynamic and charismatic and the songs are all catchy, dance-able tunes. While it doesn't do anything revolutionary with the teen musical genre, Go! Is an excellent addition to it.
Katy Keene
This Riverdale spinoff features Archie Comics characters, including the titular Katy Keene, navigating life and love in the Big Apple. Naturally, New York is frequently the setting of musical films and series because it is the home of Broadway, and Katy Keene is no exception.
Although Katy is an aspiring fashion designer, her friends Josie McCoy (yes, of Josie and the Pussycats) and Ginger Lopez are both pursuing dreams of music stardom. The music performed in the series is a combination of covers and original songs and the standout seventh episode features the cast performing their version of the songs from the stage musical Kiss of the Spider Woman. And the supporting cast includes Broadway legends such as Daphne Rubin-Vega, Bernadette Peters, and André De Shields. 
Though cancelled after one season, Katy Keene is an enjoyable series for those who love to watch young dreamers work their way to success in New York City.
Central Park
Another musical series set in New York,
Central Park
comes from the team behind the popular animated series,
Bob's Burgers
and boasts a cast of Broadway's best
.
The show centers on the lives of park manager Owen Tillerman (Leslie Odom, Jr.) and his family: his intrepid journalist wife Paige (Kathryn Hahn), and their children, Molly (Kristen Bell) and Cole (Tituss Burgess.) 
Owen just wants to keep the park clean and orderly while unbeknownst to him, irascible hotel heiress Bitsy Brandenham (Stanley Tucci) wants to buy the park for herself. Bitsy concocts her nefarious schemes with the help of her long-suffering assistant, Helen (Daveed Diggs). All the proceedings on the show are narrated (and sometimes sung) by the busker played by Josh Gad.
Due to a controversy about casting a white actress to play a mixed race character, the Central Park team recast The Umbrella Academy's Emmy Raver-Lampman to voice Molly while Bell will remain on the show playing a different character.
Central Park is hilarious, creative, and prolifically musical with three or four songs performed in each short episode. While the show already boasts of a main cast who are no strangers to musicals, it also features many guest voices like Audra McDonald and Andrew Rannells and guest songwriters such as Sara Bareilles, Alan Menken, Glenn Slater, Fiona Apple, Darren Criss, Cyndi Lauper and many more.
Carole & Tuesday
Since we've moved to animated territory, we thought we would mention a couple of anime series where music plays an integral role. 
First up is Carole & Tuesday, an anime by Shinichiro Watanabe, the man behind iconic anime like Cowboy Bebop and Samurai Champloo. While these previous series were also known for their memorable soundtracks, Carole & Tuesday is the first Watanabe show that is overtly musical.
The series is set in a futuristic world where humans have terraformed Mars. Two aspiring musicians, rich runaway Tuesday Simmons and Earth-refugee Carole Stanley, cross paths and decide to form a band. They begin performing in random locations before being discovered and then subsequently joining a nationwide singing competition. Parallel to their rise to stardom is the journey of Angela Carpenter, a model who is also trying to break into the music industry. 
The series also explores darker themes like corruption, immigration, and racism. It also explicitly shows the toll fame and fortune takes on singers, portraying mental health issues and substance abuse. Another fascinating theme explored by Carole & Tuesday is the using artificial intelligence technology to replicate human emotion and creativity.
Carole & Tuesday features songs in English performed by different artists in different genres. While the main duo's style is more indie and chill, Angela sings pop ballads, and some characters are tributes to legendary singers like Whitney Houston and Prince. The finale is an heartrending ensemble piece that is guaranteed to bring tears to one's eyes.
Lost Song
Music is a powerful force in this fantasy anime. Set in a magical realm,
Lost Song
tells the story of two songstresses, Finis and Rin, who possess the unique ability to control the elements through their voices. When they sing, they can manipulate fire, water, earth or wind and, more importantly, their songs have the power to heal or destroy. 
But the power comes at a heavy price. Everytime they sing, their life force diminishes until they will only be able to sing one last song before completely disappearing.
A vicious prince tries to abuse these powers to wage a war, leading to tragic consequences. Both Finis and Rin must take a journey that transcends time and space to prevent the world from being destroyed by grief and despair.
The songs are all in Japanese and are a combination of haunting ballads and lively pop tunes. Lost Song is a legitimately epic series but also one with a lot of heart as it champions love and forgiveness in a cruel world and it showcases the healing power of music.
Comments