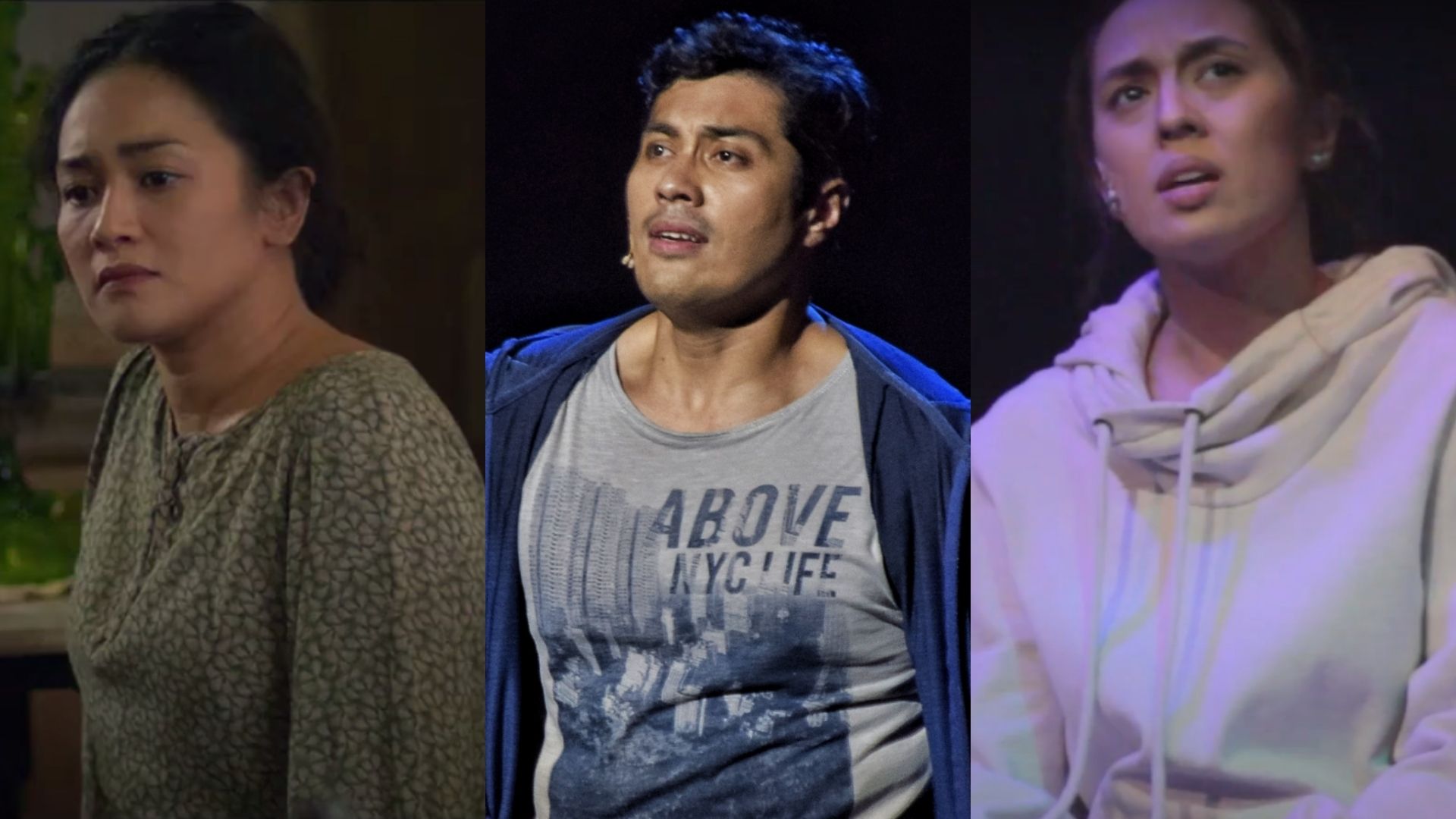 8 Songs about Betrayal from Musicals
"Beware the Ides of March," the Soothsayer warns Julius Caesar in Shakesepeare's tragedy, warning the title character about his impending assassination. Caesar pays little heed to this warning and the rest is history.
Well, today is the Ides of March and thus we muse on the theme of betrayal, a common one in musical theater. Characters are betrayed all the time! And they love to sing about it, too, processing their pain through some of the most moving and powerful lyrics ever written.
So the Ides of March is basically our nerdy excuse for us to put together a list of some of the most memorable songs about betrayal from foreign and local musicals.
"Betrayed" from The Producers
It's in the title!
Compared to most of the songs on this list, however, this one isn't about a lover cheating on their significant other but an accountant leaving behind his shady business partner to face the consequences of their elaborate hoax. Given the subject of The Producers, this is the most lighthearted song here despite the bitterness felt by poor old Max Bialystock.
Just like Julius Caesar was betrayed by Brutus
Who'd think an accountant would turn out to be my Judas
I'm so dismayed, is this how I'm repaid?
To be betrayed, betrayed…
"Cell Block Tango" from Chicago
This catchy song doesn't explore just one betrayal but six! The ladies of Chicago recount the romantic misadventures that landed them behind bars in an unforgettable number with amazing choreography and fun lyrics. They channel their rage through the song and insist that while their acts may have been murders, these were not really crimes.
He had it comin' (he had it comin')
He had it comin' (he had it comin')
He only had himself to blame (he only had himself to blame)
If you'd have been there (if you'd have been there)
If you'd have seen it (if you'd have seen it)
I betcha you would have done the same…
"Pretty Funny" from Dogfight
I mean, how would you feel if you found out that a guy had asked you out as part of some disturbing game to see who brought the ugliest date? One cannot help but feel the character's pain and regret at letting herself be duped by a handsome stranger who turns out to be so untrustworthy.
Isn't it funny?
Isn't it funny?
Aren't you funny?
Pathetically naive and desperate to believe
You can always find some good
Well, you misunderstood
Or you've been dreaming
'Cause people are just cruel…
"Still Hurting" from The Last Five Years
The opening number of this tragic musical is a doozy, immediately plunging us into Cathy's sadness as she muses on the end of her marriage with Jamie. She sings about broken promises and feeling left behind, and one cannot help but relate to her pain.
What about lies, Jamie?
What about things
That you swore to be true?
What about you, Jamie?
What about you?
"I Know the Truth" from Aida
Poor Amneris discovers that the man she is betrothed to is madly in love with another woman, as one does. She tries to make sense of it all and sadly realizes that her upcoming marriage will be based on lies.
I try to blame it on fortune
Some kind of twist in my fate
But I know the truth and it haunts me
I learned it a little too late
Oh I know the truth and it mocks me
I know the truth and it shocks me
I learned it a little too late
Too late…
"Maleta" from Changing Partners
This song has so many layers, we're using it again! This whole show is all about the complicated nature of relationships and the different ways people cope. But cheating is unforgivable and this song captures how this can be the point of no return for many couples.
Iwan mo lang sa unan ang amoy ng iyong pagtataksil
Akin 'yan
Iwan mo lang ang pangako ng puso mong suwail
At sa iyong pag-alis isasabit ko sa dingding
Ang mga alaala ng maamong mukha
Ng pag-ibig mong sinungaling…
"Akong Nagkamali" from Ang Larawan
The relationship between the Marasigan sisters is at the heart of this story so when one sister betrays the other because she wishes for a better, more comfortable life, it really stings. She basically trades her sister's reputation for a measly twenty thousand pesos. Ouch.
Inisip ko kasi ang aking kinabukasan
Inisip kong hindi ko na kaya ang kahirapan
Ayoko nang makipagtawaran sa palengke!
Magtago sa kobrador!
Maputulan ng tubig at ilaw!
At para doon lang!
Para sa bente mil pesos!
Isinubo ko ang kapatid ko!
Itinulak ko sa malaking kahihiyan!
"Confrontation Medley: Spoliaruim / Wating / Sino Sa Atin" from Ang Huling El Bimbo
Faced with the tragic fate that befell someone who had once been a good friend, the three protagonists of the show agonize over their negligence. They realize how they were all somehow complicit in their friend's sad demise and how much they had failed Joy and even decades later. There is no more making up for it.
Ano'ng nangyari dito? Sino sa atin ang nagbago?
Maglakbay sa simula
Balikan natin ang dating mundo
Lumingon sa umpisa (Sino sa ating dalawa?)
Lumingon sa umpisa (Sino sa 'ting, sino sa 'ting, sino sa ating dalawa?)
Listen to (and follow) the full playlist below:
Comments