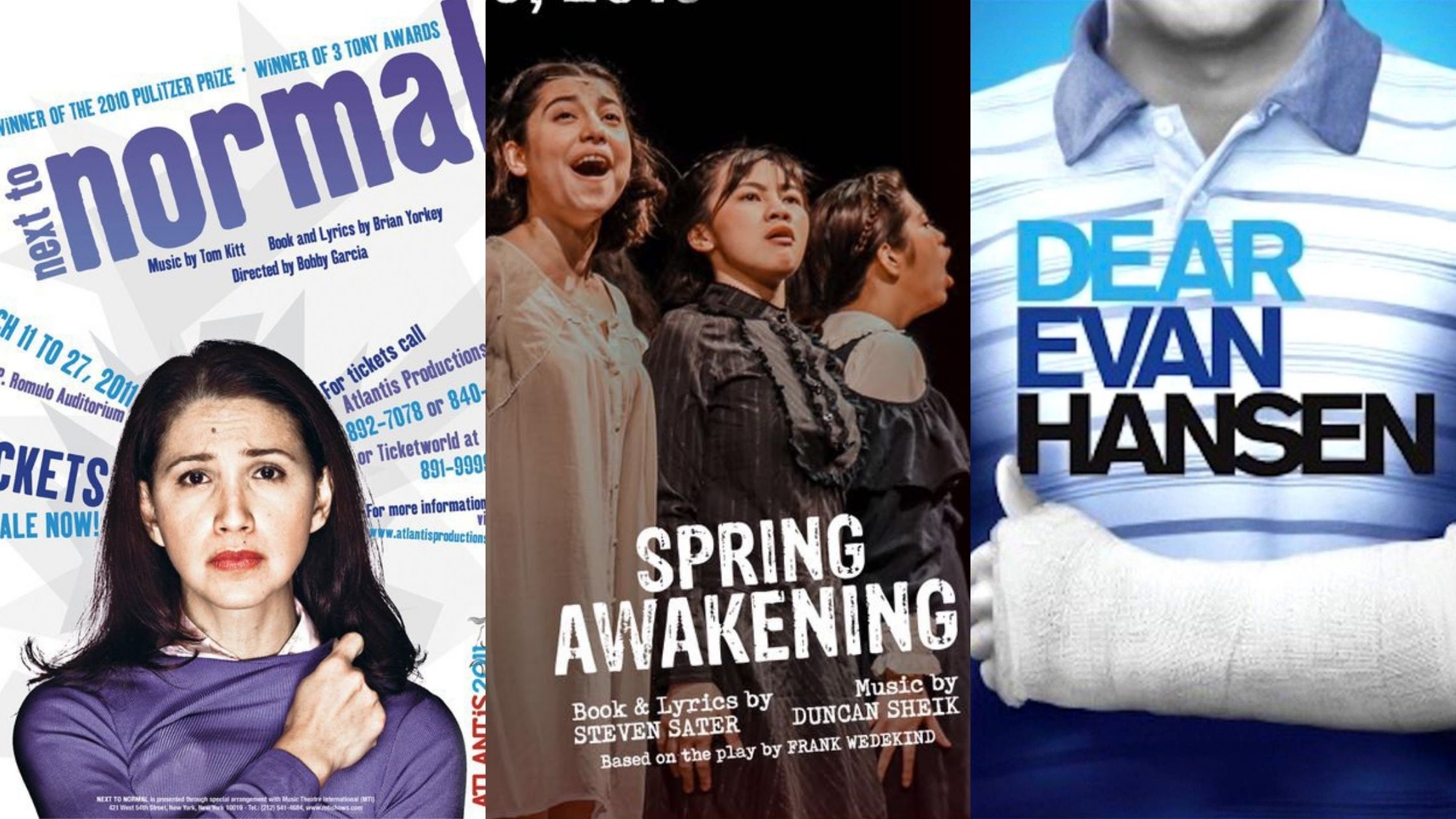 8 Musicals About Mental Health
May is Mental Health Awareness Month.
The annual celebration of Mental Health Awareness Month aims to raise awareness and educate the public about: mental illnesses, the realities of living with these conditions; and strategies for attaining mental health and wellness. It also strives to reduce the stigma that surrounds mental illnesses in order for people suffering from these conditions to be more accepted in society and to be less afraid to seek help.
Musical theater is a particularly effective medium of exploring complex topics like mental illness because of songs' ability to convey profound emotions and the visceral experience of live theater. Stage performances evoke an immediate reaction in audiences that cannot be replicated in film or television. When a character has a breakdown or a breakthrough in real time, there is a powerful connection created between them and the audience, making it somehow easier for the latter to relate to the struggles that so many face on a daily basis. 
Over the years, musicals have tackled the tricky topic in various degrees of success and seriousness, but more and more, these shows are contributing to the important conversation that needs to be made about the impact of mental illness not only on an individual but on the people around them. Shows like Next to Normal or Jagged Little Pill show how families are torn apart by the shadow of mental illness and how arduous the process of healing can be. Not all musicals have happy endings but this is also an important way of portraying the serious consequences of not adequately addressing mental illness. 
Portraying these harsh realities and bringing a sense of hope through moving music and touching performances, musicals continue to help normalize the idea of mental illness while reinforcing the need for society to be kinder and more understanding to those who may be silently struggling with hidden demons.
1. Lady in the Dark (1941)
Music by Kurt Weill, lyrics by Ira Gershwin, book and direction by Moss Hart
This musical centers on Liza Elliot, an unhappy editor of a fictional fashion magazine called Allure. She is undergoing psychoanalysis to help her sort out various issues in both her personal and professional life. She has to contend with several suitors while also dealing with memories of a traumatic childhood. The show is said to be based on the writer's own experiences with psychoanalysis. 
The character's struggles are portrayed in three extended musical dream sequences: the Glamour Dream, the Wedding Dream, and the Circus Dream. The character also tries to process her anxiety through song and eventually finds resolution.
The play ran on Broadway in 1941 and the most recent recording was made by the Royal National Theatre revival in 1997.
Listen to Tracks: "The Saga of Jenny"
2. Anyone Can Whistle (1964)
Music and lyrics by Stephen Sondheim, book by Arthur Laurents
One of Sondheim's lesser known shows and one that has also not been performed recently,
Anyone Can Whistle
is a whimsical tale about a town with a fame-obsessed mayor and an asylum of mental patients running amok. The treatment of mental illness is fairly light and humorous, though the narrative does question how society defines "madness" when the patients from the asylum seem to blend in easily with the rest of the townspeople. Who indeed gets to decide what should be considered normal when everyone seems to be a little bit crazy – was one of the themes of the show and it may have been ahead of its time for a 1960s audience.
The story has its problems and much of it hasn't aged well but the show still boasts of some of Sondheim's most memorable tunes including the title song, "There Won't Be Trumpets, "Everybody Says Don't," and "With So Little to be Sure Of."
Listen to Tracks: "Anyone Can Whistle", "With So Little to Be Sure Of"
3. The Light in the Piazza (2005)
Music and lyrics by Adam Guettel, book by Craig Lucas
The show is set in the 1950s when a mentally-disabled young woman named Clara falls in love with an Italian named Fabrizio during a family trip to Italy. Her mother, Margaret, is wary of allowing her daughter to pursue this relationship because of her condition and tries her best to prevent it from blossoming. Once again, the musical shows how mental illness can complicate family relationships and how it can hinder people from making connections with others. 
Through haunting melodies and a lavish score, The Light in the Piazza manages to tell a poignant story of transcending one's condition and finding love in spite of everything. The show ends on a hopeful note, with Margaret finally accepting that her daughter deserves a chance to be happy with someone who will love her as she is.
Listen to Tracks: "Fable"
4. Spring Awakening (2006)
Music by Duncan Sheik, book and lyrics by Steven Sater
This
rock musical
is set in 19th-century Germany and focuses on the lives of adolescents coming to terms with their burgeoning sexuality. Their ignorance and lack of experience in this leads to some disastrous consequences. Darker themes like childhood sexual abuse, abortion, and social stigma are also tackled.
One character in particular struggles the most with anxiety and inner turmoil and as the story progresses he becomes more and more desperate for comfort or resolution. Unfortunately, the stifled society he lives in has little compassion for those in similar circumstances and this leads to tragic consequences. The musical ends with the ghosts of certain characters reminding the survivor to live on and build a better, kinder world.
Listen to Tracks: "The Song of Purple Summer"
5. Next to Normal (2009)
Music by Tom Kitt, book and lyrics by Brian Yorkey
One of the most
well-known
and critically-acclaimed musicals exploring mental illness, Next to Normal is centered on Diana Goodman, a woman suffering from bipolar disorder, and how her condition affects those around her. The show won three of the eleven Tony Awards it was nominated for and even won the 2010 Pulitzer Prize for Drama, the eighth musical in history to receive this prize.
Throughout the show, Diana has to try and manage her bipolar depressive disorder through regular visits to her doctor and sometimes through electroconvulsive therapy (ECT). She is haunted by visions of her son, Gabe, who died as an infant but who appears to her as a teenager. Her husband and daughter do their best to support her while also dealing with their own, complex issues. It's a powerful portrait of a family's pain and healing, and a story that may not be wholly unfamiliar to many as a better understanding of mental illness, treatment, and recovery becomes more prevalent in our society.
Listen to Tracks: "Finale"
6. Dear Evan Hansen (2016)
Music and lyrics by Benj Pasek and Justin Paul, book by Steven Levenson
One of the most well-known musicals about mental illness, Dear Evan Hansen follows the story of a young man struggling with social anxiety and who gets unintentionally caught up in an elaborate deception when the family of a classmate who committed suicide mistakes one of Hansen's letters as their son's suicide note. As Hansen finds the love and acceptance he has yearned for, he feels conflicted about telling the family the truth.
The show features many memorable songs that explore the main character's isolation and sadness as well as songs that bring hope and healing to those who might be suffering from the same problems.
The musical was nominated for nine Tonys and won five including best musical, best actor, best featured actress, and best score. The trailer for the film adaptation was recently released.
Listen to Tracks: "Waving Through a Window", "You Will Be Found"
7. Be More Chill (2019)
Music and lyrics by Joe Iconis, book by Joe Tracz
Similar to
Dear Evan Hansen
,
Be More Chill
also centers on a young man suffering from social anxiety and longing to be accepted by his peers. This show, however, takes a more radical and fictional approach to the theme, with the main character, Jeremy, taking a pill with a microchip called a "SQUIP" or "Super Quantum Intel Processor" that whispers advice in his ear on
how to be cool
. The SQUIP eventually tries to control all aspects of Jeremy's life as well as those around him.
In Jeremy's quest to become cool, he ends up destroying relationships with people who matter to him and almost allowing the SQUIP to take over the minds of his contemporaries. Be More Chill's approach is an intriguing metaphor with the vicious voice of the SQUIP representing the demons that plague those who suffer from anxiety, depression, and other issues. The musical ends on a hopeful note, with the character finally learning to listen to his own voice as he makes his way through life.
Listen to Tracks: "Voices in My Head"
8. Jagged Little Pill (2019)
Music and lyrics by Alanis Morissette and Glen Ballard, book by Diablo Cody, additional music by Michael Farrell and Guy Sigsworth
This is more than a jukebox musical of Alanis Morissette's
greatest hits
but a profound exploration of a family struggling with various serious issues. Jagged Little Pill perhaps can be compared with Next to Normal in exploration of family dynamics, but it also stands out by tackling other, darker issues such as race, sexuality, consent and sexual assault, drug addiction, and more. 
Using the familiar songs of Morissette, the rock musical portrays a seemingly picture-perfect family with members who are all dealing with their own demons. Each character has to learn to accept that they need help and to shatter the facade of "perfection" they initially tried to uphold so that they can better understand who they should be and how to do what is right. Again, through music, the show deftly portrays pain, healing and empowerment. 
Jagged Little Pill received the most nominations (15) for the 74th Tony Awards which will take place in September.
Listen to Tracks: "You Learn"
Comments