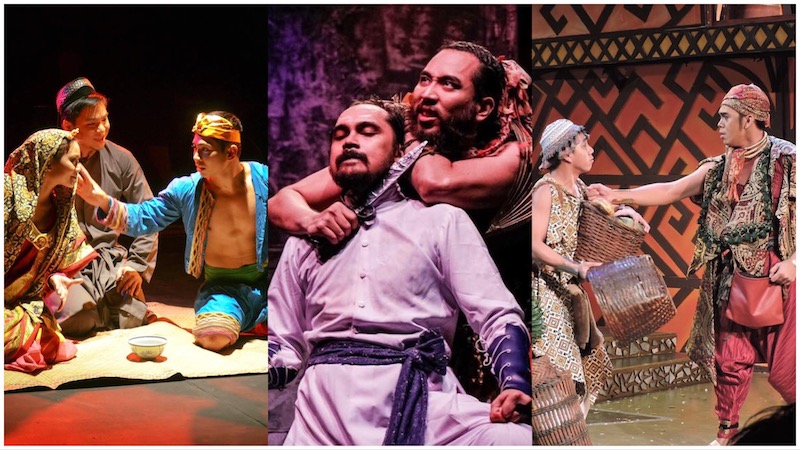 8 Filipino Takes on Shakespeare to Feel For
What's in a name?
More to the point, what do we gain by calling a rose as "rosas" among many other divergences when we choose to translate or adapt existing art?
Well, there's accessibility. But, more importantly, the language used has an immediate impact on the audience.
There's a certain gut punch reaction to love and grief when it's expressed in the words you live in.  Additionally, a faithful translation from a country whose colloquial speech is littered with loanwords is an opportunity to stretch the local tongue over new expanse. It provides a space for formal Filipino that's usually only seen in formal situations and certain telenovelas. 
Translation makes sense of an unfamiliar world by using the familiar to describe it. Finding ready translations for concepts establishes sympathy when you understand that words are created out of a shared need and sentiment. On the other hand, reaching a word with no translation sets a welcome distinction between the two cultures, too.
It's almost a game we participate in to find the extent of our language. And who better to echo in this endeavor than the Bard himself? Below are some local productions of the best of William Shakespeare:
1. Coriolano as translated by Guelan Luarca
This year saw the end of Game of Thrones and, coincidentally, Tanghalang Pilipino's staging of a direct translation of Coriolanus. It's a happy (for us) substitute to scratch that itch for political intrigue. It's focal point, Cayo Marcio, isn't exactly a good person but does make for a great character. Like the best of them, he has his positive qualities. Cayo Marcio has incredible prowess in battle and loves his mother dearly. Yet, his own hubris and his discrimination against the people consequently lead to situations that harm him. First, by being branded a traitor in two separate cities. Second, by being hoisted on his own petard.
2. #R</3J as adapted by Guelan Luarca
Another point of adaptation is to make the story more palatable to certain audiences. In the case of #R</3J, the hashtag alone should make it obvious that it's Romeo and Juliet geared towards social media adept millennials. That said, it can't really be representative of millennials in Metro Manila without tackling the effects of social media itself. For a generation that deals with a barrage of 'cheap' stimulus with every like, another dimension is added to the love story. The question, then, changes from "do you love me?" to "is there permanence and reality to your love?"
3. Ang Katatawanan ng Kalituhan as translated by Guelan Luarca
A trope that's always amusing, perhaps because of its novelty in reality, is when identical twin characters get mistaken for each other and/or switch lives with none the wiser. Shakespeare's Comedy of Errors, from which Katatawanan is translated has not one, but two sets of twins involved in this confusion. To add to the chaos, the twins don't know about the mismatch either until much later. There's also a heaping of slapstick which, if 90s Filipino comedy is any indication, ought to be appealing to Filipino audiences. 
4. Pangarap sa Isang Gabi ng Gitnang Tag-araw as translated by Rolando Tinio
Despite retaining its original setting in Athens, Tanghalang Pilipino's production of Pangarap somehow still mimics the current Philippine environment wherein English is the primary language used in official and formal junctions. On the other hand, its translated verses are reserved for everything else and the most ardent of passions — of which there's a lot. A Midsummer Night's Dream, after all, has two pairs of lovers entangled in the tricks of the fairies. 
5. The Tempest Reimagined as adapted by Liza Magtoto and Nona Shepphard
The Tempest Reimagined is probably the most obvious example of how an adaptation can bridge cultures together while simultaneously keeping them distinct. Interwoven within a story of sorcerers and their familiars are the ghosts of real tragedies. The play shifts its memory from the 1609 English storm that inspired the original work and the 2013 Typhoon Yolanda. In turn, the tone alternates from fiction to reality, English to Filipino, the ugly and the compassionate sides of men after a disaster.
6. Sintang Dalisay as adapted by Ricardo Abad with Guelan Luarca
In contrast to the earlier Romeo and Juliet entry, which opted for a modern spin, Sintang Dalisay is positively folk. Verona is exchanged for an imaginary Muslim community, complete with all the trappings. Romeo and Juliet become Rashiddin Mustapha and Jamila Kalimuddin, lovers from feuding clans, married by an Islamic worship leader or imam. The well-known murder and tragedy of the story are packaged in colorful costumes and traditional dance numbers. Even the music abides with the setting by making use of the kulintang and gamelan.
7. Der Kaufmann: Ang Negosyante ng Venecia as adapted by Rody Vera from a translation by Rolando Tinio
Perhaps unlike other adaptations, Der Kaufmann doesn't approach The Merchant of Venice with immediate exaltation. It takes the stereotypical and discriminatory portrayal of the characters on the fringes, Jewish people and alleged homosexuals, and asks why that's considered comedy. Displacing The Merchant of Venice from its pedestal as "a comedy Shakespeare wrote" and inserting it into the context of Nazi propaganda is a move akin to stripping it of its laugh track. It practically dares you to emit even a chuckle, now that it's laid bare.
8. Haring Lear as translated by Bienvenido Lumbera
A family divided by politics and misunderstanding is a familiar enough concept to grasp. Political families who would do anything in their vie for power is common too. The titular Lear still has to deal with turbulent daughters and a waning authority over them and his constituents. But the catch in Haring Lear is that it's set in a dystopian, post-nuclear world.
Of course, this isn't the end-all be-all list of Shakespeare adaptations. There's bound to be new ones eventually, each just as inspired as the last.
Comments