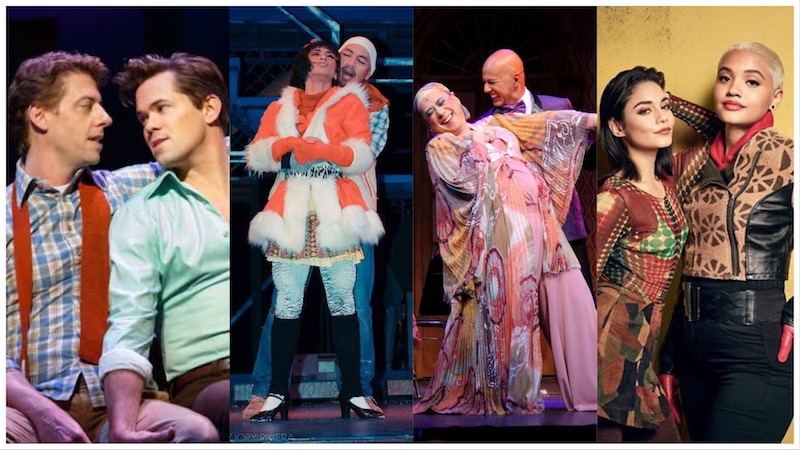 7 Broadway musical couples that brought LGBTQ+ love to the center stage
Rainbow flags are waving. Marches of a spectrum of colors are in the streets. Lady Gaga's "Born this Way" is playing non-stop on the radio. Cysters! Pride Month has finally arrived, and if you're ready to be out and proud, then henny, SHANTAY YOU STAY.
In the acceptance speech of Lin Manuel-Miranda at the 2016 Tony Awards, the musical theater royalty highlighted that, "love is love is love is love is love is love is love is love". He went even further into challenging the audience to fill the world with music, love and pride. Undoubtedly, the theater has always had open doors for all those who wish to express their art in it – regardless of status, color or gender.
Today, we list some of the most beloved pairs in musical theater that made us all wave and raise the rainbow flag even higher.
1. Angel Dumott Schunard and Tom Collins, RENT
First on our list is an iconic couple from an equally iconic musical. Angel and Tom's story is one that is sure to give you the laughs, make you shed the tears, and make you so kilig. Angel Schunard, a drag queen street drummer, met the recently mugged Tom Collins, an anarchist professor, in an alley. Angel, being true to her name, tended to the wounded and bruised Collins, who then calls his savior a "first-degree angel". Unbeknownst to the two, this was the start of an exciting romance. Set against the backdrop of the AIDS crisis, the Angel x Tom story showed how true love can turn an ordeal into a celebration of life.
2. Joanne Jefferson and Maureen Johnson, RENT
As the adage goes, opposites attract. Such was the case for the carefree performance artist Maureen Johnson and her lawyer girlfriend Joanne Jefferson. At one point, Maureen's promiscuous past and Joanne's controlling nature have broken the two apart. The two reconciled, however, after being reminded by their friend Collins on how Angel, who has just passed, has helped them all to believe in love.
The Joanne x Maureen break-up scene has sealed its mark in musical theater history as it gave all Broadway babies the ultimate LQ song.
3. Lucas and David, IF/THEN
If/Then is a play that features the two different realities of the main character, Elizabeth. In the first reality, Lucas, Elizabeth's close friend, falls for David, the best friend of Elizabeth's boyfriend Josh. Though initially apprehensive of a lifetime commitment with David, Lucas was eventually convinced that he is ready to marry the quirky doctor, even adopting a son later on. David indeed has achieved what every theater kid dreams of: making the perfect argument-slash-proposal in full song – in public.
4. Celie and Shug Avery, THE COLOR PURPLE
Good lawd! The Color Purple has put to the stage the stories of some of the toughest women in Broadway. Celie, an African-American who faced so much pain and suffering in her life (e.g. fatherly abuse, child separation, domestic abuse, etc.), somehow falls for her abusive husband/master's lover, Shug Avery, a jazz singer. Shug was a driving force in Celie's life, being with her till she found her inner strength and self-love. Their romantic epiphany was explored through the splendorous harmony and lyrics of the song "What About Love".
5. Marvin and Whizzer, FALSETTOS
Allowing discussion on the introduction of gay relationships in heteronormative family set-ups, the Falsettos features the story of partners Marvin and Whizzer, and how Marvin's son, Josh, accepts his dad's new found flame. With a Bar Mitzvah planning on the sidelines and a treacherous terminal illness in the horizon, Marvin and Whizzer take the audience on a roller coaster ride of discovery, break-ups and reconciliation.
6. Albin and Georges, LA CAGE AUX FOLLES
A drag star for a mother and a nightclub owner/master of ceremonies for a father? Prolly the perfect equation for a life of crazy and fun razzle dazzle. But with their son Jean-Michel being engaged to a girl from a homophobic "Tradition, Family and Morality Party" family, Albin and Georges navigate through the norms of a heterosexual family set-up to ensure their son's happiness – just like what any other parents would do. Albin, Georges and Jean-Michel show us the struggle of a family with LGBTQ+ parents while making us laugh, cry and cheer with and for them.
7. Alison and Joan, FUN HOME
There is one memory that us LGBTQ+ community members would never forget – our coming out. This story differs from one person to another. Some are stories of relief and acceptance, while some are of rejection and newfound purpose. Based on the graphic memoir of cartoonist Alison Bechdel, Fun Home shows the author's narrative after discovering her own gender identity and stepping out of her closet  – a journey where Joan plays a pivotal role. Joan, apparently, was the stamp on Alison's paper when she changed majors.
There you have it! I would not be so surprised if at the end of the rainbow, it's not a pot of gold they'd find, but a full-blown musical theater production that teems with representation and protest for the pressing issues faced by the LGBTQ+ community today. Happy Pride Month, everyone! *insert jazz hands*
Comments