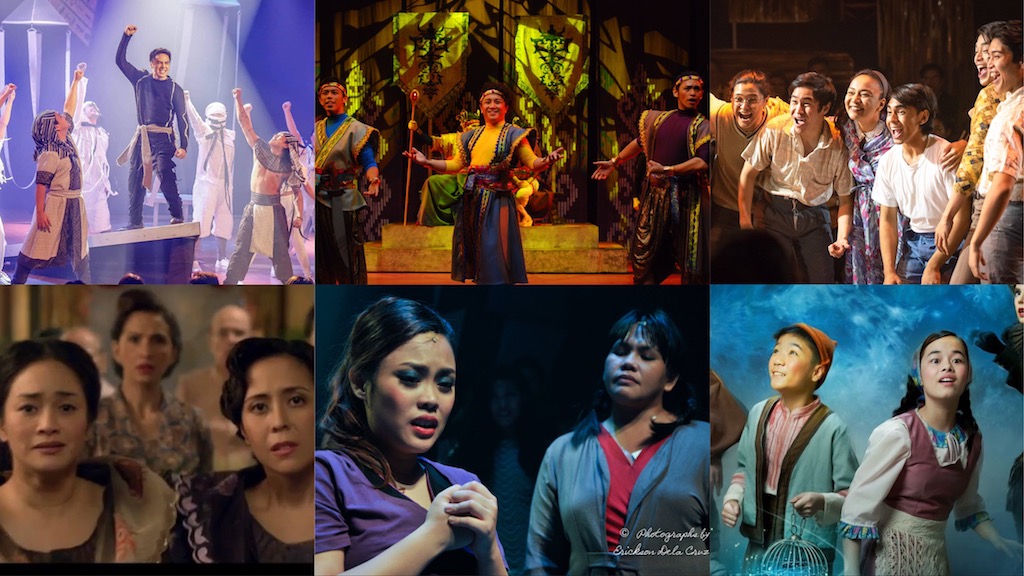 6 Iconic Siblings in Musical Theater
Today is National Siblings Day, and what better way to celebrate the occasion than by paying tribute to some of the most iconic siblings in Philippine musicals. From superheroes, to activists, and to repentant brothers and sisters, here are some of the most memorable ones from our country's own original musicals.
1. Mely and Viva in Kung Paano Ako Naging Leading Lady

Sisters Mely and Viva
both yearn to fulfill their dreams and find their place in the world. With an ongoing war between superhero team Fuerza Filipinas and supervillain team Kayumanggilas, the fate of the world rests on the two of them coming to terms with their own unresolved past and working together for the greater good.
2. Candida and Paula Marasigan in Ang Larawan
Unmarried and impoverished sisters Candida and Paula face the reality of having to choose between profiting over their father's final masterpiece or not in order to live a more comfortable life in pre-World War II Manila. An act of betrayal by Candida involving new boarder Tony Javier, who encourages them to sell the painting to an American, tests their relationship. In the end, they stick to their guns and choose to let their principles win over anything else.
3. Jules, Gani, Em, Jason, and Bingo Bartolome in Dekada '70

In Dekada '70, we see how the 5 brothers grow up in the heinous Martial Law regime of the 1970's. In their shoes, we see how the youth battled the cruelties of the time, and how that particular generation coped with a fascist dictatorship.
4. Prince Pedro, Prince Diego, and Prince Juan in The Quest for the Adarna
When their father King Fernando is struck with a mysterious illness, the three brothers need to travel to Mt. Tabor to seek the legendary Adarna, whose voice is said to be the only remedy. Juan, by showing kindness, is the only one who succeeds in the end. Jealousy leads his brothers to betray him and claim his achievement as their own. When their father orders exile (or death) as punishment, Juan instead chooses to make peace and forgive, keeping their family together against all odds.
5. Reuben, Simeon, Levi, Judah, Dan, Naphtali, Gad, Asher, Issachar, Zebulun, Benjamin, and Joseph in Joseph the Dreamer

Their father makes it no secret– Joseph is undeniably his favorite out of his 12 sons. Out of envy, his brothers decide to get rid of him by selling him off to a slave owner. After overcoming a series of seemingly unfortunate events, Joseph ends up becoming the Pharaoh's right-hand man after he helps him interpret his dreams. In the end, he is reunited with his brothers after he saves Egypt from famine. Instead of resorting to vengeance, he also chooses forgiveness, which brings harmony back to their family.
6. Mytyl and Tyltyl in Bluebird of Happiness
Siblings Mytyl and Tyltyl embark on a magical adventure in search of a mythical creature called the bluebird of happiness. Accompanied by their dog, their cat, and a candle in human form named "Light", they explore mysterious lands and meet enchanted characters in their quest for true happiness. But despite of all the places they visit, they end up where they started and find that true happiness is right in their own home.
Comments