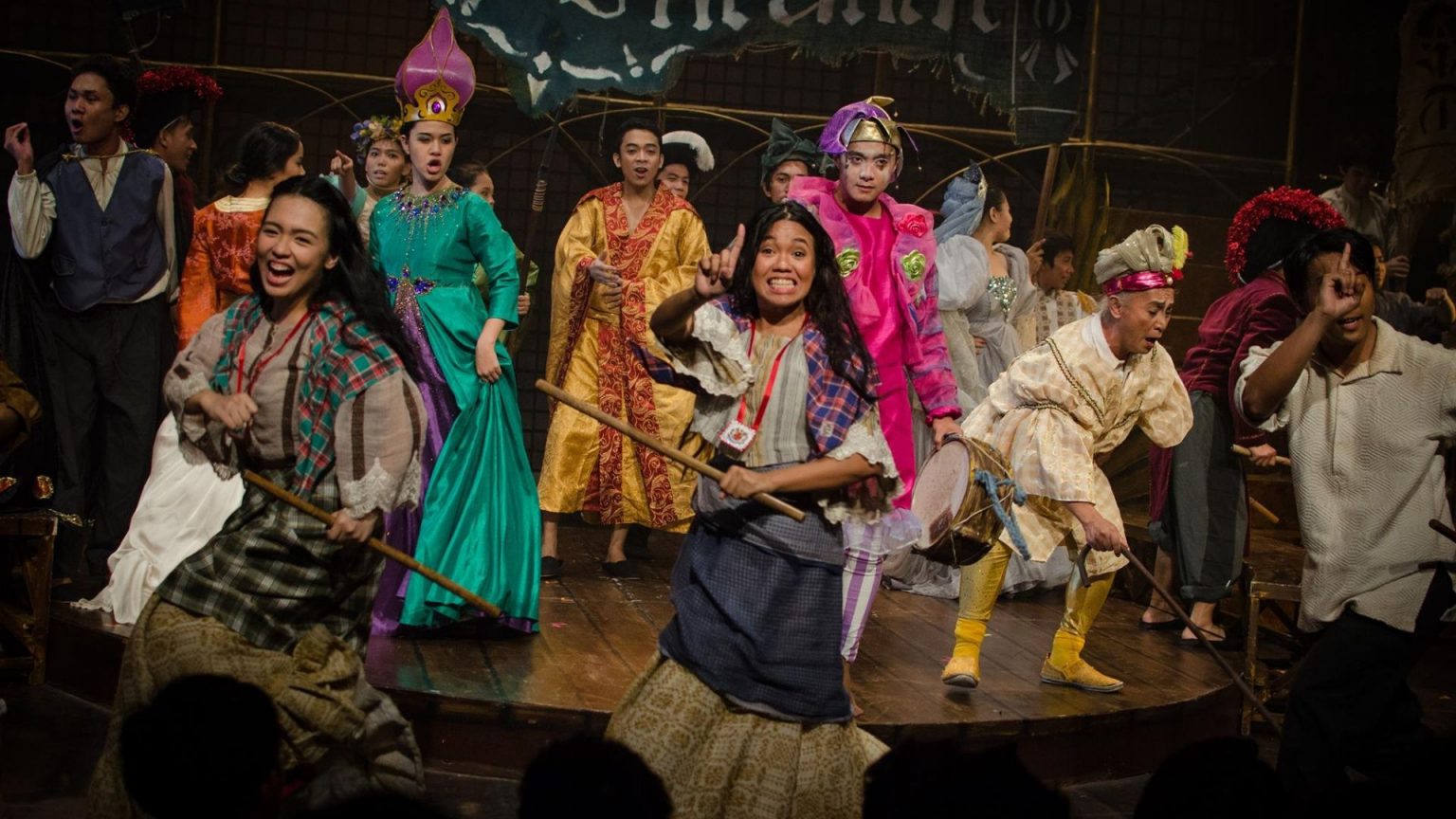 5 Musicals About Andres Bonifacio
Every year, at the end of November, we commemorate the birth of one of our country's most important historical figures – Andres Bonifacio. Known as the Father of the Philippine Revolution, Bonifacio founded and led the secret society known as the Katipunan, who fought bravely against the Spanish colonizers in the 1890s. 
In true Filipino artistic fashion, many pieces of art have been made to depict Bonifacio's life and achievements. Among these are a handful of musicals centering on Bonifacio, various aspects of his character, and his legacy. These musicals have different takes on Bonifacio from doing a straightforward interpretation of historical events (Katipunan, Mga Anak ng Bayan), a symbolic reflection on the nature of heroism and love for country (San Andres B) to portraying Bonifacio as a literal superhero (Supremo Redux). These diverse approaches are testament to the complexity of this historical figure, proving time and again that there is always something new to discover about Andres Bonifacio.
As our way of commemorating this national holiday, we've put together a list of musicals that pay tribute to this sometimes controversial but always fascinating figure in our history.
Teatro Porvenir
Dulaang Up's Teatro Porvenir not only tackles the life of the Supremo but also features Macario Sakay and Aurelio Tolentino, and to a certain extent, Gregoria de Jesus, Bonifacio's wife, who is also portrayed as Inang Bayan.
The title refers to the artistic movement "Theater of Tomorrow" which was spearheaded by the trio of Bonifacio, Sakay, and Tolentino and the show is notable for exploring the artistic side of Bonifacio.
Written by Tim Dacanay with direction by Alexander Cortez, it also features dramaturgy and additional dialogue by Floy Quintos. Stage design is by Faust Peneyra, costume design by Mitoy Sta. Ana, lighting design by Meliton Roxas Jr., and sound design by Jethro Joaquin.
The show features Russell Legaspi (Andres Bonifacio), Jojit Lorenzo (Macario Sakay), Joel Saracho (Aurelio Tolentino), Karen Gaerlan (Oryang), Cedric Juan (Emilio Jacinto), Mark Dacalat (Procopio Bonifacio / Ladislaw Diwa), Dan Jarden de Guzman (Ciriaco Bonifacio), Nikki Lorenzo (Espiridiona Bonifacio), Maxine Ignacio (Maxima Bonifacio), Fritz Esase (Troadio Bonifacio), Iris Borgonia (Emilio Aguinaldo), Io Balaon (Jose Rizal), Fitz Bitana (Francisco Carreon), Ronnie Martinez (Matandang Morista), Natasha Cabrera (Bibiana Carreon), Luis Morano (Teodoro Plata), Ferdinand Angeles (Opisyal / Sakristan Mayor / Kura Paroko), and Sheryll Ceasico (Babaylan).
The show was streamed on Bonifacio Day last year.
Katipunan, Mga Anak ng Bayan
Gantimpala Theater's Katipunan, Mga Anak ng Bayan, centered on Bonifacio's life, the lead-up to the formation of the Katipunan, the epic revolution that transpired, and of course, the tragic fates of everyone who fought for this country's freedom.
The show also features some key figures in history such as Emilio Jacinto and Gregoria de Jesus. This exciting chapter in Bonifacio's life is played out in energetic song and dance, with the characters passionately proclaiming their desire for independence despite the overwhelming odds. 
Written by Bonifacio Ilagan with a libretto by Jose Jeffrey Camañag and music by RJ Jimenez, the musical has been performed all around the country from Metro Manila to provinces like Pangasinan, Tarlac, Pampanga, Laguna, and Bulacan.
Supremo Redux
The second Bonifacio-centric production of Philippine Stagers Foundation, Supremo Redux, portrays historical figures as superheroes idolized by a young man named Bon. Written, directed, and starred in by Vince Tañada, the show is the post-modern, re-imagined version of the previous musical. The material of Bonifacio: Isang Sarswela was revisited and repackaged for a younger and more modern audience.
As the character of Bon deals with his soldier father's tragic death in Marawi, he goes on an adventure when the characters of his favorite video game, Super K, magically come to life and showcase their element-based powers. Super K proves to be Bonifacio himself (with the power of air), while Emilio Jacinto controls water, Emilio Aguinaldo controls fire, and Macario Sakay controls earth. 
The rest of the super team called the Katipunan also include the female heroes: Melchora Aquino, Hilaria Aguinaldo and Bonifacio's wife Gregoria de Jesus. The Spanish colonizers are predictably portrayed as the villains of the piece.
The musical goes on to show the historical events already shown in the previous show but with the addition of more contemporary dialogue and as well as musical numbers transformed into modern genres such as hip hop. The show is a bold experiment and an innovative theatrical experience which aims to appeal to the younger generation and to bring them closer to those who shaped their history.
San Andres B
Written for the hero's 150th birth anniversary, Tanghalang Pilipino's San Andres B is an original Filipino opera with a libretto by National Artist for Literature Virgilio Almario, music by Josefino Chino Toledo, and direction by Floy Quintos.
Beyond an interpretation of the biography of Bonifacio, this opera challenges the audiences to reflect on their definitions of heroism and even sainthood. The lyrics are written in complex metaphors, all tackling equally difficult themes such as the true cost of loving one's country and how to awaken a sense of national consciousness. The piece delves into Bonifacio's internal struggles and likewise exposes the audience's own doubts and fears about pursuing a path that, however noble, will lead to tragic consequences.
The cast was led by Dondi Ong as Andres Bonifacio, Margarita Roco as Gregoria de Jesus,  Antonio Ferrer as Emilio Jacinto, and Marvin Gayramon as Jose Rizal. The supporting chorus was composed of AUIT chamber ensemble members as well as actors from Tanghalang Pilipino and dancers from Ballet Philippines, with Kris Belle Paclibar-Mamangun as choreographer.
Bonifacio: Isang Sarswela
The Philippine Stagers Foundation's Bonifacio: Isang Sarswela was written and directed by Vince Tañada and highlights Bonifacio as a flawed and very human hero, and not the larger-than-life figure he is sometimes portrayed in the history books.
The show follows several historic events including the founding of the Katipunan, the many significant battles fought against the colonizers, the harsh conflict between the Magdiwang and Magdalo factions, and the betrayal and death of Bonifacio.
Similar to the previous entries, this show also features other historical figures playing pivotal roles in the story, including Emilio Aguinaldo, Emilio Jacinto, Gregoria de Jesus, and Macario Sakay.
The cast includes Tañada and JM Encinas in the title role, Cindy Liper as Gregoria de Jesus, Jordan Ladra and Kevin Posadas as Emilio Aguinaldo, Monique Azerreda and Adelle Ibarrientos-Lim as Hilaria Aguinaldo, Patrick Adrian Libao as Emilio Jacinto, and Chin Ortega as Macario Sakay.
The show features costume design by Emy Tañada, lighting design by Art Gabrentina, and set design by Jeff Ambrosio.
Comments