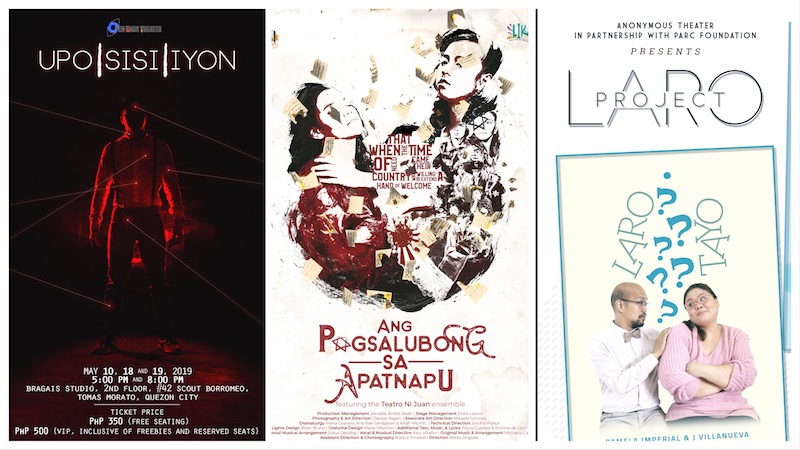 5 Independent and Community-Based Shows this May to June
From newly-formed organizations to a community theater group 12 years running, here are 5 independent and community-based productions you can catch this May to June.
1. UPO | SISI | IYON by Open Haus Theater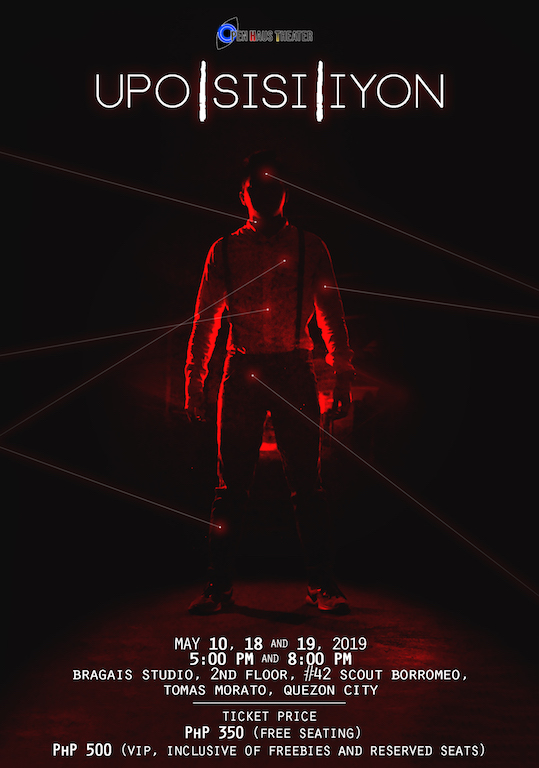 "UPO | SISI | IYON", the company's maiden production, is an interactive play that lets the audience decide what will happen next. The play's premise is to help the audience make smarter decisions in terms of their voting choices. The play was first staged in 2016 as a thesis production by PUP Theater Arts students.The actors and staff are all PUP Theater Arts alumni and students.

The show will be running on May 18- 19, 2019, 5:00PM and 8:00PM at Bragais Studio – 2nd floor #42 Scout Borromeo, Diliman, Quezon City (near Il Terazzo mall). Tickets are priced at P350 (regular, free seating) and P500 (VIP, reserved seats with freebies). For more information, visit @openhaustheaterph on Facebook.
2. BB30: Benilde's Music and Arts Festival by The De La Salle-College of Saint Benilde School of Design and Arts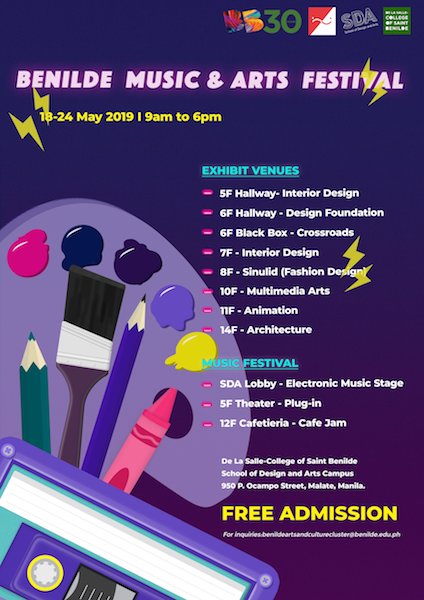 The De La Salle-College of Saint Benilde School of Design and Arts is having the first-ever Benilde Music and Arts Festival with the theme "Best of Benilde @ 30" or BB30. Presented by Benilde's Music Production, it is a week-long celebration showcasing the talents of Benildean alumnae, students, and faculty featuring music and theater performances, arts management talks & music workshops, exhibits in fashion, photography, multimedia arts, interior design, industrial design, and architecture, as well as digital filmmaking and animation showings.
BB30 will run from May 18-24, 2019 at the SDA Campus, 950 P. Ocampo, Malate, Manila from 9am to 6pm. Admission is free (except for the special events and performances). For more information, visit @sdabacc on Facebook or contact 0905-452-2858.
3. Sana: Ang Pagkamit ng mga Pangarap by Teatro Dayaw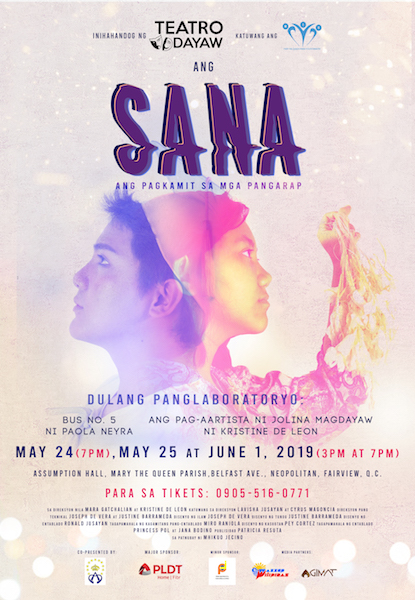 " Sana: Ang Pagkamit ng mga Pangarap" is a twin-bill inspired by two stories about goals and aspirations. "Ang Pag-aartista ni Jolina Magdayaw" talks about an aspiring actress who meets a vlogger named MAV. MAV is looking for the lead star who can filter his reality. "BUS NO. 5" begins with five students on a fieldtrip. Little did they know about what lies on their path ahead. Teatro Dayaw is newly-established community theater organization located in North Fairview, Quezon City.

The show will run on May 24 (7PM), 25 3PM at 7PM, and June 1 (3PM and 7PM) at the Assumption Hall of Mary the Queen Parish- Diocese of Novaliches. Contact Mhikuo Jecino at 0905-5160771 for tickets. For more information, visit @teatrodayaw on Facebook.
4. Laro Project by Anonymous Theater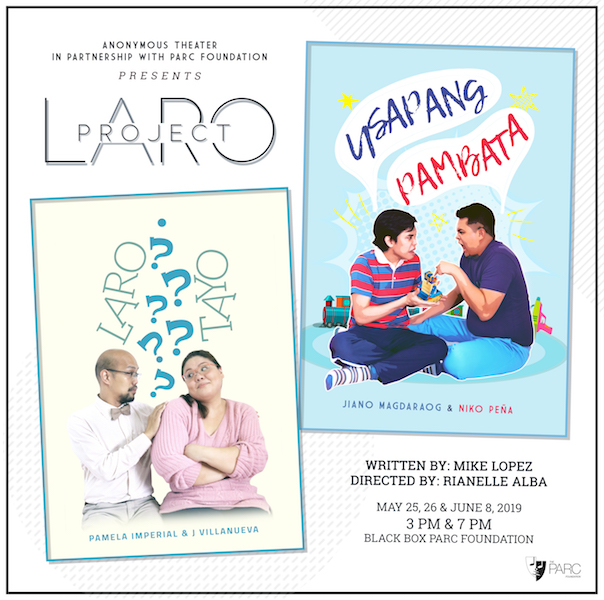 "Laro Project" is a showcase of two plays–"Laro Tayo" and "Usapang Pambata," in partnership with The PARC Foundation. "Laro Tayo" is Nanay and Tatay's love story. As Tatay comes to terms with his past and tries to resolve some of his regrets with Nanay by his side, they realize that, as with all relationships, the only answer is love. "Usapang Pambata" is a simple dialogue between two 2 year-old boys… or is it? During their first play-date, CJ and Mat-Mat get to know one another and realize that they have more in common than they thought.
Anonymous Theater is a new company that aims to give lesser-known actors and writers a chance at the spotlight.
The shows will run on May 25, 26 and June 8, 3pm and 7pm at the Black Box of The PARC Foundation, San Juan. Shows are at 3:00PM and 7:00 PM. Tickets are at Php 350 each. For inquiries and reservations, visit @Anonym0usTheater on Facebook or contact 0917 832 6197 / 0917 538 5078 / 0942 281 6920 / 02 350 6356.You can RSVP here: https://www.facebook.com/events/2248850495228950/.
5. Ang Pagsalubong sa Apatnapu by Teatro ni Juan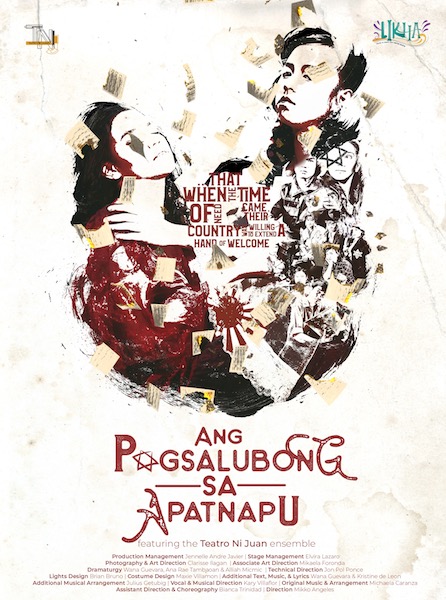 The original musical "Ang Pagsalubong sa Apatnapu" returns for a rerun this June to July at Tahanan ni Juan. Featuring the Teatro ni Juan ensemble, the production recounts the true life events of Marikeños giving shelter to a group of Jewish refugees during World War II. Teatro ni Juan is a community-based organization and Marikina's premiere community theatre.
The show will run from June 15-16, 22-23, 29-30, July 6-7, July 13-14 (Saturdays & Sundays, 7pm) at Tahanan ni Juan, 43-A C. Cruz St., Sta. Elena, Marikina City. Tickets are available at P150php. Seats are limited. For more information, visit @TeatroNiJuanPH on Facebook.
Comments