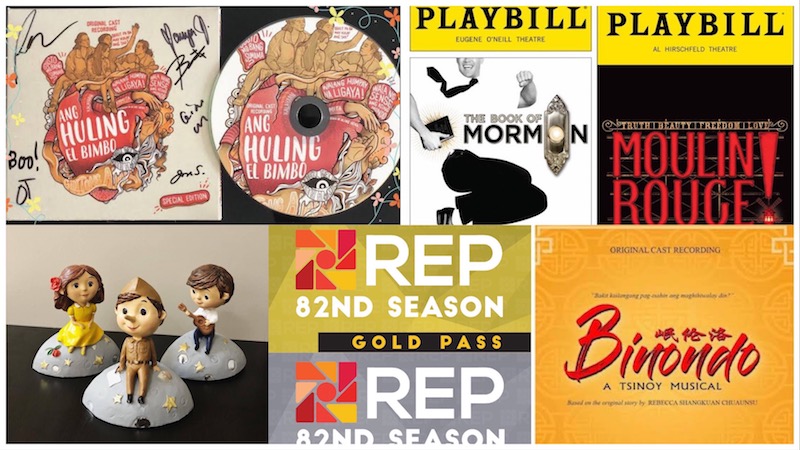 5 Gift Ideas for Theater Fans
It's that time again, folks. 
It's time to switch out the cast albums you've been binging the past year for more holiday-themed chorals. Otherwise, insistently argue that belting Frozen II's Into the Unknown technically counts as "getting into the Christmas spirit" because "… snow." 
Personally, if the cynicism of old age has taken hold of you (and if you're a theater writer who hasn't had the time to go through the new musicals yet, oops), you could say Hadestown's Chant I is a great Christmas carol too. It truly captures the effects of the looming climate crisis and capitalism of the season. Just… maybe be prepared to have zero friends after.
If you've managed to keep your friends though, hooray! What better way to show your appreciation – and apology, depending on which route you took – than by getting them a gift? Got some thespian and enthusiast friends? Lucky you! They're great and we've got a few ideas on how you might make their Christmas a little better:
1. Ticketworld Gift Certificates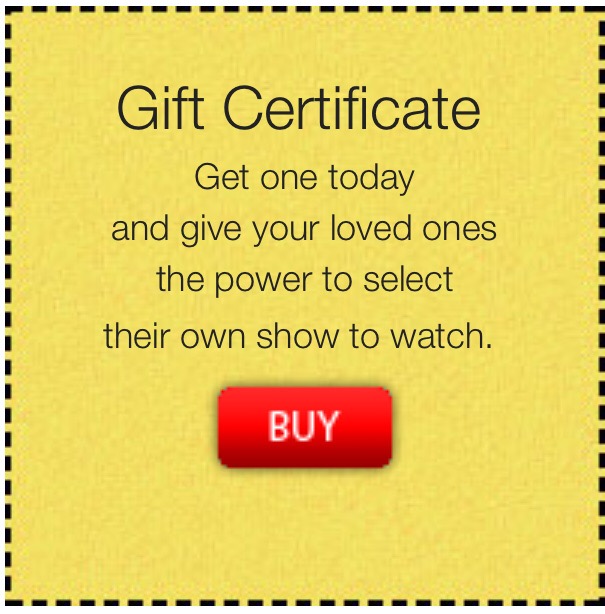 There's a hierarchy to gift-giving. There's some outrageously thoughtful, elusive, and specific gifts you get for loved ones to make their Christmas truly magical… and then there's the gifts you give to acquaintances for company parties and extended family reunions. Not saying they're bad or get less priority, but there's a thin line between getting strangers a thoughtful gift and getting them a gift that screams "I straight-up stalked your social media profiles." 
Gift certificates fall right in that sweet spot. Ticketworld gift cards are priced at Php. 500, Php. 1,000, or if you're feeling particularly giving, you can even customize the amount you want to send. It doesn't have to be an impersonal affair either: you can personalize the card by including the recipient's name and a message. 
These are perfect for (a) a co-worker who just mysteriously has "theater" written on their wishlist and probably doesn't expect you to get them a whole concert stage with a basement that they can hide and live in. Or if (b) someone you care about likes theater, but you, the gift-giver, know nothing about it. Pro-tip: maybe get one for yourself and go on a show with them. It'll be one of those situations where the thought really counts for a lot!
Budget: Flexible, Php. 500-1,000 or more
Where to get: https://www.ticketworld.com.ph/theaterfansmnl/Online/giftCertificateDetails.asp
Perfect for: Strangers, newcomers to this strange world
2. REP Season Passes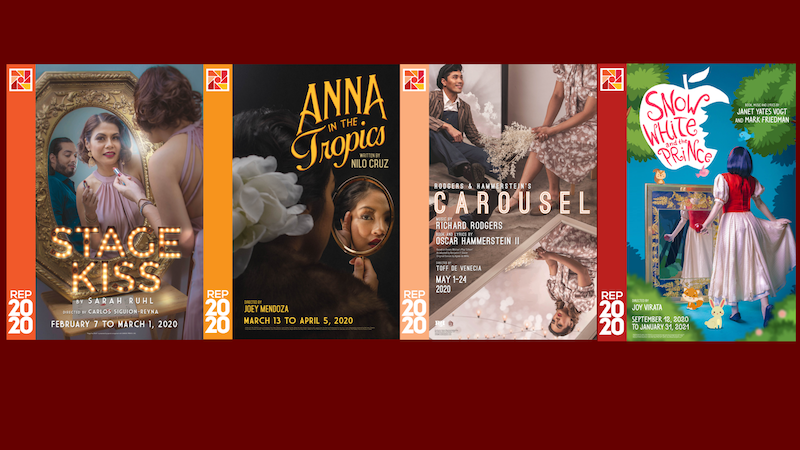 In the same vein as gift certificates, consider the REP Season Passes as a gift that keeps on giving. With one pass, you can get access to 3-4 of the shows Repertory Philippines is playing for 2020, all at a discounted (30% off!) price. 
Liesl Batucan is the year's artistic director, and the line-up? Think of it like a more curated gift certificate: all of their future shows are local adaptations of one prize-winning stage play after another. There's Stage Kiss, New York Times' Critic's Pick of 2014, for the friend who's hung up on their ex. Anna in the Tropics, Pulitzer Prize winner, for the literary friend who's recently tweeted "I miss me" after lamenting that they've read, like, one book this year. Finally, there's TIME Magazine's pick for greatest musical written in the 20th century, Carousel. It's also good for romantics or the Nikki Gil fan. If you or your giftee are new to the scene, this is the place to start.
There's two versions that you can get. The Gold Pass nets you premium seating in orchestra center (a.k.a the best seats) for all the shows for just Php. 4,200. The Silver Pass gets you open seating on the orchestra side for Php. 3,150.
They've also got Snow White and the Prince, a family-friendly show optional in some gift passes. This would be great for the titos and titas you know who've been spoiling their pamangkins rotten, much to the dismay of their parents. You can include it in your 2020 calendar for Php. 4,900 in the Gold Pass or Php. 3,700 in the Silver Pass. 
Additionally, you can get 1 free pass for every 4 that you buy!
Budget: Php. 3,150 – Php. 4,900
Where to get: Contact REP at 8451-1474 or 0966-905-4013 or purchase through Ticketworld
Perfect for: People who have more than one theater-loving friend, children
3. Original Cast Recordings
Often times, cast recordings exist as souvenirs for people who want to relive their show-going experience. There have been some gems in local musicals, but unlike their Western counterparts, the albums aren't always available on Spotify or Youtube. When it comes to these shows, you've got to go the more traditional route. Luckily, the traditional way lets you directly support the creators when you buy physical copies of the recordings too. From the shows that ran this year, you can buy albums for:

Dekada '70. With music and lyrics by Pat Valera and Matthew Chang and orchestrations by Dana Marquez, the cast album is a perfect gift for the friend who's looking to see the musical's rerun next year. Singing along in the theater is generally frowned upon, but some people like listening to the music first before watching and any preview for this show is otherwise hard to find. You can get the album for Php. 350 by contacting their official Facebook page.
Binondo: A Tsinoy Musical. Stripped of the colorful visuals and costumes from the show, the lively voices of Shiela Valderrama-Martinez, Arman Ferrer, Noel Rayos and the rest of the cast still echo throughout the recording. Von de Guzman is the composer and primary source for a copy of the album. You can get it for only Php. 500 by messaging him on Facebook or emailing him at sirvonrod@yahoo.com.

Ang Huling El Bimbo. An exception to the earlier rule, the El Bimbo cast album is available on Spotify, though it's always nice to have something to grasp. By its very nature, you can always choose to listen to the original versions of the songs in jukebox musicals. They're classics. What you miss out on are the distinct cadences and inflections of the characters as they sing and musical choices that add atmosphere to a scene. Specifically, for this show, what you miss out on is the gut-punch harmonies in the rendition of the titular song. You can find limited stocks of the album at R Shoppe, on the ground floor gaming area of Resorts World Manila. It's Php. 500 for non-members of Resorts World Manila and just 400 GP for members.
Budget: Php. 350 – Php. 500
Where to get: Contact official persons involved, R Shoppe
Perfect for: people who still inexplicably have CD players
4. Mula sa Buwan's Moonti
A new kind of theater merchandise, Mula sa Buwan's official Facebook page is selling paperweights with 3D and cartoon versions of their lead characters: Cyrano, Roxane, and Christian. The moontis have all the little details, including Cyrano's elongated nose. Each character moonti is priced at Php. 350, but you can buy the whole set for Php. 1,000. Extra incentive to buy the full set, outside of bragging rights, is the fact that you can connect all three of them to form a tiny moon. It's the world's easiest puzzle, but if the person you're giving them to has a toddler, they'll get a kick out of it. 
Budget: Php. 350 – Php. 1,000
Where to get: Official Facebook page
Perfect for: People who have seen this show or plan to
5. Playbills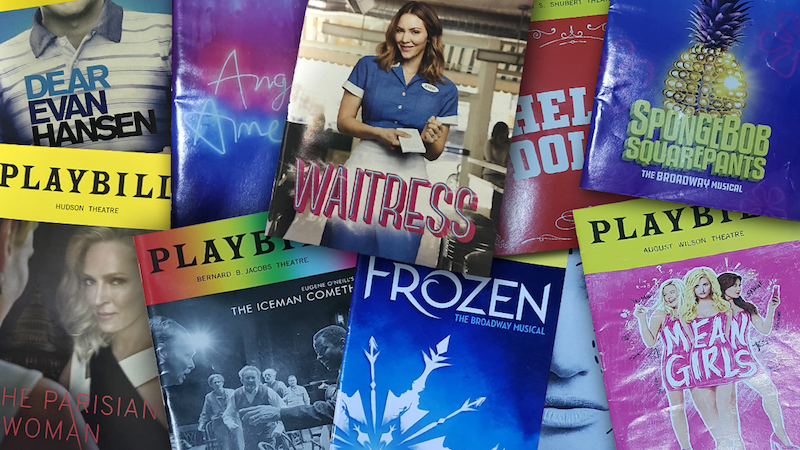 'Playbill' is more a Broadway term than something used in local theater, though there are local equivalents. It's a booklet that contains theater programs and names of the cast and crew. Usually given out to the audience of a show, there's exclusivity inherent in its ownership, especially with shows that have a shorter run or an otherwise impossible ticket availability. It's a souvenir and a collector's item rolled into one. 
So, if you have a friend who's an avid fan of Broadway shows or who's at least been to a Broadway show, this is a choice gift. TFM has a catalogue that you can browse through which includes playbills for Jersey Boys, Carousel, Shuffle Along, among a few others.
Each playbill is worth a Php. 500 donation, inclusive of shipping fees. Pro-tip: you might want to get your friend a binder or a frame to put these in.
Budget: Php. 500
Where to get: Contact us at the official Facebook page
Perfect for: Collectors, people who will argue about whether the OBC version is best one
Comments