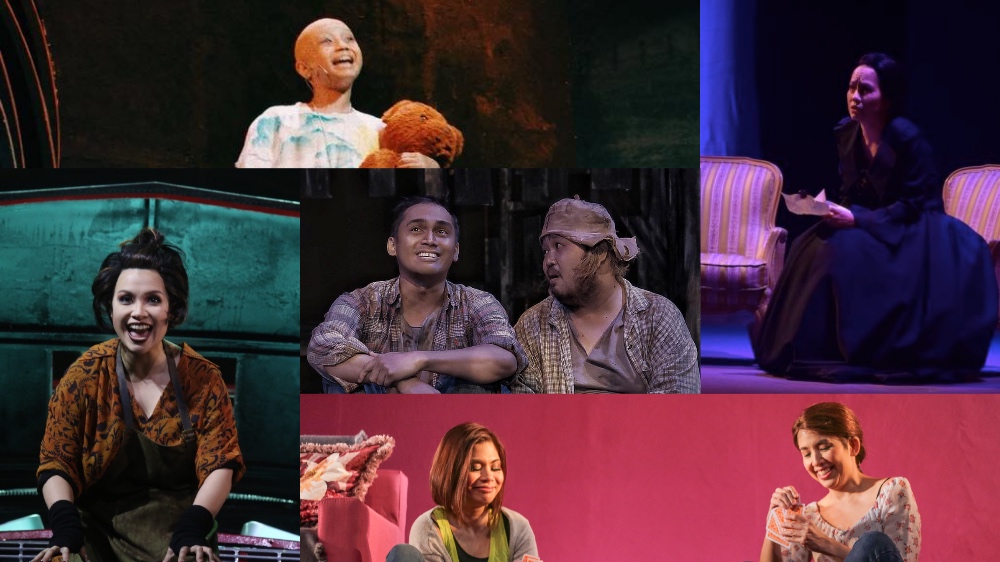 19 Best Theater Performances of 2019
A round-up celebrating the year's best stage performances!
The gamut of shows on offer locally for theater enthusiasts is incredible; we're given a selection of big Broadway brands, little-known musicals, contemporary plays we would otherwise only read (or hear about)–the options are endless, and the talent is brimming. 
We're in no shortage of arresting performances that move and entertain, whether it's Joanna Ampil elevating Grizabella in Cats, or Bituin Escalante reducing audiences to tears in a staged reading of Lauren Gunderson's The Revolutionists— you find them everywhere, in every show. As a retrospective of the year that was, here are 19 actors that particularly stood out this year:
16. Lance Reblando
,
Wanted: Male Boarders
Wanted: Male Boarders was a riotous romp that showed audiences you can, in fact, ham it up to outstanding effect. Lance Reblando twirled and tumbled and sashayed through that show in a performance so charismatic, you can't wait to see what he'll do next.
15. Skyzx Labastilla
,
Anak Ka Ng
The Virgin Labfest never fails to give us some of the year's most astounding performances, and this year (like last year), one of those performances was a captivating Skyzx Labastilla going toe-to-toe with Krystle Valentino as a mother and daughter reconnecting (or disconnecting?) after a death in the family. Labastilla does have a knack for realism that uncovers the complexities of the people she portrays.
14. George Schulze
,
Beautiful
It's not unusual to see George Schulze completely inhabit a role with his mastery of whichever accent his character so requires as seen even in his work in a staged reading of All My Sons this year. But he's carving out a niche for himself with near-peerless comedic character work as Barry Mann in Beautiful, and even as King Julian in the children's theater show, Madagascar.
13. Rebecca Coates
,
Dani Girl
The emotional impact of Dani Girl solely rests on the person essaying the role. Rebecca Coates, revisiting this role of a 9-year-old battling with cancer five years after she first played it, presented a believable portrait of childhood and optimism despite being more than a decade older than her character. The skill and compassion she showed on stage was deeply moving.
12. Cathy Azanza-Dy
,
Silent Sky
This year's re-run of Silent Sky is accesibly feminist and wonderfully empowering partly because of Lauren Gunderson's writing but also because of the impressive dignity Cathy Azanza-Dy brings to the role of Henrietta Leavitt. Her performance of "Getting Married Today" in Upstart Productions Company might be a highlight of the year.
11. Teroy Guzman, The Dresser
It takes a commanding sort of presence to play the grandiose Sir in Ronald Harwood's The Dresser, and Teroy Guzman has it in spades. The eccentricity he brought to the character made this production a delectable experience to watch; the appropriate and worthy star of which the rest of the ensemble orbits.
10. Art Acuña
,
Angels in America: Millennium Approaches
Angry and brimming with era-appropriate machismo, Art Acuña's portrayal of Roy Cohn shows exactly what's at stake for a man of his stature to be gay in the 80s. It's riveting and meticulous, a performance that compels you to pay attention even if the Americana of it goes over one's head.
09. Felicity Kyle Napuli
,
Dani Girl
Felicity Kyle Napuli very much looked like the little girl her character is in the musical, but that doesn't take away from the work and talent she put in to showing us a Dani that's whip-smart and very brave that made you just wish the story turns out a little different. Napuli's work here, just like her work in The Lion King and Matilda, is magnetic and exemplary. She made it impossible to get through Dani Girl without shedding a few tears. 
08. Mayen Estanero
,
Marj Lorico
, and
Meann Espinosa
,
Fangirl
The triad of Mayen Estanero, Marj Lorico, and Meann Espinosa heighten and deepen Herlyn Alegre's Fangirl to be more than a comedy for the sake of it, but a thoroughly endearing (and hilarious!) peek into the intimacy and familiarity of female friendships and fandom. Comedic timing and chemistry are no mean feats, and they made it look so easy.
07. Kakki Teodoro
,
Himala: Isang Musikal
In this year's Himala run, Kakki Teodoro served up such a captivating portrayal as Nimia, the returning prodigal daughter of Cupang, that by the sheer force of her performance, her character turned equal foil to Elsa's faux purity. It's her performance, along with stronger performances across the board, that made this year's run of Himala a tighter, more fascinating theater experience.
06. Shiela Valderrama-Martinez
,
Passion
It's hard to like the melodrama of Sondheim's Passion, but Shiela Valderrama-Martinez's Fosca was bizarrely exquisite in her desperation that it's impossible to turn away. She made Fosca's tragedy so magnetic, and even almost sympathetic. She was on a league of her own on that stage.
05. Topper Fabregas
,
Angels in America: Millennium Approaches
In a career-high performance, Topper Fabregas shows tremendous grace and finesse in showing the ferocity and vulnerability of Prior Walter in Tony Kushner's Angels in America. Enrapturing and not so easily forgettable, it's as though he was born to play this complex role.
04. Missy Maramara
and
Jenny Jamora
,
Stop Kiss
Stop Kiss is a tragedy, but more importantly, a love story and it shines as such with the finely detailed performances by its leads. From the timid steps of romantic interest to the consuming profundity of true love, Maramara and Jamora performed Callie and Sara achingly and beautifully.
03. Lea Salonga
,
Sweeney Todd: The Demon Barber of Fleet Street
It goes without saying that the main draw of Atlantis Theatrical's Sweeney Todd was the fact that Lea Salonga is taking on Mrs. Lovett; and for her part, she gave a stunning, unforgettable performance. A Lea Salonga unlike you've ever seen or heard before, crafting an electrified and electrifying Lovett that wasn't just a scene-stealer, she was the linchpin of the entire thing.
02. Jonathan Tadioan
,
Katsuri
Tanghalang Pilipino's Jonathan Tadioan has always been a reliably compelling performer, but his work in Katsuri showed not only his true range as an actor, but a tender empathy for the character he was portraying. His transformative, unrecognizable take as Toto (Lenny, in Steinbeck's original text) made the show all the more gripping, and human, and laid out in no uncertain terms that society's most vulnerable come in all shapes and sizes.
01. Marco Viaña
,
Katsuri
There's a restraint in Marco Viaña's portrayal of George in this Bibeth Orteza-adaptation of Of Mice and Men that I found to be very generous to witness. There's a responsibility to tell this story a certain way, and Viaña rose to the occasion of storyteller–just as George took responsibility of Toto–with great equanimity that permitted the show's raison d'etre to be told with care and incredible potency.
Comments