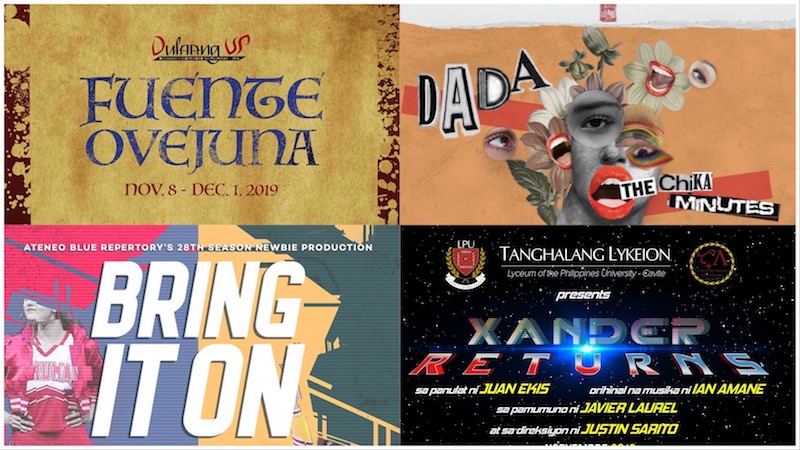 4 University Productions you can catch this November 2019
From the late Tony Mabesa's last directorial piece, to a newbie production with music and lyrics by Lin-Manuel Miranda, here are four university productions that you can catch this November.
1. Fuente Ovejuna by Dulaang UP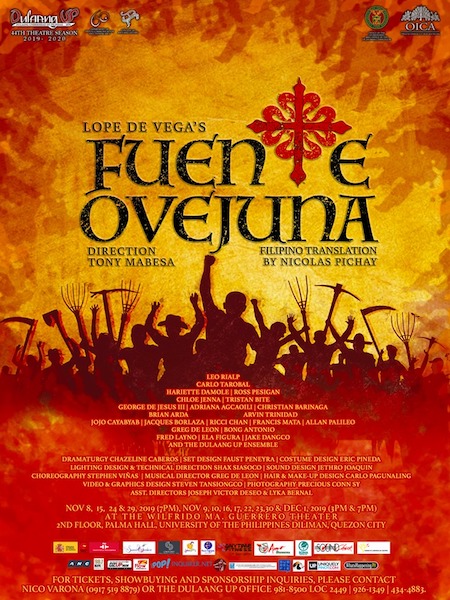 Spanish dramatist Lope De Vega's Fuente Ovejuna, translated to Filipino by Nicolas Pichay, is based on a historical incident that took place in the village of Fuente Ovejuna in Castile in 1476. The play deals with the uprising of a village against a feudal overlord, the cruel and sex-crazed Commendador Fernan Gomez De Guzman. The aggrieved villagers of Fuente Ovejuna bond together and kill the cruel autocrat in order to end their misery. 
The cast features Leo Rialp, Ross Pesigan, Adriana Agcaoili, Ricci Chan, George de Jesus, Allan Palileo, Jacques Borlaza, Arvin Trinidad, Greg de Leon, Jojo Cayabyab, Brian Arda, Francis Mata, Bong Antonio and Carlo Tarobal, who will be joined by student actors Hariette Damole, Chloe Jenna, Christian Barinaga, and the Dulaang UP Ensemble.
The show is the last directorial piece by Dulaang UP's Founding Artistic Director, the late Tony Mabesa. He is joined by Faust Peneyra (Set Design), Shax Siasoco (Lights Design), Jethro Joaquin (Sounds Design), Eric Pineda (Costume Design), Carlo Pagunaling (Hair and Make-up Design), Arnel Paguyo (Technical Direction & Property Master), Greg de Leon (Composer for English), Nazer Salcedo (Composer for Filipino), Chaz Caberos (Dramaturgy), Stephen Viñas (Choreography), Precious Conn Sy (Photography), and Steven Tansiongco (Video and Poster Design).  
The play will run from November 8 to December 1, 2019 at the Wilfrido Ma. Guerrero Theater, Palma Hall, University of the Philippines Diliman, Quezon City. Shows from November 8-10 and November 22-24 will be in Filipino, while shows from November 15-17 and November 29-December 1 will be in English.
Regular tickets are priced at Php 500. Discounts are available for bulk purchases and senior citizens.  Contact 09175198879 for inquiries.
2. DADA: The Chika Minutes by The UP Repertory Company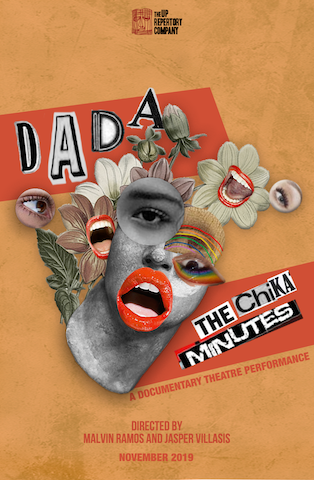 "DADA: The Chika Minutes" is a documentary theater performance of various narratives from the LGBTQIA++ community, exploring documentary merged with the company's own art form, tula dula (a poem written in verse, acted out in mime). With 16 segments of a spectra of LGBTQIA++ narratives, DADA will be tackling the real life experiences of kids, to OFWs, to pageant queens, to sex workers, to community builders, and to activists. In this period of intense hate crimes, controversies and fake news about SOGIE, The UP Repertory Company is bringing the stories of the LGBTQIA++ that you might have missed. 
The show will run from November 28-29 (7pm), 30 (3pm, 7pm) in the Child Development Center Auditorium, College of Home Economics, UP Diliman. For details on tickets and show venue, contact Hillary Guevara at 0906-6260900.
3. Xander Returns by Tanghalang Lykeion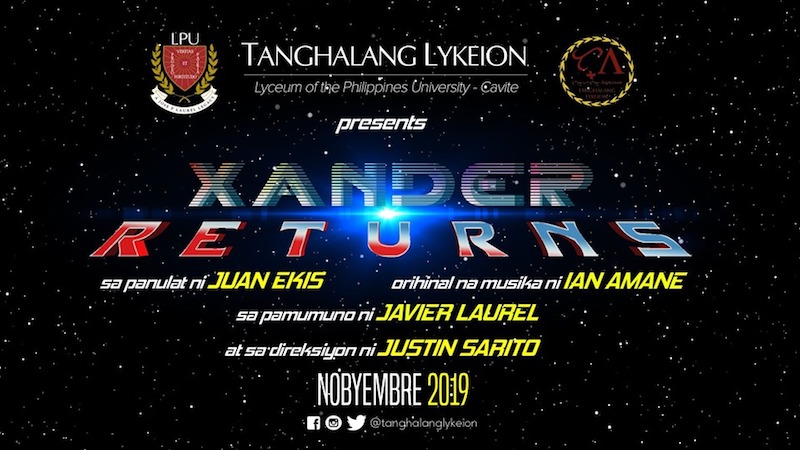 Tanghalang Lykeion, the Lyceum of the Philippines University- Cavite's premier performing arts organization, will be staging Juan Ekis' intergalactic space musical "Xander Returns". Xander is a Pulis Pangkalawakan, inspired by the character "Shaider" from the 80's Japanese Action TV show. It follows him through his exploits and adventures throughout the galaxy, fighting off the evil minions of the main antagonist, "Papi Ley-Ar" with his allies Drigo and Ida.
Featuring an ensemble of student artists, the show will run on November 15, 2:30pm and on November 16, 10:30am and 2:30pm at the university. Tickets are P50 for LPU students and P75 for outsiders. You can reserve tickets at  https://forms.gle/MAgBzHc2JgeDR93F6.
4. Bring it On: The Musical by Ateneo blueREP (newbie production)

Ateneo blueREP will be staging "Bring It On: The Musical" for its 28th newbie production. Loosely based on the movie by Jessica Bendinger starring Kirsten Dunst, the musical follows Campbell, the captain of the cheerleading squad in Truman High School. To her surprise, an unexpected redistricting has forced her to spend her senior year at the neighboring hard-knock Jackson High School. Despite having the deck stacked against her, Campbell befriends the dance crew girls and, along with their headstrong and hardworking leader, Danielle, manages to form a powerhouse squad for the ultimate competition — the National Championships.
The original story was written by Jeff Whitty, with music by Tom Kitt, lyrics by Amanda Green, and music and lyrics by Lin-Manuel Miranda. It was nominated for Best Musical and Best Choreography at the 2013 Tony Awards. This production will be helmed by co-directors Franco Ramos (also choreographer) and Abi Sulit (also musical director). 
The show will run from November 7-24 at the Rizal Mini Theater of Ateneo de Manila University. For ticket inquiries, contact Rica Castillo at 0917-8991355.
A newbie production is an annual undertaking performed solely by new members of the student organization.
Updated 11/16/2019:  "DADA: The Chika Minutes" has moved its venue to the Plenary Hall, Arts and Design West Hall, College of Fine Arts, UP Diliman.
Comments