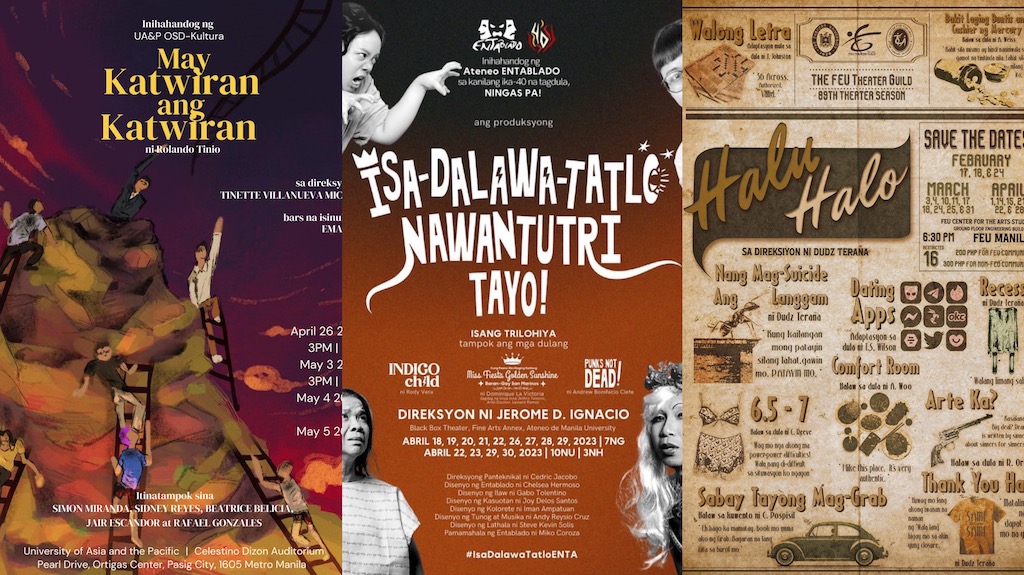 3 University-based Productions this April 2023
There are 3 live university-based productions that you can watch this April. Ateneo Entablado stages its 40th season finale, FEU Theater Guild continues its production's 2.5-month run, and UA&P's official student arm of the Center for Student Affairs mounts a National Artist's work.
1. "Isa, Dalawa, Tatlo… Nawantutri Tayo!" by Ateneo Entablado 
Under the direction of Jerome Ignacio, the production consists of 3 one-act plays– 
Indigo Child 
by Rody Vera, 
Punks Not Dead
by Andrew Bonifacio Clete, and 
Kung Paano Ako Naging Ikatlong Miss Fiesta Golden Sunshine Barang-Gay San Marinos 
by Dominique La Victoria.
Indigo Child by Rody Vera 
Jerome visits his mother, Felisa, who had just undergone electroconvulsive therapy in response to her worsening bipolar condition. In between instances of electrocution, Felisa begins to remember the torture she had endured during the martial law era, which she has long tried to forget through various forms of new age strategy. As painful as the entire ordeal is, revealing the truths of the past is necessary for Felisa to move forward, and for Jerome to continue the responsibility of making sure that society does not forget history. 
Punks not Dead by Andrew Bonifacio Clete 
In the classroom, Mrs Apple waits for the parents to pass their child's module. Bireng, a mother of one of the students, complains to Mrs. Apple about a judgmental answer to the module: "Tattoos are a symbol of criminality." In the midst of their negotiation, Artur, another parent who is also a police officer, arrives to pass out a module. As newly arrived parents debate about judgment in our society, it spirals to the point wherein no one can understand what is going on in this school.
Kung Paano Ako Naging Ikatlong Miss Fiesta Golden Sunshine Barang-Gay San Marinos by Dominique La Victoria 
In spite of the recent typhoon, Barangay San Marinos will not be shaken in preparing for their festival as the most anticipated Miss Fiesta Golden Sunshin Barang-Gay San Marinos will be held here. Johanna has been dreaming of this crown for a long time. She diligently prepares for it in the garage where she and her family temporarily live, and vows to remain unswayed by any obstacles! 
The Artistic Team includes Cedric Jacobo as Technical Director, Chelsea Hermoso as Set Designer, Gabo Tolentino as Lights Designer, Andy-Reysio Cruz as Sounds Designer, and Joy Delos Santos as Costumes Designer. 
Isa, Dalawa, Tatlo will be staged at the Fine Arts Black Box Theater (Old Communication Building, Ateneo de Manila University) from April 18 to April 30, 2023, from Tuesday to Saturday. Weekday shows will be from April 18-21 and 26-28 at 7PM, Saturday shows will be from April 22, 23, 29, & 30 at 10AM, 3PM, and 7PM, while Sunday shows will be from April 22, 23, 29, & 30 at 10AM and 3PM.
You can reserve tickets here. For inquiries, contact Lars Salamante (09776964072).
2. "Halu Halo" by FEU Theater Guild 
FEU Theater Guild's (FTG)
Halu Halo,
which consists of 10 original and adapted short plays written and directed by FTG's Artistic Director Dudz Teraña, continues to run this April at the FEU Center for the Arts Studio.
The production aims to explore and challenge the notions of the current generation's diverse, contemporary, and ever-evolving views seen in its different faces; featuring the lives of people in theater, life borne from the stage, and its 'colorful' scenes, seen through the lens of the 1940's.
The production opened last February 17 and continues to run until April 29, 2023. Tickets are priced at PhP 200 for FEU students, FTG and FEU alumni (with FEU alumni ID) and PhP 300 for non FEU guests. For inquiries, contact 0977 494 5944 / 0969 574 3548 or on FTG's social media accounts.
3. "May Katwiran Ang Katwiran"by UA&P's OSD-Kultura 
OSD-Kultura, the arts and culture program of the CSA-Office of Student Development (OSD) in UA&P, will be staging Rolando Tinio's
May Katwiran Ang Katwiran,
to be directed by Tinette Villanueva-Miciano.
A satirical look at the divide in social status, May Katwiran ang Katwiran is about two characters – Senyor and Kasama – on a journey to a hill where Senyor is supposed to escape his troubles. On the trip they discuss several theories about society and the social classes.
The production will have shows at the Celestino Dizon Auditorium at University of Asia and the Pacific on April 26 at 3pm and 8pm, May 3 at 3 and 8pm, May 4 at 8pm, and May 5 at 8pm. Tickets are P150 for UA&P scholars, P200 for UA&P students, and P300 for regular. You can purchase tickets here.
Comments