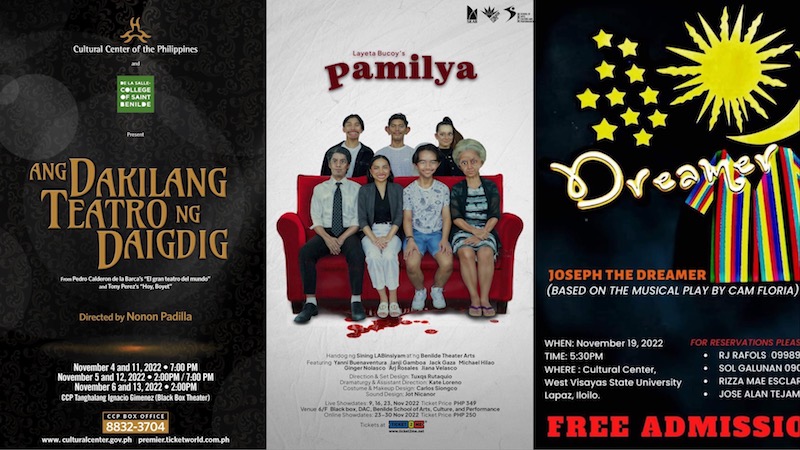 3 More University-Based Productions Live and Online this November 2022
Apart from the 5 other productions that we've previously reported, here are 3 more university-based productions that you can watch live and online.

1. Ang Dakilang Teatro ng Daigdig by the De La Salle – College of Saint Benilde and the CCP (LIVE)
Ang Dakilang Teatro ng Daigdig,
written by Nonon Padilla and translated by George de Jesus III,
is a fusion of Perdo Calderon de la Barca's "El Gran Teatro del Mundo" and Tony Perez's "Hoy, Boyet." Presented by the De La Salle – College of Saint Benilde, the play celebrates the cultural transformation of the Spanish Classic and Filipino Contemporary. An experimental play, it highlights how modern Filipinos mentally grasp the pursuit of truth and spiritually cling to the true meaning of life as they navigate the world, which beautifully drowns in an ocean of individualities.
It is directed by Nonon Padilla, featuring performances by Frank Rivera and Sherry Lara. The show will run from November 4 – 6 and 11 – 13, 2022 at the CCP Black Box Theater. You can buy tickets from Ticketworld or at the CCP Box Office.
2. Pamilya by SiLAB Productions (LIVE AND ONLINE)
Written by Layeta Bucoy,
Pamilya
tells the story of seven members of a Filipino family, each with their own issues and opinions about disinformation, through the use of different social media applications. 
As Tatay, the head of the family, works as a troll for the mayor, the rest of the family figures out how to deal with the situation. The show will be staged live on November 9, 16, and 23 at the 6/F Blackbox, DAC, Benilde School of Arts, Culture, and Performance, and online from November 23-30 via Ticket2Me.
Sining LABinsiyam (SiLAB) is a production house under the De La Salle-College of Saint Benilde Theater Arts Program. It was started in May 2021 by the student-artists from Batch 119 who practice theater production.

3. Dreamer by The Dreamer Project  (LIVE)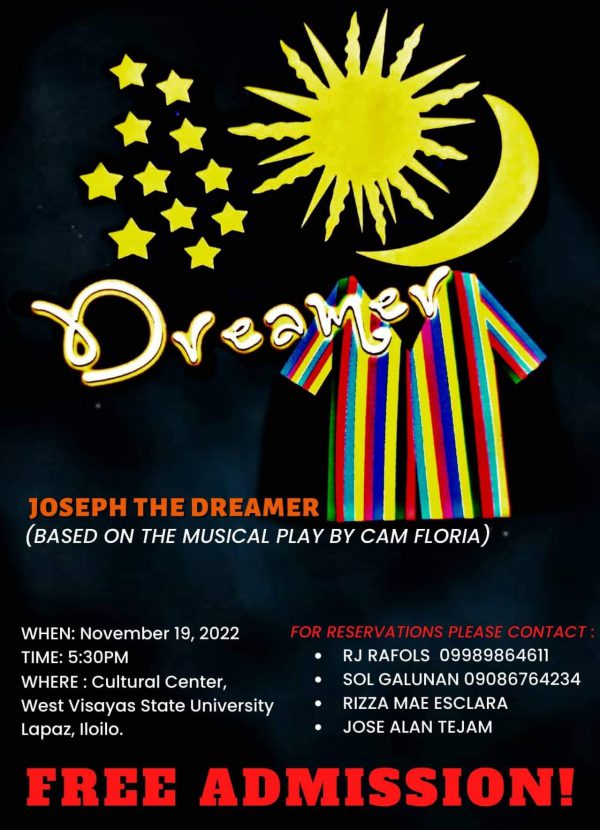 The Dreamer Project, a group of theater enthusiasts based in Iloilo City, is restaging its musical production of Dreamer, based on Cam Floria's cantata, as part of the group's "Celebrate the Nation Israel" event.
The cast includes Jose Alan Tejam as Joseph, Jeric Nabor as Younger Joseph, Michael Venegas as Jacob, and Rheniel Rendaje as Benjamin. The show is directed by Ray Canete Jr. Also in the creative and production team are Riel John Rafols (Stage Manager / Musical Director), Rizza Mae Escalera and Criselle Luz Valencia Bautista (Assistant Stage Managers), and Mico Secong (Choreography).
The show will be staged on November 19, 2022, 5:30 p.m at the Cultural Center, West Visayas State University, La Paz, Iloilo City. The show will be free and open to the public.
Comments