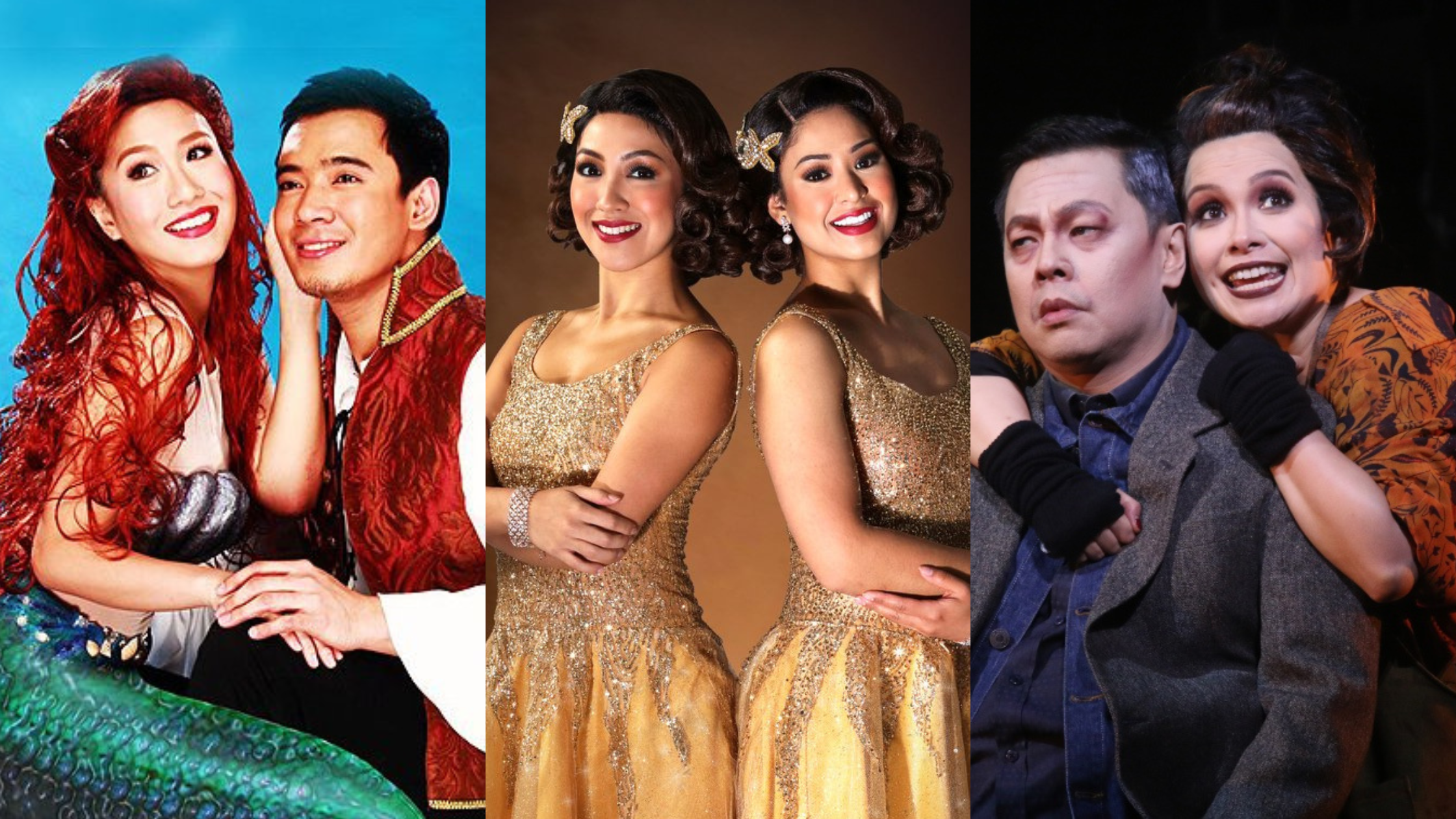 20 Spooky Songs from Musicals
Whether you're prepping for a Halloween party, or just curling up with a hot drink through the wet weather, you need a playlist to get you in that spooky mood.
The stage has often been the setting for the unsettling, showing monsters and mayhem, death and destruction, and all manner of dark deeds – all while put to song. Some of the longest-running musicals have reveled in the repugnant and the repulsive, gifting audiences with delightfully dreadful pieces to sink their teeth (or fangs) into over the years.
From the supernatural to the painfully human, from the paranormal to the psychological, these songs have all the elements of the darkness experienced or imagined by humanity. Some songs come from macabre musicals meant to celebrate everything eerie. Other songs are performed by witches who have left audiences spellbound not just by their magic but also by their complex characters and fascinating journeys. And some songs come from shows that may not necessarily feature phantoms, man-eating plants, or wicked witches but are still haunted by darkness, despair, and death.
So why not get into the Halloween spirit and give in to your musical dark side as you sing along to these haunting melodies.
"When You're an Addams" from
The Addams Family the Musical
"When you're an Addams
You have to really stir the pot
So give us shadows and give us gloom
Broken glass in a motel room
Something fun we can all exhume
And give it all tonight!"
"Science Fiction Double Feature" from
The Rocky Horror Show
"Science fiction (ooh-ooh-ooh) double feature
Doctor X (ooh-ooh-ooh) will build a creature
See androids fighting (ooh-ooh-ooh) Brad and Janet
Anne Francis stars in (ooh-ooh-ooh) Forbidden Planet
Wo-oh-oh-oh-oh-oh
At the late night, double feature, picture show…"
"The Ballad of Sweeney Todd" from
Sweeney Todd: The Demon Barber of Fleet Street
"Attend the tale of Sweeney Todd
His skin was pale and his eye was odd
He shaved the faces of gentlemen
Who never thereafter were heard of again
He trod a path that few have trod
Did Sweeney Todd
The demon barber of Fleet street…"
"Feed Me (Git It)" from
Little Shop of Horrors
"He's so nasty, treatin' her rough,
Smackin' her around and always talkin' so tough.
You need blood and he's got more than enough
You need blood and he's got more than enough
You need blood and he's got more than enough
So go git it!"
"Murder Murder" from
Jekyll and Hyde
"Murder, murder –
In the night air!
Murder, murder –
It's a nightmare!
Murder, murder –
It's a right scare,
Bloody murder
In the night!"
"The Whole Being Dead Thing" from
Beetlejuice the Musical
"There's no destiny or fate
Just a terrifying wait
Filled with people that you hate
And on a certain date, the Universe kills you!"
"The Phantom of the Opera" from
The Phantom of the Opera
"Those who have seen your face
Draw back in fear
I am the mask you wear
It's me they hear…
My spirit and your voice in one combined
The Phantom of the Opera is there
Inside your mind…"
"And Eve Was Weak" from
Carrie the Musical
"God has seen your sinning,
Just beginning
Pray for your salvation
From Damnation
Pray or
He will burn you
He will burn you…"
"One Hallowe'en" from
Applause
"Remember that Halloween when you were nine?
You wore a fairy queen costume of your own design
…
And outside the moon continued to shine
Remember that Halloween when you were nine?"
"Killing Time" from
American Psycho
"If we're dead already, then let's keep going.
What is left to hold us back?
We've all got out secrets (My pulse is pounding)
There's no way of knowing (And my heartbeat's gone)
If they'll be blood upon the track…"
"The Devil You Know" from
Side Show
"You will learn a promise of salvation
Can mask another inferno's blast
The devil you know
Beats the devil you don't
That promised land
Could turn out to be dry
Once you're gone
You might ask yourselves why
Maybe you will
Or maybe you won't
But the devil you know
Beats the devil you don't…"
"Ghosties and Ghoulies" from
Meet Me in St. Louis
"From ghosties and ghoulies
And things that bump in the night
Dear Lord, please protect them!
From goblins and gorgons
That put little girls in a fright
Please draw your sword and protect them
There's a chill in the night
And a chill in our hearts
When I think of what demons
Might lurk in these parts…"
"Dead Girl Walking" from
Heathers the Musical
"The demon queen of high school has decreed it
She says Monday, 8 a.m, I will be deleted
They'll hunt me down in study hall
Stuff and mount me on the wall
Thirty hours to live
How shall I spend them…"
"No Good Deed" from
Wicked
"One question haunts and hurts
Too much, too much to mention
Was I really seeking good
Or just seeking attention?
Is that all good deeds are
When looked at with an ice-cold eye?
If that's all good deeds are
Maybe that's the reason why
No good deed goes unpunished
All helpful urges should be circumvented
No good deed goes unpunished
Sure, I meant well
Well, look at what well-meant did…"
"Last Midnight" from
Into the Woods
"I'm the hitch.
I'm what no one believes,
I'm the Witch.
You're all liars and theives,
Like his father,
Like his son will be, too-
Oh, why bother?
You'll just do what you do.
It's the last midnight,
So, goodbye all.
Coming at you fast, midnight-
Soon you'll see the sky fall…"
"Poor Unfortunate Souls" from
The Little Mermaid
"Those poor unfortunate souls
So sad, so true
They come flocking to my cauldron
Crying, "Spells, Ursula, please!"
And I help them!
Yes I do
Now it's happened once or twice
Someone couldn't pay the price
And I'm afraid I had to rake 'em 'cross the coals
Yes I've had the odd complaint
But on the whole I've been a saint
To those poor unfortunate souls…"
"The Nightmare" from
The Woman in White
"I'll haunt you till you die!
Wake up! Help me!
Perhaps I'm not the only one with secrets!
I am a doctor. Trust me
They've come to lock me up!
You must be confined!"
"Off With Their Heads" from
Wonderland the Musical
"Once you've begun well it's so much fun
All together
Off with their heads is a mantra of mine
Off with their heads is my bottom line
And if you dare scoff, well then it's off with your head
Don't need a congress or a constitution
For its a forgone conclusion
That every problem has the same solution
Persuade crusade with a
Custom made renewable
Doable and unmisconstruable
Stainless steel blade…"
"Welcome to Transylvania" from
Young Frankenstein the Musical
"We're considered both a Death and a Tourist Trap
Thanks to all the Frankensteins,
You put us on the map!
Welcome to Transylvania
Though vampires suck your blood at night,
and werewolves prowl in the pale moonlight
And zombies have a tendency to roam,
It's the place that we humbly call Home
Transylvania!"
"Spooky Mormon Hell Dream" from
The Book of Mormon
"Down, down thy soul is cast
From the Earth whenceforth ye fell
The path of fire leads thee to
Spooky Mormon Hell Dream
Welcome back to
Spooky Mormon Hell Dream
You are having
A Spooky Mormon Hell Dream now…"
Comments