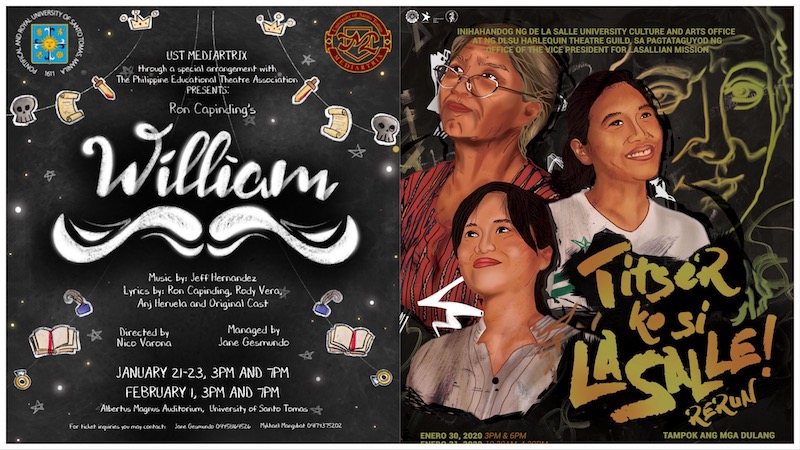 2 University Productions this January 2020
The university theater scene is starting the year with a Filipino rap musical and a '3-in-1 tribute' to an institution's founder-saint.
1. William by UST's Mediartrix
Written by Ronan Capinding, with a musical score by Jeff Hernandez and lyrics by Ronan Capinding and Anj Haruela, William was originally staged by the Philippine Educational Theater Association (PETA) in 2011. 
Set in the contemporary world of Filipino junior high school students, it features the story of Erwin and his classmates Richard, Estela, TJ, and Sophia, each with their own share of conflicts and issues. Assigned to present William Shakespeare and his works for their English class, they embark on a journey of learning and understanding the Bard and his writings. Little do they realize that in the process, they also discover their own voices through these borrowed words. 
William will run from January 21, 22, 23, and 25, 2020 at 2pm and 6pm at the Albertus Magnus Auditorium, 4th floor, Education Building, University of Santo Tomas, Manila. This production of William is made possible through an agreement with PETA.
Mediartrix is a university-wide, non-political, student-run, multimedia organization of and for art enthusiasts of the University of Santo Tomas.
2. Titser ko si La Salle! by DLSU's Harlequin Theatre Guild
The company will be staging a rerun of Titser ko Si La Salle! this January 30 (3pm and 6pm), January 31 (10:30am, 4:30pm, 7:30pm), and February 1 (1pm and 5pm) at the Teresa Yuchengco Auditorium of De La Salle University- Manila in honor of the tercentenary celebration of the death of St. John Baptist De La Salle.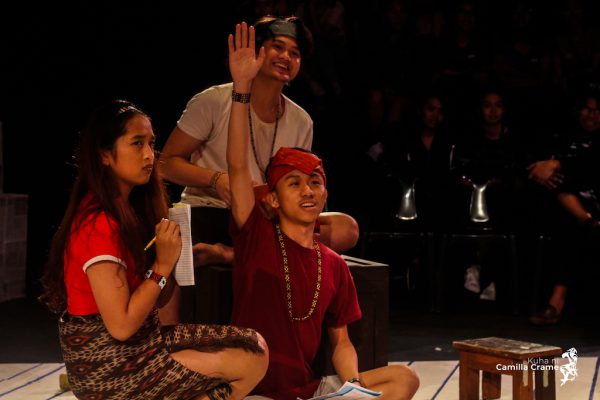 The production is composed of three plays written by professors from the university's Literature and Filipino Department. Ang Projector ni Ma'am by Genevieve Asenjo is about a model teacher in a rural school who chooses whether to extend the learning experience of her students by using a modern teaching equipment or to finance the health of her sick child. Tser by Maynard Manansala follows a young volunteer teacher named Rose who  tries to fulfill her dream of bringing education to a group of indigenous people in Mindanao. Through it, she finds herself in a conflict between the Lumad and the military personnel oppressing a Bakwit school. Lesson Plan by Genaro R. Gojo-Cruz centers on Rebecca Gerona, a retired high school teacher who reflects on the legacy she left as a model teacher and the sacrifices that came along with it, such as choosing a lifetime partner and settling down to raise her own family. They will all be directed by Artistic Director Raffy Tejada.

For tickets and other inquiries, contact Kim Kim Elizabeth M. De Jesus at 0915 761 6139 or visit the organization's Facebook page at facebook.com/dlsuhtg, Twitter account at twitter.com/dlsuhtg, or email htg@dlsu.edu.ph. 
DLSU Harlequin Theatre Guild is the premier theatre organization of De La Salle University.
Comments