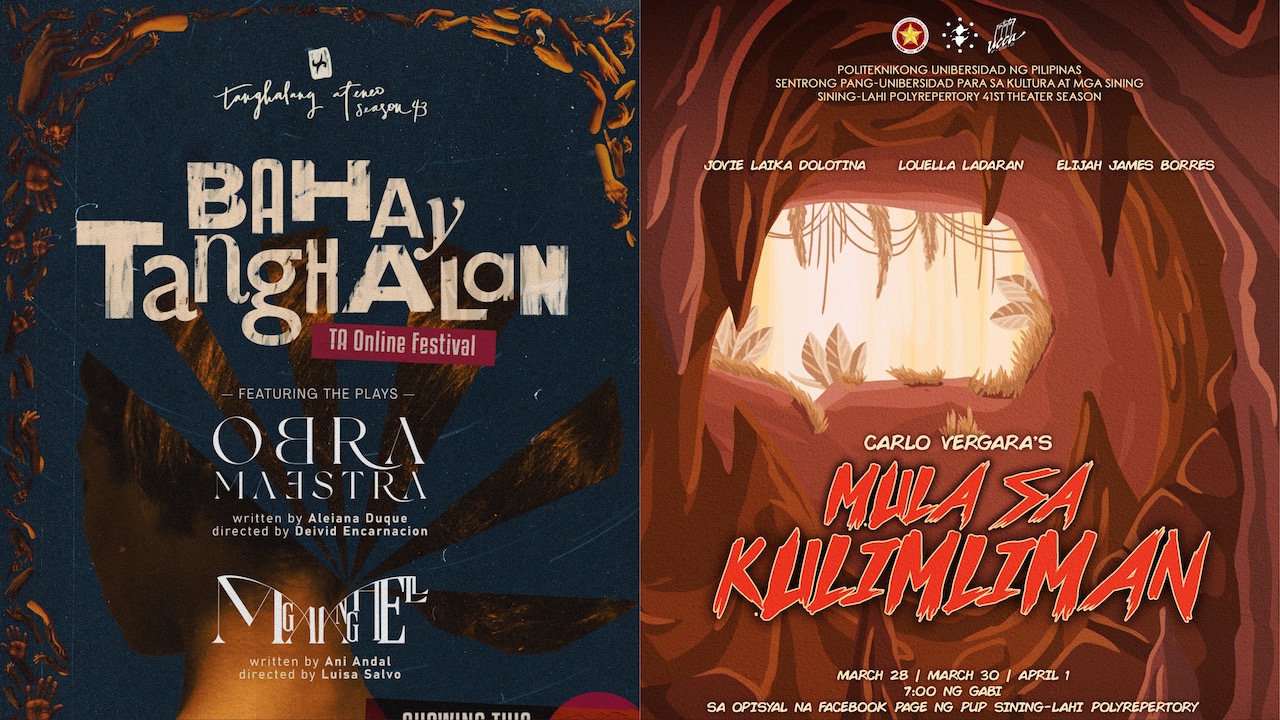 2 University-Based Theater Productions Online this March 2022
Audiences can watch these productions by Tanghalang Ateneo and PUP Sining-lahi Polyrepertory this March.
1. Bahay Tanghalan 2021: TA Online Festival by Tanghalang Ateneo
Tanghalang Ateneo's online festival entitled
Bahay Tanghalan 2021: TA Online Festival
,
initially slated to stream
last January
, has been moved to March due to the COVID-19 surge.
The festival will feature two productions, namely Obra Maestra and Mga Anghell, for its first installment. The student artistic team will be under the mentorship of Guelan Luarca for acting, Katski Flores for directing, Vix La Victoria for playwriting, Tata Tuviera for production design, and D Cortezano for lighting and sound design.
Obra Maestra is written by Aleiana Duque and directed by Deivid Encarnacion. Taking inspiration from the tale of Narcissus, as told in Ovid's Metamorphoses, Book III, and The Picture of Dorian Gray by Oscar Wilde, Obra Maestra delves into Narcisa's hubris as an artist and her descent into grief and madness. Being isolated for a year, Narcisa, Cecilia (her business partner), and Rei (Narcisa's protegé) must stand by Narcisa as she mourns for the loss of her lover and Muse—Sol.
Mga Anghell is written by Ani Andal and directed by Luisa Salvo. Inspired by her favorite internet gamer, a young girl takes on various challenges in hopes of winning a chance to be in her favorite streamer's birthday stream. However, this admiration reached itself beyond the screen.
The production will be streaming from March 14-19. For ticketing information and more information about the stream, visit Tanghalang Ateneo's Facebook page.

2. Mula sa Kulimliman by PUP Sining-lahi Polyrepertory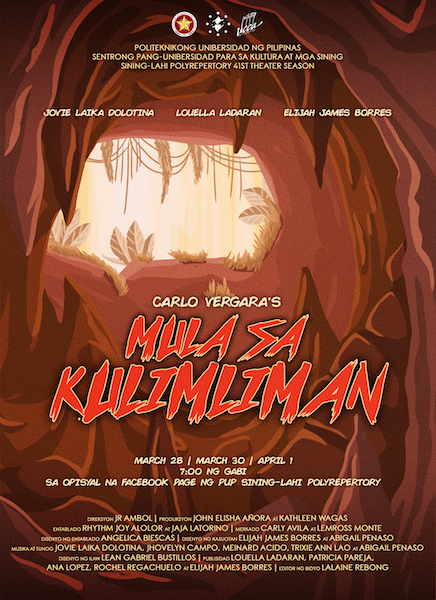 With the mission to rechannel the playful and exploratory spirit of childhood, PUP Sining-Lahi Polyrepertory opens its 41st Theater Season with Mula sa Kulimliman. Written by Carlo Vergara and directed by JR Ambol, the play tells the story of a long-hidden truth revealed to rattle a simple family forever.
Themed with komiks, the play intertwines the "real world" and the supernatural world of Kulimliman and how a mother comes into terms with the news brought by her husband. It was first staged at the Virgin Labfest in 2016.
Mula sa Kulimliman will stream for free on March 28, March 30, and April 1, 7:00 PM on PUP Sining-Lahi Polyrepertory's Facebook Page.
Comments