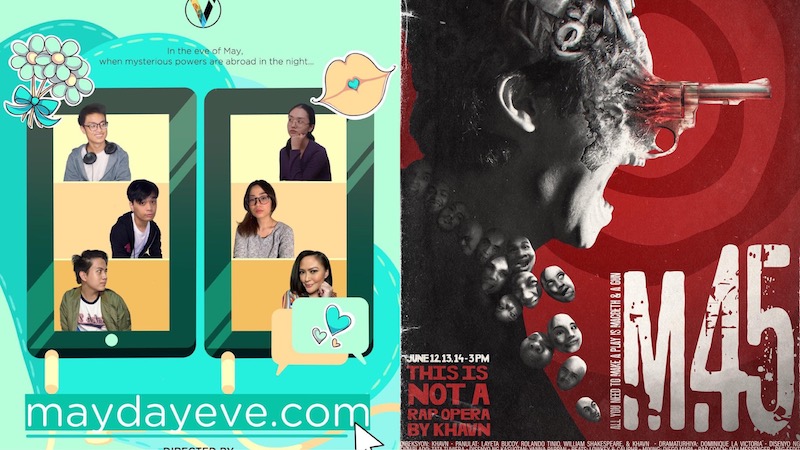 2 University-Based Theater Productions Online this June 2021
This month's online university productions feature Tanghalang Ateneo's M.45 and UA&P Viare's MayDayEve.com.
1. M.45 by Tanghalang Ateneo
M.45
is the forty-five minute climax of "Makbetamaximus: Theatre of Destruction", a 30-day deconstruction of William Shakespeare's "The Tragedy of Macbeth" as translated by National Artist Rolando S. Tinio.
It opens in a post-pandemic carinderia somewhere between Mondomanila & Ilocandia, where the streets of purgatory run red with pig's blood and chicken feet. The animal mascots that once lusted for power have now been roasted and desecrated. The fountainhead of the performance is Ferdz Pakbet who mistakes fake news for a prophecy and starts rolling heads down the chopping board while getting high on the latest pesticide. Vengeance abounds as threats of drug lords and the dead infiltrate the feast.
The online production features a cast composed of the Tanghalang Ateneo ensemble—namely Deivid Encarcion, Jam Binay, Nicole Chua, Francesca Dela Cruz, Robert Bradly Hao, Carlos Hombrebueno, Mikaela Regis, Austin Gonzales, Coco Pineda, and Kyle Tan—and alumni, alongside guest actors Bryan Bacalso, Soc Delos Reyes, Lester Abuel, Juan Julian Barrion, Bea Racoma. It also features beats by Caliph8 and Lowkey.
M.45 will run on June 12, 14, 17, and 19, 2021. Tickets are P200 for general viewing and P300 for general viewing coupled with the souvenir program, which is inclusive of the additional service charge. Tickets can be purchased through Ticket2Me.net.
2. MayDayEve.com by UA&P's ViARE 
MayDayEve.com
will feature a modern online adaptation of "May Day Eve", a short story written by Nick Joaquin– which has also been adapted for the stage by Christian "Juan Ekis" Vallez, and staged by UA&P Kultura in 2010. 
In this new online adaptation, the mystical element present in the original short story is amalgamated with more realistic ideals that can be seen in the 21st century. MayDayEve.com wishes to tell the story of the different perspectives and circumstances of individuals, derived from their experiences of being connected and their common encounter with a mysterious website.
Three pair interactions will show the range of relationships that can result from the varying reactions to the site 一 some are more trusting, while the others are more skeptical.
The cast includes former and current ViARE members with Indee Duay as Agatha, Matty Puno as Xavi, Mariel Bernardo as Lisa, Christian Paculaba as Tristan, Stephen Dusaban, Jr. as Charlie, Jaime Calilung as Restie, and with the special participation of ViARE alumna, Francesca Kalaw-Litton as Tere.
MayDayEve.com was written for online adaptation by the pool of writers from ViARE, led by Joanne Gonzales, and directed by Juan Ekis. The show will be streamed on private Facebook groups on June 23 and 25 at 8pm. Tickets will be available to those who will donate at least P100 to the company's beneficiary, Childhope PH. Contact ViARE for details.
Comments