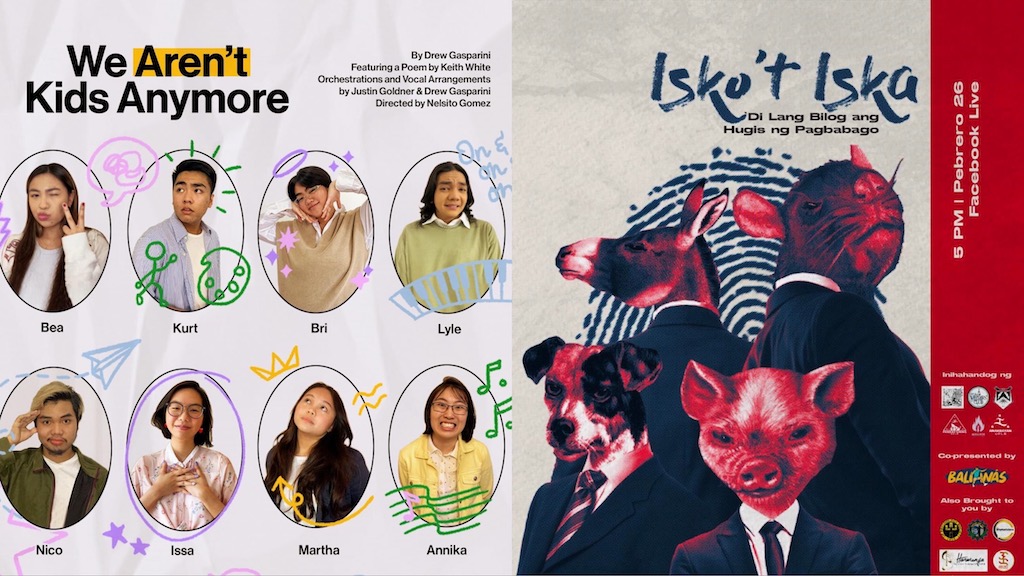 2 University-Based Theater Productions Online this February 2022
Here are two productions from UPLB and Ateneo blueREP that you can watch online this February.
1. Isko't Iska by UPLB
Isko't Iska is a production staged annually since 1979, crafted by the Isko't-Iska Task Force, and performed by the freshmen students of the University of the Philippines- Los Baños. 
Traditionally, Isko't Iska is an annual on-ground theater production shown free of charge not only to UPLB students but also to the members of neighboring communities. Due to the constraints of the pandemic, Isko't-Iska will once again stream online with Isko't Iska: Di Lang Bilog Ang Hugis ng Pagbabago. 
For this year's iteration, Isko't-Iska 2021 focuses on the idea of elections– dissecting, scrutinizing, and understanding the different lived experiences of Filipinos during different election periods. In this 4-segment production, the group will also look into the very nature of elections– the cycles, trends, and how our plight to push for true societal reforms extends even after each election.
Isko't Iska: Di Lang Bilog Ang Hugis ng Pagbabago will be streamed on Isko't Iska's Facebook Page on February 26, 5PM as part of this year's Feb Fair. 
2. We Aren't Kids Anymore by Ateneo Blue Repertory
Ateneo blueREP's 30th Season Newbie Production, Drew Gasparini's
We Aren't Kids Anymore 
(WAKA),
continues to stream
this February 12 and 19.
Originally released digitally in 2020, blueREP stages the first-ever production of WAKA set in the light of recent, pandemic-driven events. In this 2022 reimagining of the production, audiences can join the cast of the newest members of the organization on their journey through these strange times—when everything is done online.
We Aren't Kids Anymore is a song cycle that explores the struggle of artists whose expressions and childhood dreams are slammed into a wall of unforgiving realities. As they grow up, these young adults try to take control of their own definition of success while they power through uphill battles.
WAKA is directed by Nelsito Gomez. Also in the creative team are Abi Sulit (Musical Director), D Cortezano (Production Designer), Bea Chu (Sound Designer), Nate Bosano (Director of Photography), Abigail Chua (Graphic Designer), and Daniel Monong (Orchestrator)
You can buy tickets at bit.ly/GetWAKATickets. For inquiries, contact Kristin Baingan at 09175981683.
Comments