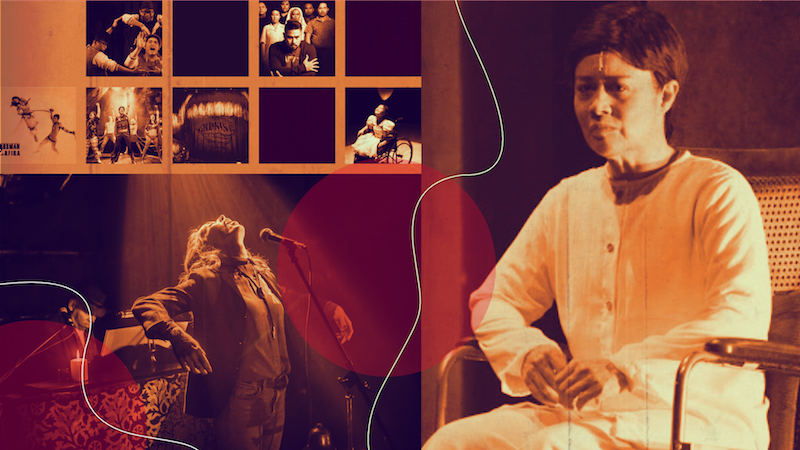 19 Musicals You Can Stream for Free
The reasons why some people might be put off by musicals are the same reasons why they're the perfect medium to binge in light of *gestures vaguely* everything that's been going on.
They're over-the-top. Even with a fairly serious plot, you're guaranteed (1) comedic duet, (1) lively and colorful ensemble number, or (1) inspiring song where the tension builds and builds before what seems like every instrument in the world chimes in all at once. The cast will, at the point of dramatic tension, drop an argument to burst into song. Or argue through song. If you're cynical enough, that could be amusing, too.
The point is: whether you think musicals are capable of being larger than life or whether you think they're too silly to be serious, they make for a good, light-hearted escape. 
Alternatively, you can always immerse in some musicals and get productively mad about injustices.
Either way, don't folks need light-heartedness and rage in equal measure right now? So, whenever you need them, here are 19 full-length musicals streaming for free this June:
1. Zsazsa Zaturnnah
(Tanghalang Pilipino)
Starting this weekend, June 20, you can catch Zaturnnah's flame-bright hair and distinct pink and gold thunderbolt motif on the CCP's official Youtube page. It's a limited release and you'll have a week to see Carlo Vergara's cult classic break out the high notes. In this 2011 run, Eula Valdez and Tuxqs Rutaquio share the stage as the titular heroine and her lovestruck alter ego. 
Zaturnnah's release is part of a fundraising campaign with the most on-brand name ever. You can express your support for Zsama Zsama Zsa Pagtulong here.
On iWant TV until July 12, the full-length musical, based on Dr. Luis Gatmaitan's Palanca-winning children's story of the same name, is a story of wish fulfillment. Sandosenang Sapatos features, on one hand, a wheelchair-bound little girl who asks a diwata to help her realize her father's dream of having a ballerina daughter. If you want to remember what it feels like to be soft, this is a good pick.
Sandosenang Sapatos, along with a few other titles on this list, are part of Tanghalang Pilipino's Pantawid Tanghalan fundraising campaign to help sustain the company and its staff throughout the pandemic. Love their shows? Express your support here.
With protests sparking all around the world, not to mention the recent Independence Day celebrations, there's this buzzing energy of nationalism. So, Mabining Mandirigma comes at the right time. Penned by Dr. Nicanor Tiongson with Monique Wilson as the title character, it tells the story of Apolinario Mabini with a light steampunk alteration to the setting. It's up on iWant TV until July 12 for your easy viewing.
4. Lam-Ang
(Tanghalang Pilipino)
Alternatively, if you really want to keep away from politics for a while, you could focus your sense of nationhood on appreciating history and art. Lam-Ang, starring JC Santos, describes itself as an "ethno-epic musical" that reimagines the old folk epic, Biag ni Lam-Ang. Like Mabini, it's available on iWant TV until July 12 as part of the latter's Pantawid ng Tanghalan fundraising program. Be sure to catch it while you can!
While we've all since collectively tried to forget the cultural phenomena that was Game of Thrones, the rampant and malicious use of troll farms is still very much A Thing™. It's the exact thing A Game of Trolls tries to marry with a Dickensian twist. With Liza Matoto (book) and Vincent de Jesus (lyricist, composer, and musical director) fueling its creative writing, this Martial Law musical is available for stream until the end of June.
Speaking of epics, Ang Nawalang Kapatid is a retelling of the Indian epic The Mahabharata. Written by Floy Quintos with music by Ceejay Javier, Ang Nawalang Kapatid is a warm and colorful delight. Dexter M. Santos directs an all-student cast that oozes magnetic energy with each performance.
7. Atang
(Dulaang UP)
Technically a "play with music" instead of a full-fledged musical, Floy Quintos'
Atang
is still a treat for those looking for the next song to get stuck on. Frances Makil-Ignacio stars as the glamorous heroine of the story. The play leads you through the glitz of zarzuela and bodabil icon, Atang dela Rama.

There's no quicker way for an audience to feel sympathy for characters than by reminding them of something familiar. In William's case, there's always that one resentful highschooler in class who'll just groan at the thought of having to learn Shakespeare. Being honest, it's probably the whole class. But here, we have a cast of five young students along with the classic terror adviser learning and appreciating the Bard's works in their own little ways.
Up since Mother's Day last May, it's hard to think folks haven't watched Liza Magtoto's Rated: PG. Just in case you haven't, Father's Day is right around and provides another timely occasion to see this musical on positive discipline. After all, every parent should be involved in their child's upbringing, just as every child should be protected against abuse.
A tale about kingdoms, long, exhausting, and bloody power struggles, and a little current of love running underneath the exterior, the stage adaptation of Francisco Balagtas' Orosman at Zafira is up on Youtube. With direction and choreography by Dexter M. Santos, the musical's stream is part of a fundraising campaign of the UP Diliman College of Arts and Letters.
The first international entry in the line-up, The Grinning Man is a dark tale about how a disfigured boy got a hideously scarred smile. Think Joker, but made more sympathetic by his relationship to the other cast. It'll be streaming for a week, starting on June 26.
This reference video of Eugenius! The Musical has been available for viewing since the start of this whole pandemic, way back in March. It's a catchy superhero musical with an underdog lead and those tropes are always clear winners in any fan's book. 
Starring Caroline Sheen and David Thaxton, Only the Brave tells the story of a group of soldiers doing all they could to claim victory in the D-Day Landings of 1944. It's penned by Rachel Wagstaff and based on a true story, with music by Matthew Brind.
In 2016, a shooter entered Pulse, a gay nightclub in Florida, and opened fire. He killed 49 people and wounded 53 others before dying in a stand-off with the police. From Here is not about him, but rather it's meant to honor the ones who've lost their lives by leaving a lasting message of peace and love with its audience. It's available until June 28 as part of the annual #HonorThemWithAction Campaign commemorating the anniversary of the tragedy.
From June to August, you can catch Graeae's Reasons to be Cheerful on their website. While it features music from Ian Dury and the Blockheads, it's not entirely a jukebox musical. To be more precise, even Graeae bills it as "part gig, part play" and the footage streamed is part of the 2017 national tour of the show.
A Romeo and Juliet-esque premise with "two warring houses", check. Sponsorship by Timpson Limited, a British retailer specializing in shoe repair and key cutting, check. Shoe puns and lead characters named Monty Montashoe and Keeleigh Keypulet, check. And a plot that focuses on two inventors working together to get themselves to an "Invention Convention"? If you're not intrigued yet, catch the musical yourself and enjoy a fairly silly romp.
If you loved the vibe of Hadestown and need something similar to watch on a rainy day, Dave Malloy's Ghost Quartet is now available for stream. Ghost Quartet bills itself as a "song cycle about love, death, and whiskey" and you can bet that means it has the same speakeasy setting. It follows four friends through four narratives that span seven centuries, complete with ghosts, talking bears, and just enough magic to make you forget about gods.
Do you have a habit of associating literary figures with gritty rock music? No? Well, get ready to start. Wasted tells of the lives of the Brontë siblings – Branwell included –as they go from nothing to the authors of some of the most lasting tales, and the only constant thing in their lives is an unwavering rebellion against expectations placed upon them. It's an image of the Brontë family that's just hardcore.
It should come as no surprise that Orpheus – the very same figure who survived Hades with nothing but his lyre – would have more than one musical dedicated to his visage. Sam Cassidy's MYTH goes for a more modern retelling.
Comments