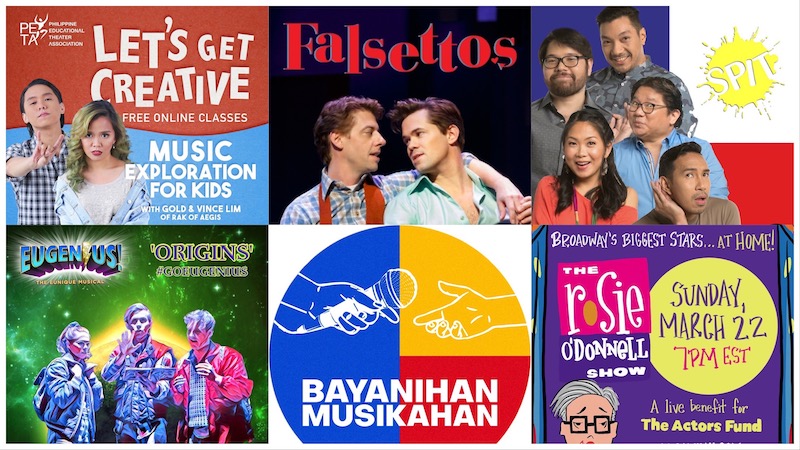 10 Theater-centric Activities To Pass the Time
We can't all try to separate 3-in-1 coffee by the molecule.
Okay. Okay. Deep breaths. There's a need to address something real quick before getting to the meat of this piece:
The situation out there is bonkers, friends.
You don't necessarily need to hear this from your local theater publication, but you do need to hear it.  
Go slow. It's okay. 
There is a reason why the directive has been to stay home and why you should let those who are literally better equipped do their thing. Donate where you can, if you can. Be kind to others and yourself.
And if that last point means disconnecting from the issue for a while lest it consume you, do so. When you do, folks have already stepped up with mostly online distractions in these trying times, and here are things you can do, brought to you by theater personalities:
1. Stream free shows
BroadwayHD offers a seven-day free trial to their sizable collection. From Janis Joplin to Sondheim, Broadway to West End, and Hugh Jackman's Oklahoma! to vintage vignettes you might not have heard of yet – there's a pick of high-quality shows for any mood.
Marquee TV is another streaming platform with a thirty-day free trial and operas, theatrical plays, ballets, and dances on-demand. Among their selection is, and this is exciting, the full show of the Royal Shakespeare Company's Richard II (2014), starring David Tennant. 
Likewise, On the Boards isn't theater-specific, but it does offer 'contemporary performance films' which might strike a chord with enthusiasts. If you're not entirely sure what that means, now's as good a time as any to find out. They're offering free streaming until the end of April when you use the code ARTATHOME2020 on checkout. 
2. Binge classic ballet clips
The Royal Opera House might have closed its doors until further notice, but they took this chance to broaden their digital presence. They already have highlights and "best of the best" clips available on their Youtube channel, but starting March 27 or the 28th, they'll be broadcasting curated content on their channel and Facebook page for free.
They'll first release Peter and the Wolf, 7pm GMT, followed by: Acis and Galatea (April 3), Così fan tutte (April 10), and then The Metamorphosis (April 17) to cap it off.
Do note that these are GMT dates. Subscribe to their pages to make sure you never miss a show!
3. Catch concerts of local artists on Facebook
"Bayanihan, Musikahan" involves quite a roster of artists. Ryan Cayabyab, Lea Salonga, Ebe Dancel, Chito Miranda, and more join the fray in a series of free concerts via Facebook live (and their respective pages) that serve as both enlightening endeavors and fundraisers. 
Follow the official page of the program for more information on artists, schedules, and ways to donate.
4. Watch legit free shows

We're Gonna Die is… admittedly, not the title you want to hear right now, but try to separate it from the current context and there's something cathartic in the idea that everyone shares this one simple fact. Young Jean Lee tackles a rather morbid topic with a light and reassuring touch. 
Eugenius is catchy enough to make Thanos snap his fingers even without the gauntlet. Two minutes in and you'll be bopping your head to a chorus of "Tough Man" as he fights a "hunky" baddie in an almost sci-fi setting. It's also hilarious as, not long after, this B-side hero actually says "love weakens my toughness" as he sports a gelled-up quiff and fake pecs.
Key Change is a production by an all-women troupe that features a funny and warm, but still realistic portrayal of life at a women's prison. It's less gritty and sexualized as Chicago and Orange is the New Black, but no less enjoyable.
5. Follow Twitter interactions
Hi mega maestro, probably not checkmate! – ALW #MusicInIsolation @Lin_Manuel https://t.co/8jlesozHuo pic.twitter.com/IuMt8f8xzE

— Andrew Lloyd Webber (@OfficialALW) March 21, 2020
If you're working from home and you only have about five minutes to go on a break, a quick scroll through social media might yield some wonderful surprises.
Notably, Andrew Lloyd Webber and Lin-Manuel Miranda have started a "playoff" where they try to out-piano play the other while they're both in quarantine. #HamiltunesTwitterParty trended for a bit, reviving the fandom with memes and fun facts (with LMM supplying a fair bit of them) as the community looked for a distraction.
Ben Platt also frequently releases short videos of his singing, which is a treat under any circumstance.
6. Get moving
Not outside! If you have enough space for it, maybe in your living room or a fenced-off backyard, lay down a mat and turn your speakers up. Remember those New Year's resolutions where you swore you'll exercise and get in better shape once you have more free time.
The time is now, and you've got a wide selection of dance classes to choose from, all made available by the community. 
Among them, there's Galaw.Co Dance Theater's Facebook/Instagram live classes. PJ Rebullida teaches contemporary every Tuesday and Thursdays, 11 AM. Then, on Mondays, Wednesdays, and Fridays the focus shifts to ballet barre, same time.
Additionally, Rhea Baustista, a ballet teacher for both Ballet Philippines and ACTS Manila, offers live classes on Instagram. She teaches adult ballet for beginners every Monday, Wednesday, and Friday at 4 PM to 5 PM. Then, an advanced barre class everyday at 5:15 PM to 6:15 PM.
7. Pen a script
Whether you're a writer looking to shift to scriptwriting or an actor aiming to have a better understanding of your material (a la Lessons from the Screenplay on Youtube), a playwriting class might offer you valuable insight. It's even more enticing when it's taught by the playwright behind Silent Sky and The Revolutionists. 
For a more local – and possibly more competitive, considering they're limiting it to fifty participants – script class, Cinema Centenario recently released word of an online workshop taught by Ricky Lee. The deadline for submission of your application is on the 27th.  
8. Get creative with PETA
Staying true to their name, the Philippine Educational Theater Association (PETA) was among the first to offer free online classes for use during the quarantine. 
#LetsGetCreative is a series that started with Carlon Matobato's creative movement class on March 20th. A recap of the class is uploaded and available on their official Facebook page. It was followed by a music exploration class for kids on the 23rd, led by fellow Rak of Aegis cast members, Gold and Vince Lim. 
Follow their Facebook updates to see future classes as well as rescheduled workshops.
9. Laugh
Dark times call for a bit of levity. Find the joy in the small things, like passing banter between your locked-in housemates, watching a comedy special, or watching an unscripted and unrehearsed live from an improv group with history.
Okay, that last one was specifically referring to Silly People's Improv Theater (SPIT). With 16 years running as the premier improv group in the country, it came as no surprise when their Facebook live show got audiences clamoring for more. 
For the duration of the quarantine, it seems, the group will release shows every Thursday in a series they're aptly calling "Co-Video."
10. Join a festival
No, the Social Distancing Festival does not mean "stand five feet apart in a mosh pit and pantomime body slamming your friends while you dance." 
The truth is, it'd be difficult to compile every artist's effort to alleviate the mood during this pandemic. The creative community, both local and international, is as lively as ever, and neither distance or bad internet speeds will put a stop to that.
This "festival" is a collection of live streams from around the world, with a calendar to keep you well-updated. They're open for submissions, too, so if you want to share your project to a wider audience, this would be the place to advertise.
Comments