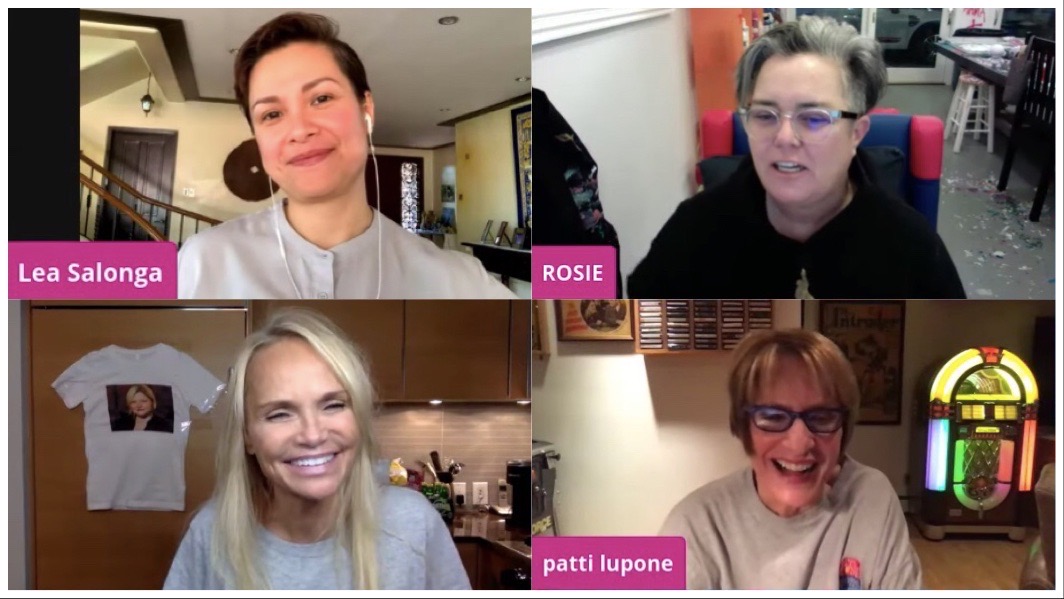 WATCH: Broadway Livestream Event Raises More Than Half a Million Dollars
The Rosie O'Donnell Show returned for a one-night-only fundraiser for The Actors Fund bringing together dozens of guests from the Broadway community. At the end of the special, O'Donnell announced that they successfully raised more than $ 500,000, including $ 100,000 from O'Donnell herself.
The livestream event lasted for three and a half hours which O'Donnell jokingly described as longer than the Oscars. She hosted the whole program from her garage in New Jersey while all her guests likewise participated from the comfort of their own homes, sometimes including their own children. The show was produced by O'Donnell and Erich Bergen with the latter also serving as "tech support" whenever there were connectivity and audio issues.
Dozens of Broadway stars joined the show to share inspirational messages about the importance of supporting all artists in the midst of the coronavirus crisis. O'Donnell asked each guest to share how they were coping with the lockdown and what projects they were working on. Some participated live while others sent in pre-recorded videos with more messages of hope. Many prepared special musical numbers which they performed live.
Among the highlights of the show were Tituss Burgess opening with "The Glory of Love" followed by Gloria Estefan performing her song "Always Tomorrow." Broadway legend Patti Lupone treated audiences to two songs, "A Hundred Years from Today" and "Smile." Audra McDonald and husband Will Swenson likewise gave a rendition of "Smile." Alan Menken sang a medley of his most memorable songs from classic Disney films like The Little Mermaid, Aladdin, Beauty and the Beast, Pocahontas, and Hercules. 
Kristin Chenoweth sang "Taylor the Latte Boy" while Katharine McPhee and David Foster performed "Because I Love You." Darren Criss performed "Being Alive" as a tribute to Stephen Sondheim and the special staging of Company that would not push through because of the lockdown. Shoshana Bean gave a rousing rendition of "Don't Rain on My Parade" while Adrienne Warren, star of the Tina Turner musical performed "Simply the Best" while in a bubble bath. Jagged Little Pill star Lauren Patten sang "Ironic" while Matthew Morrison performed "Bare Necessities and Kelli O'Hara sang "Take Me to the World."
Billy Porter shared his experiences with The Actors Fund and emphasized the importance of supporting the arts community in these hard times. He sang a few, moving lines from "Not While I'm Around." Gavin Creel revealed that he might have symptoms of COVID-19 before performing "You Matter to Me" from Waitress. 
Dear Evan Hansen stars Ben Platt and Jordan Fisher sang "Make You Feel My Love" and "For Forever" respectively. Lea Salonga performed "Reflection" from Mulan as a tribute to the upcoming live-action film, whose release has also been delayed. Randy Rainbow sang a parody of "Go the Distance" called "Social Distance."
Barry Manilow closed the show with a medley of his hit songs "Daybreak," "Can't Smile Without You," "Copacabana," and "I Made It Through the Rain."
Other memorable moments include: a video of composer Andrew Lloyd Webber singing "Happy Birthday" to fellow composer Stephen Sondheim while Sondheim appeared in another video returning the greeting while washing his hands for twenty seconds; Lin Manuel Miranda talking about finishing the score for the film adaptation of "In the Heights"; Chita Rivera saying Antonio Banderas was her favorite leading man; Neil Patrick Harris performing a magic trick with his kids, and Matthew Broderick and Sarah Jessica Parker staying optimistic even though their show "Plaza Suite" did not get to open because of the Broadway shutdown. 
Other guests who appeared on the show were Jesse Tyler Ferguson, Cynthia Erivo, Laura Benanti, Idina Menzel, Bryan Stokes Mitchell, Judith Light, Jeremy Pope, Harvey Fierstein, Miranda Sings, John McD, Aaron Tveit, Rob McClure, Jordin Sparks, Bernadette Peters, Jeremy Jordan, Jane Krakowski, Uzo Aduba, Andrew Reynolds, Annette Bening, Skylar Astin, Michael Gladis, Ben Vereen, Sutton Foster, Frankie Valli, Marisa Tomei, Lorna Luft, Miguel Cervantes, Andy Karl, Elizabeth Stanley, Seth Rudetsky, and James Wesley.
The success of this unique event is a testament to how the theater community looks out for its own in times of adversity. O'Donnell ended the show by thanking all those who participated and by raising a glass of wine with the face of Barbra Streisand. 
You can still watch and enjoy the broadcast in the video below:
Comments