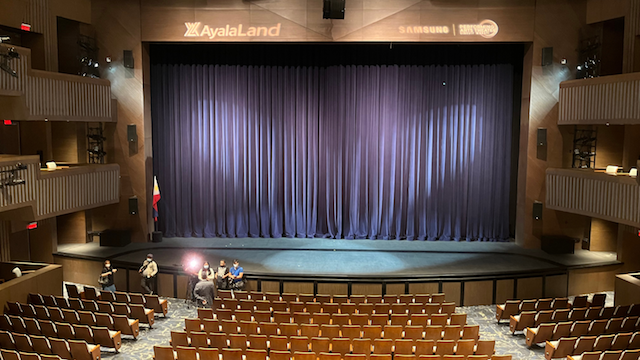 10 Exciting Things about the New Samsung Theater
What better way to usher in the return of the theater scene with the launch of a new, grand theater right at the heart of Makati. The Samsung Performing Arts Theater, located at the Ayala Malls Circuit, is finally ready to welcome shows and audiences alike.
"We envision this to be the home of the Filipino and the global talent. This is a venue that can go toe-to-toe with the best performing arts venues all over the world." says Mel Ignacio, Ayalaland's Vice President and Estate Head of Makati. "We want this to be a venue where Filipino artists will be proud to perform in. We want them to feel a sense of prestige."
It's a fine addition to the mall's Power Mac Center Spotlight black box theater, which previously housed shows such as Himala: Isang Musikal and Sa Wakas, a Pinoy Rock Musical, and to the outdoor concert venue Circuit Events Grounds.

What can audiences look forward to?
1. It's opening with a bang.

Two big musicals are set to open their respective runs here– Mula sa Buwan from August 26 to September 11 and We Will Rock You from October 27 to November 20.
2. It's in a convenient location.
Since it's in Circuit, it's fairly easy to get to whether you choose public transportation, drive private cars, bike, or walk (if you live nearby, of course.)
If you're going to drive, parking also won't be a problem. The entire building has 10 floors, and audiences can enter through the basement, the main drop-off area, as well as the second and fourth levels of Ayala Mall Circuit.
3. There is a lot of space. 
There are 5 levels of lobbies for people to socialize and mingle.
4. All (okay, most) seats are great seats!
The above photo is taken from the Loge section.
The auditorium has a total of 1,500 seats divided into 4 sections: Orchestra, Loge, Balcony 1 and Balcony 2, but it still feels intimate. You don't have to break the bank for Orchestra Center just to get the full experience.
5. Audiences won't run out of bathrooms. 
There is a bathroom on each side of the auditorium on every level. Bathroom lines during intermission will be less anxiety-inducing.
6. There are concessionaires on every level. 
Getting your orders on time will also be less of a problem. The concessionaires are staffed by Chef Gilbert Pangilinan of Kai Restaurant.
7. There's a private lounge for meet and greets and events.
The Cua Patrons Lounge, is a private function room where interested parties can hold meet and greets, VIP receptions, private parties, press conferences, or anything under the sun. 
8. Health protocols will be strictly followed. 
Audience members are required to wear masks, present their vaccination cards, have their temperatures checked, and follow all other government mandates. 
Elevators and escalators are also disinfected every 30 minutes, and regular sanitation and deep cleaning happens between every viewing. 
The fourth level also connects to the open air part of the mall if audiences want to stay outdoors during intermission or before and after a show.
9. There's a wealth of food and leisure options for before and after the show.
Since the theater is located inside a mall, there is also a plethora of dining and entertainment options for the whole family if they choose to go to the venue early or stick around well after.
10. It will be a great space for artists, too!
There are a lot of dressing rooms (can house 90 mirrors), and the rehearsal hall has the same size as the performance space on stage! The stage also uses Harlequin© sprung floors—a special type of flooring that reduces the risk of dancers from getting injured through impact, slipping, or falling. The Samsung Performing Arts Theater will be the first venue in the country to use this kind of flooring.
Comments