Here are some of the theater workshops that you can join starting this month.
1. Online Musical Theater Workshops with Repertory Philippines
Repertory Philippines is offering a range of classes from April to August.
Classes include Musical Theater Classes for Kids and Pre teens (MWF) 3:00-4:30pm, Musical Theater Classes for Teens and adults (MWF) 5:00-7:00pm, Voice Class for 7 years old and above on 11:15-12:15nn, 1:15-2:15pm, 2:30-3:30pm, and 4:45-5:45pm.
When: April 5 – May 1, 2021
May 10 – June 5, 2021
June 14 – July 10, 2021
July 19 – Aug 14, 2021

Fee: P6,000 for 12 sessions. For more information, email marketing@repphil.org or repphilfoundation@gmail.com
2. Workshops by Trumpets Playshop
Starting April 5, courses include:

THEATER
 Children's Theater (4-6 y/o)

Musical Theater for Pre-Teens (7-12 y/o)

Musical Theater for Teens (13 -17 y/o)

Musical Theater for Adults (18 y/o and up)
DANCE
Toddler's Hip Hop (4-6 y/o)

Hip Hop for Kids (7-12 y/o)

Hip Hop for Teens (13-18 y/o)
STARPOWER
Basic Voice for Kids  (7-12 y/o)

Basic Voice for  Teens & Adults (13y/o & up)
POWER
Image Enhancement

Public Speaking
Details:
12-15 sessions, depending on class*

Fee: Php 3,500- 4,900, depending on class*
Click HERE to enroll.
3. Plugged in Plays the Musical
Plugged In Plays the Musical is the newest batch of classes under the Plugged in Plays series.
The class aims to enhance students' talent in acting, singing and dancing. It runs for 15 sessions and culminates in an online musical performance. 
The class will be on Tuesdays and Thursdays 6-8pm beginning April 6. This is open to kids ages 9-14 years old. For more details, call or message 09190009169 or email stevencondeactor@gmail.com.
4. iSULYAP Basic Acting Workshop and Musical Theater Workshop by Tanghalang Pilipino
The basic acting workshop will be facilitated by Tanghalang Pilipino Actors Company members Antonette Go and Ybes Bagadiong. 
When: April 10-11, 17-18, and May 1-2
The musical theater workshop will be facilitated by Tanghalang Pilipino Actors Company members JV Ibesate and Eunice Pacia.

When: April 10-11, 17-18, and May 1-2
The workshop fee for both is P2,500. Participants should be 18 years old and above. For more inquiries, contact Ms. Lorelei Celestino (09156072275).
5. Zoom Theater Workshops with Little Boy Productions 
Participants will play theater games that will develop their confidence, character, and presentation skills. They will also meet new friends and work as a group to create fun and creative collaborations.
Kids Class (4 to 8 years old)
Pre Teens Class (9 to 10 years old)
Teens Class (11 to 18 years old)
Previous teachers include Michael Williams, Reb Atadero, Jill Peña, Nicco Manalo, Nar Cabico, Chai Fonacier, Juanita Romualdez, Bart Guingona, Claire Codilla, Acey Aguilar, Loy Arcenas, Gabe Mercado, Dingdong Rosales and many more.   
First batch of workshops begin on April 30 and will last for 6 1-1.5 hour sessions, with an online culminating activity. 
Workshops run until August 2021. For schedule and rates, contact CEA Creatives and Events at 09173339515 or check out Little Boy Productions on Facebook.
6. Atlantis Virtual Workshop by Atlantis Theatrical
The virtual classes by Atlantis Theatrical are open to kids from 7 to 12 years old and teens from 13 to 18 years old. 
Song analysis, storytelling techniques, vocal techniques, and basic jazz are just four of the many topics that will be explored. Classes are an hour to an hour and 15 minutes long, and will only have two to three students per time slot. 
All classes will be held live via Zoom from Mondays to Fridays. There are two 15-session schedules to choose from– May 10 to 28 with a recital on May 29, and July 5 to 23, with a recital on July 24.
Visit www.atlantistheatrical.com/workshops for more details. Contact Atlantis Theatrical at info@atlantistheatrical.com or at 0917 8381534 to sign up.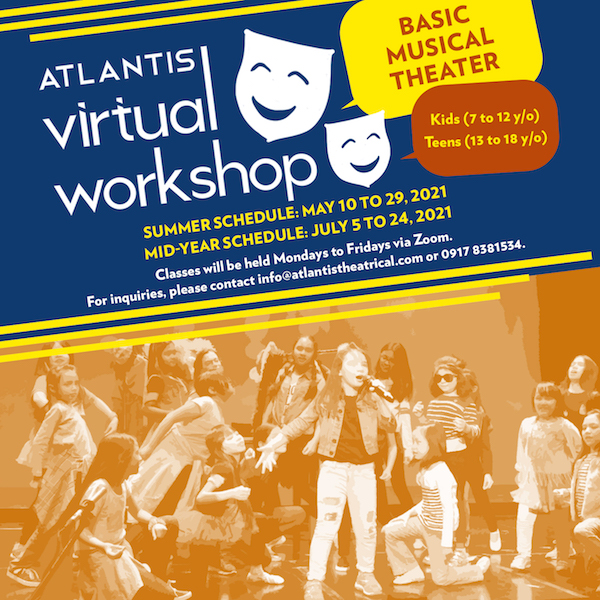 7. PETA Big Summer Break Online Workshop
PETA is offering online classes Children's Theater, Acting for Teens, Musical Theater for Teens, and Writing for Performance for Teens starting on May 24. You can register via www.bit.ly/PETAOnlineWorkshop or get in touch with Betita at 0929-891-9538, betitasarmiento@petatheater.com.