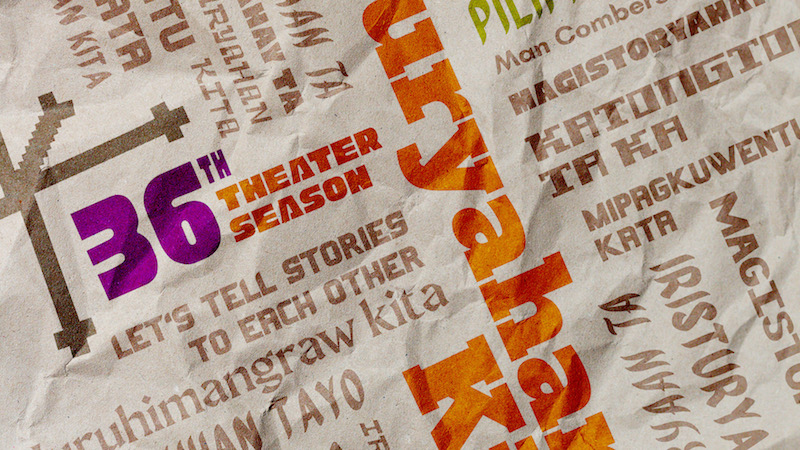 Tanghalang Pilipino Reveals 2022-2023 Season Line-up
Tanghalang Pilipino (TP) has just revealed its 36th Season Line-up. With the theme Isturyahanay Kita, which is Hiligaynon for a season of truth-telling, the company says that it will "…engage our audiences in a whole year of storytelling on and off the stage, about the historic past of our country and our people, our present struggles and challenges, and our fervent hopes for the future."
"We hope to include in our storytelling the admirable lives of our heroes, with special focus on the heroes from the regions who have unfairly remained unheralded and unknown, especially among the Filipino youth," they add. "Telling the true stories of our heroes, then and now, is a necessary prerequisite toward developing our genuine identity as a people. We need a sense of history. We must always remember our glorious past, but, we must never forget even the darkest chapters of our history."
Starting this year, The Virgin Labfest has officially become of Tanghalang Pilipino's line-up and is now considered the first production of its season.
The second production, which will run from September to October, is Anak Datu, a musical about the historic lives and struggles of Mindanao's Tausugs, based on a story written by National Artist Abdulmari Asia Imao in 1968 in anticipation of the birth of his first son, Abdulmari Jr. (Toym) Imao, amidst the backdrop of an escalating conflict and developing insurgency that led to the founding of the Moro National Liberation Front (MNLF).
Abdulmari hoped that the story would serve as a narrative that would give people a glimpse of the Moro culture along with his promotion of the contemporary form of the Sarimanok. Rody Vera writes the script, to be directed by Chris Millado, with music by Chino Toledo, production design by Toym Imao, lighting design by Katsch Catoy, sound design and engineering by TJ Ramos, costume design by John Carlo Pagunaling, projection design by GA Fallarme, photographer and graphic design by Paw Castillo, and choreography by a young Maranao artist, Hash Magarang.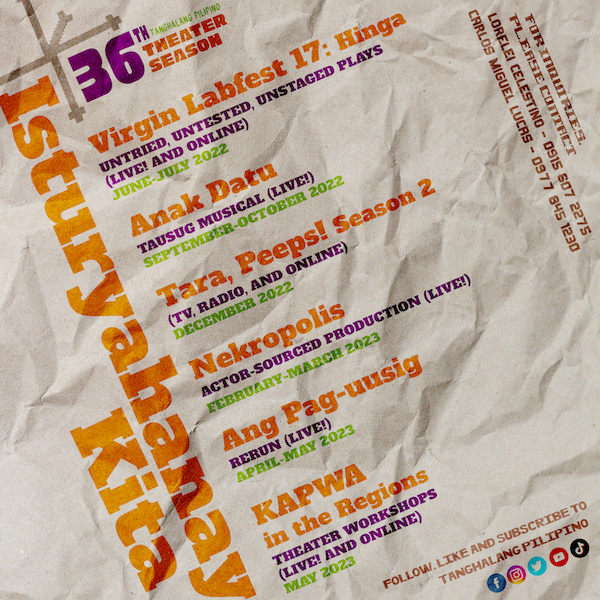 The second season of Tara Peeps, the new multimedia children's program by Tanghalang Pilipino and DZRH, will also continue to stream online this December. For this season, TP and DZRH agreed to prioritize the telling of stories of lesser known Filipino heroes of Philippine colonial history whose roots are from Mindanao, Visayas, and other parts of Luzon, like Amai Pakpak of Marawi, Datu Utto and Datu Ali of Cotabato, Leon Kilat of Cebu, Papa Isio of Negros, Bruna Fabrigar of Samar, Salud Algabre of Laguna, plus contemporary heroes, like Eman Lacaba, Edgar Jopson, Evelio Javier, Lorena Barros, and Macli-Ing Dulag. Resource persons for this TP-DZRH program are respected historians from Mindanao, Visayas, Luzon, and the National Capital Region.
TP's fourth offering for the season, which will be staged live from February to March 2023, is Nekropolis, a new play to be devised by Guelan Luarca and Charles Yee, with the TP Actors Company, through a collaborative process called dulambayanihan. The play explores and dramatizes Death as a political power, through enforced disappearances, extrajudicial killings, corruption, poverty, disinformation and the pandemic response.
The rerun of Ang Pag-uusig, as previously reported, will be the company's season finale and will run from April to May 2023. A Filipino translation by Dr. Jerry Respeto of the Tony Award-winning play The Crucible by Arthur Miller, this play was first produced by TP in its 31st season in 2017. Featuring the Tanghalang Pilipino Actors Company, Ang Pag-uusig tells the story of the effects of witch-hunting, or in our contemporary situation, red-tagging. 
There will also be a TP-evolved theater arts workshop approach called KAPWA (Kamalayang Pilipino Workshop in the Arts), which primarily aims not only to tap the artistic and creative potentials of the participants, but also to develop a deep sense of love of country and of culture and a nurturing compassion and love of others. This will be conducted starting in May 2023.
Comments