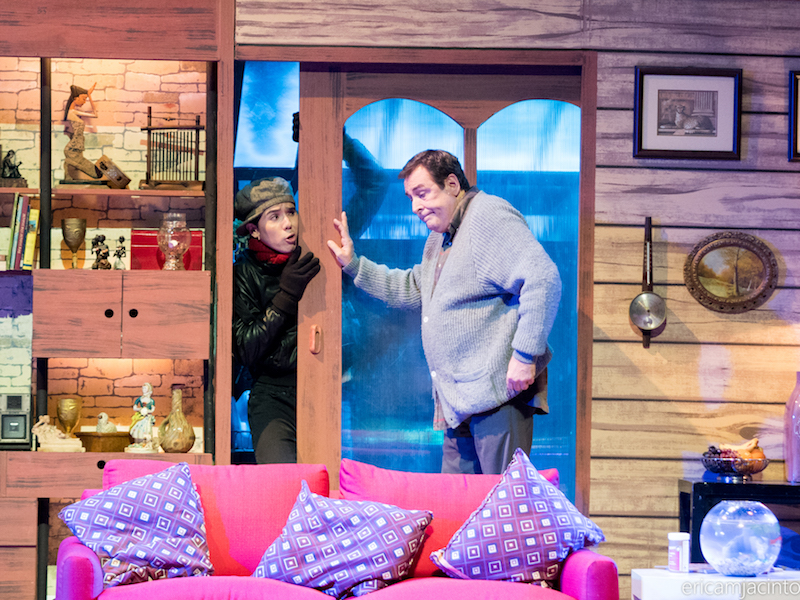 REVIEW: Unexpected Sexual tension and a metaphoric goldfish on "Father's Day"
It was like being the studio audience of a sitcom taping, minus the applause and laughter cues – we didn't need them.
Punch line after punch line was delivered in the one-room set of "Father's Day" (written by Eric Chappell), the directorial comeback of Repertory's Artistic Director Emeritus, Baby Barredo.
Featuring a very odd day in the life of the comical Willows family, it opens with a miser drinking scotch at a late hour. Henry (Miguel Faustmann) has no idea what the night has in store for him.
The crazy begins with a rap on the door, which turns out to be his estranged son, Matthew (Andres Borromeo). It's through him that we get an update on the other members of the family: mother Sue (Liesl Batucan), their blossoming young daughter, and her bed-wetting little brother.
While the reason for Matthew's return is yet unknown, we get a hint through Christine (Rachel Coates), the goth girlfriend he sneaks in. Madness ensues when Sue arrives, mum and dad rehash their fights, and it is revealed that 16-year-old Christine might be pregnant. Amidst all this, Matthew tries to "parent trap" Henry and Sue – a bizarre ploy that strangely works.
The sexual tension is palpable and draws hoots and whistles from the audience. While it is mildly uncomfortable to witness such intimacy between the two characters you'd imagine to be your own parents, it's undeniable that their budding re-romance has taken over the story.
With Act 2 opening with as much discomfort as there was comfort in the opening scene – Henry is sleeping on the couch while he lets Sue take his bed – we see how topsy-turvy this father's day has gone.
See, this wacky reunion wasn't just about getting the family back together. It was a re-education on fatherhood for Henry, who, by the end of the show, had done more parenting overnight than he had since Matthew was born.
Which brings us to the goldfish. Yes, there is a live goldfish on set, and Henry obviously has a better relationship with it than his son.
But Matthew, who has a thing against caged animals, later replaces the goldfish with a carrot. Henry keeps feeding it without noticing the change, telling us that he's a father who feels he's done right by his family by being a good provider. But learning about his wife's grievances and the man Matthew has become without him, gives him the wake-up call he needs to start over.
Faustmann does a brilliant job of playing this role. He smoothly transitions from grumpy old cheapskate in funny socks and a cardigan, to rejuvenated lover in a bright green polo, still with funny socks. He is utterly convincing and by all means is the star of the show.
Opposite him is Batucan, who plays your quintessential Tita (you know, the one who smuggles home shampoo bottles and cotton buds from hotels). Her comedic timing, expressions, and body language are impeccable; and on the opposite end of the emotional spectrum, you can almost feel her blood pressure rising whenever she spats with Henry.
Those fights got a little tiring though. A lot of the second act was an emotional pendulum swung between visits to memory lane and screaming matches.
It's at this point you should know that "Father's Day" was based on a TV show by the same writer. "Home to Roost" ran for 4 seasons, which may explain why the events of the play seem a little rushed and crammed in (hence the emotional pendulum).
It also doesn't help that the one-dimensional performance of Borromeo – lacking depth, varying line intonation, confidence, and emotion – prevents the audience from falling in love, or at least falling in step with his character. When Borromeo gets his groove on later in the show, he is quite funny and somehow makes up for lost time.
As for Christine, it's practically a non-speaking role. But Coates' mime skills are up to par; and the few lines she does deliver definitely hit the mark.
While the British references and expressions are sometimes hard to follow and the faltering British accents get a bit distracting, "Father's Day" tells a story that is universal – one Pinoys definitely understand. It is rife with dysfunction, drama, and well-placed humor, the show reminds us that family is family no matter what.
Tickets:

 Php 1,200.00 - Php 1,500.00 


Show Dates:

 Mar 22 '19, Mar 23 '19, Mar 24 '19, Mar 29 '19, Mar 30 '19, Mar 31 '19, Apr 5 '19, Apr 6 '19, Apr 7 '19, Apr 12 '19, Apr 13 '19, Apr 14 '19


Venue:

 Onstage Theater, Greenbelt 1, Paseo De Roxas, Makati 


Running Time: 

 Approx. 2 hours (includes a 15 minute intermission)


Credits:

 Baby Barredo (Director), Liesl Batucan (Asst. Director), Miguel Faustmann (Set Designer), John Batalla (Lighting Designer), Arvy Dimaculangan (Sound Designer), Adul Lassin (Scenic Artist), Ely Maalat (Hair, Make-up Artist)


Cast:

 Miguel Faustmann, Andres Borromeo, Liesl Batucan, Rachel Coates, Becca Coates


Company:

 Repertory Philippines
Comments