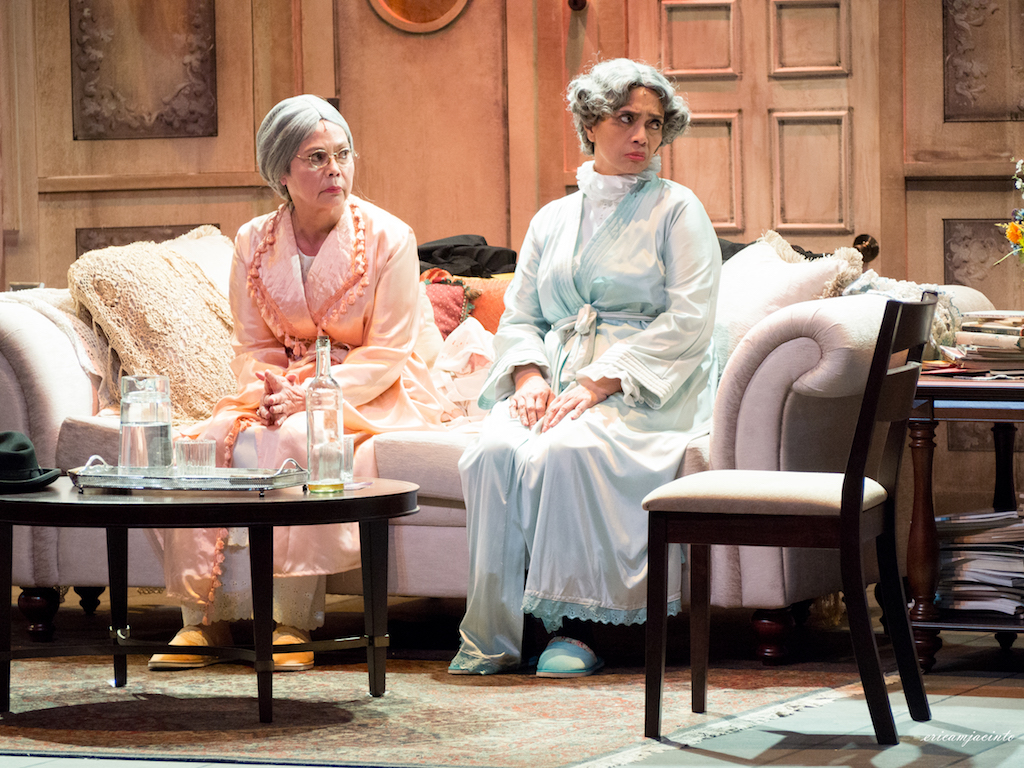 REVIEW: Moderate laughs in dark comedy "Arsenic and Old Lace"
Boris Karloff was the original Frankenstein's "monster". The square head with the unibrow and the bolts sticking out the sides of his face? That was Boris Karloff. I only mention this because Karloff is a running joke in Joseph Kesserling's "Arsenic and Old Lace" (the dark comedy currently running at OnStage Theater, helmed by first-time director Jamie Wilson) and it might explain why Apollo Abraham, playing Jonathan Brewster, is made-up to look like a cross between a mob boss and, well, Frankenstein's monster.
This is only one of the many ways that the material, written in 1939, is showing its age. There's plenty of references to American arts, culture, and politics of that time and for Filipino audiences in 2018, I would say these references are more than a little obscure. There's even a character–played by Jeremy Domingo–who thinks he's Teddy Roosevelt. Fortunately, Domingo hams it up best he could, that audiences would still get a few good chuckles regardless of how familiar they may be with this American historical figure.
The premise of the story is in itself funny, if morbid: two docile, eccentric old ladies living in an old house are discovered by their nephew, Mortimer (Nel Gomez), to be casual murderers–offering elderberry wine laced with arsenic to unsuspecting, lonely old men and afterwards burying them in the basement. Joy Virata and Jay Valencia-Glorioso play these sweet old ladies to a fair degree of believability (conspicuous blunders during opening night aside). They're matter-of-fact in describing their crime, oblivious to implications of evil, and confident that the police won't pry into their personal business on the matter of propriety.
On the night Mortimer discovers his aunts' odd hobby via a dead body in the window seat, his estranged goon of a brother comes back with a henchman and a dead body of his own. It all takes place in the dingy living room (set design by Denis Lagdameo) that had the markings of a home that was once illustrious, but now had dirty, weathered walls.
It's a silly little show that says very little about anything relevant or of note. I suppose it doesn't have to, and comedy for comedy's sake is a worthy undertaking, too. But, if the only goal is to make 'em laugh, the timing has to be impeccable and the jokes have to be relatable to its current audience–both crucial elements in short supply for this production.
Ah, but Nel Gomez. He showed great ease and ability in playing the straight man, Mortimer Brewster, in this farce. Kesserling's words just roll off his tongue, and his panicked incredulity at discovering his family's secrets was a welcomed livewire as scenes plodded along. Playing Jonathan Brewster's pal, Robbie Guevara committed to a very specific characterization for Dr. Einstein and to great comedic effect (reminiscent of Gru from Despicable Me). Their performances stood out in the largely middling show.
Playing multiple characters were Steven Conde and Gabe Mercado. Where Conde made sure his three roles were different from each other, Mercado's Lt. Rooney and Rev. Dr. Harper were so indistinguishable from each other, it might have served the storytelling better to cast a different actor for each role.
A play in two acts, the first whizzed by while the second felt needlessly long, with multiple false endings that gets a little wearing. Some old relics of theater are necessary to restage as new generations of theater-goers fill the seats, but perhaps not all of them.
Comments