In a break from their long tradition of staging foreign imports, Repertory Philippines is trying their hand at original productions starting with 'Miong', an Emilio Aguinaldo origin story. This Joy Virata-penned musical is a calculated retelling of Aguinaldo's story, focusing on moments that lend itself well to musical overtures: his Spanish-era education, his love story, his internal indecisions–and little else.
It is largely made up of memorable lyrics set to music (by Ian Monsod) reminiscent of Disney fares. Scenes linger on soliloquies, only to briskly shift into the next, not giving enough time for the plot to breathe. It's almost storytelling in vignettes: one moment he's lamenting on parental expectations, and then he's singing a happy tune about afternoons in San Bartolome.
Indeed, before one knows it, the first act is over with nary a conflict; a mere introduction to Aguinaldo's early days. The second act, in contrast, felt like just a couple of overlong sequences: Aguinaldo's wedding shifts into battle and Virata's lyrics here turn away from catchy choruses to a sung-thru battle scene that is pivotal and yet lamentably unmemorable. The show finally culminates into a rousing finale, complete with the newly-minted Philippine flag meant to conjure patriotism.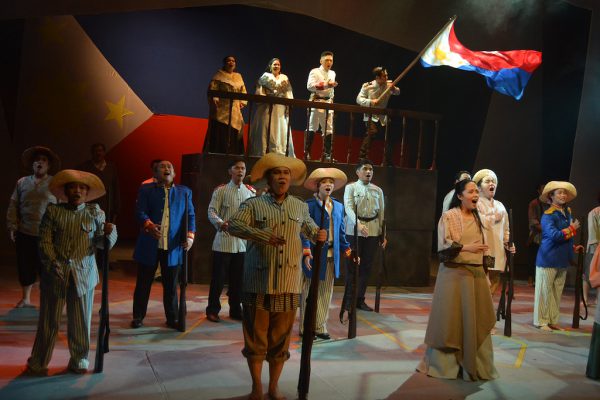 Virata's direction, however, is full and vibrant, with Dexter Santos's choreography (with co-choreographer Stephen Viñas) giving the show a lively energy for big ensemble numbers. Dennis Marasigan's set does a lot with little, shifting from a barrio in Cavite to a balcony's facade by adding a platform or two. Bonsai Cielo's costumes of turn-of-the-century Filipina beautifully adds period to the piece, too.
Tim Pavino's Miong is easy to root for with the clean-cut, well-groomed look of his character. But his youthful aura played up his character's indecisiveness, and how things seemed to happen to him without his express actions. In this musical, the very first President of our republic, is not so much a leader as he was an instrument, of his mother, and later on, the groups he subscribes to. Pavino's personal charm aside, every character seemed a stronger presence narratively.
The portrait of Emilio Aguinaldo this musical tries to paint isn't clear, nor are the historical moments or implications of his life and his decisions. It's a show that treads shallow waters, distilling any complexity Aguinaldo's life or politics may have had into a people-pleasing musical.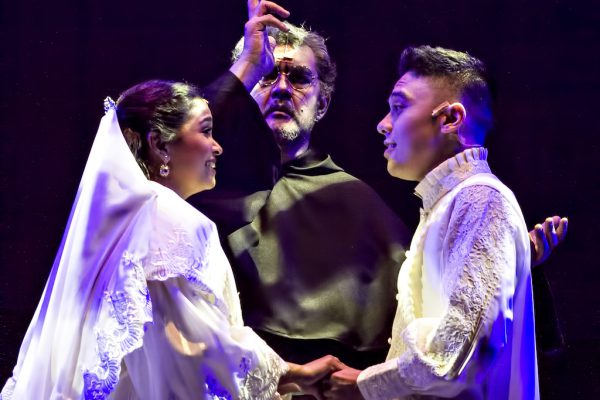 That this is an original work is the biggest risk Miong takes. It's still in plain English, like all of Rep's shows in over 50 years. And while Virata shows a deft hand at engaging staging, she largely keeps it light, even when her plot is showing oppression and the seismic shift of our people's freedom from the Spaniards. Miong as a result, isn't so much historical as it is parabolic– a simplification of a complex life to serve up a patriotic moral.
Tickets:

 Php 1,000.00 - Php 1,500.00


Show Dates:

 Feb 15, '19, Feb 16 '19, Feb 17 '19, Feb 22 '19, Feb 23 '19, Feb 24 '19, Mar 1 '19, Mar 2 '19, Mar 3 '19, Mar 8 '19, Mar 9 ' 19, Mar 10 '19


Venue:

 Onstage Theater, Greenbelt 1, Paseo De Roxas, Makati


Running Time: 

approx 2 hrs (w/ 15 minute intermission)


Credits:

 Joy Virata (book, lyrics, direction), Ian Monsod (music), Freddie Santos (additional lyrics), Ejay Yatco (musical director), Dexter M. Santos (choreographer), Stephen Viñas (co-choreographer), Dennis Marasigan (set designer), Bonsai Cielo (costume designer), John Batalla (lighting designer), Winter David (video designer), Arvy Dimaculangan (sound designer), Adul Lassin (scenic artist)


Cast:

 Tim Pavino, Noel Rayos, Cara Barredo, Meynard Peñolosa, Elver Esquivel, Lali Ligot, Kuya Manzano, Arion Sanchez, Eizel Marcelo, Michael Musa, Ian Hermogenes, Franco Ramos, Sean Kevin Inocencio, Dwight Vito Cruz, Aixia Mallary, Ber Reyes, Bianca Mauricio, Czar Decena, Dave Corpin, Janine Tolentino, Jerome Fugoso, Kenny Isidro, Kevin Guiman, Laui Guico, Matthew Barbers, Mica Fajardo, Moira Lozada, Naths Everett, Nicky Triviño, Paula Paguio, Steven Hotchkiss, VJ Cortel


Company:

 Repertory Philippines