Now on its 11th year, the Philstage Gawad Buhay Awards is the country's first-ever industry awards exclusive to the performing arts.
Shows from theater companies who are members of Philstage are eligible for the awards. For this year, the members are: 9 Works Theatrical, Actor's Actors Inc., Full House Theater Company (Resorts World Manila), Gantimpala Theater Foundation, PETA, Philippine Opera Company, Repertory Philippines, Red Turnip Theater, Stages, Tanghalang Pilipino, and Trumpets.
The awarding ceremony was held at Onstage Theater in Greenbelt, hosted by Kakai Bautista and Carlo Orosa.
WATCH: Performances from 11th Gawad Buhay Awards
The Sandbox Collective and 9 Works Theatrical's "Himala: Isang Musikal" won the most awards with 8, followed by 9 Works Theatrical and Globe Live's "Eto na! Musikal nAPO!" with 5. Dance icon and teacher Felicitas 'Tita' Radaic and Head of the National Drama Committee of the Philippine National Commission for Culture and the Arts Lutgardo Labad were the recipients of the Natatanging Gawad Buhay Lifetime Achievement Award for their contributions to the field.
Chosen by an independent jury, here are the winners of this year's Gawad Buhay Awards:
Outstanding Original Book
Robbie Guevara, "Eto Na! Musikal nAPO!" (9 Works Theatrical and Globe Live)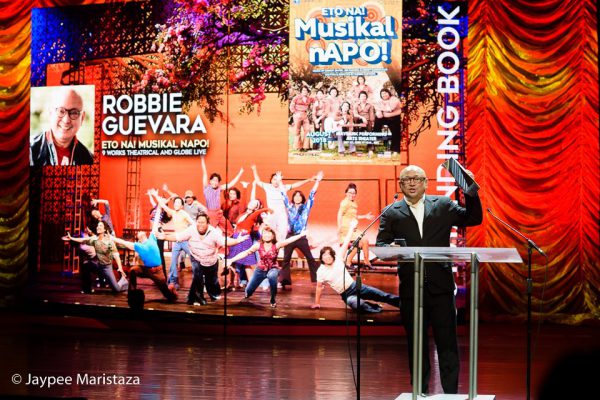 Outstanding Translation or Adaptation
Ian Lomongo, "'night, Mother" (Philippine Educational Theater Association)
Rody Vera, "Manila Notes" (Tanghalang Pilipino)
Outstanding Choreography for a Play or Musical
Dexter Santos, "Ang Huling El Bimbo" (Full House Theater Company)
PJ Rebullida, "Eto Na! Musikal nAPO!" (9 Works Theatrical and Globe Live)
Outstanding Musical Direction
Myke Salomon, "Ang Huling El Bimbo" (Full House Theater Company)
Daniel Bartolome, "Eto Na! Musikal nAPO!" (9 Works Theatrical and Globe Live)
Vincent de Jesus, "Himala: Isang Musikal" (The Sandbox Collective / 9 Works Theatrical)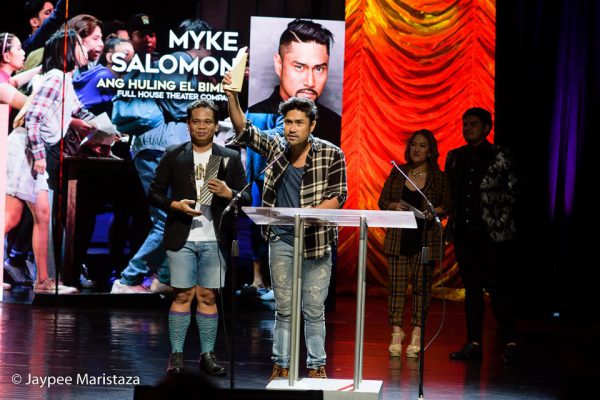 Outstanding Costume Design
Carlo Pagunaling, "Himala: Isang Musikal" (The Sandbox Collective / 9 Works Theatrical)
Joey Mendoza, "A Doll's House, part 2" (Red Turnip Theater)
Joey Mendoza, "Silent Sky" (Repertory Philippines)
Raven Ong, "Rapunzel! Rapunzel! A Very Hairy Fairy Tale" (Repertory Philippines)
Eric Pineda, "Eto Na! Musikal nAPO!" (9 Works Theatrical and Globe Live)
Outstanding Lighting Design
Barbie Tan-Tiongco, "Himala: Isang Musikal" (The Sandbox Collective / 9 Works Theatrical)
John Batalla, "Balag at Angud" (Tanghalang Pilipino)
John Batalla, "Silent Sky" (Repertory Philippines)
Monino Duque, "Ang Huling El Bimbo" (Full House Theater Company)
Miggy Panganiban, "Lungs" (The Sandbox Collective / 9 Works Theatrical)
Outstanding Sound Design
Rards Corpus, "Eto Na! Musikal nAPO!" (9 Works Theatrical and Globe Live)
Rards Corpus, "Ang Huling El Bimbo" (Full House Theater Company)
Jethro Joaquin, "Silent Sky" (Repertory Philippines)
TJ Ramos, "'night, Mother" (Philippine Educational Theater Association)
Outstanding Set Design
Ed Lacson Jr., "Himala: Isang Musikal" (The Sandbox Collective / 9 Works Theatrical)
Jodee Aguillon, "Lungs" (The Sandbox Collective / 9 Works Theatrical)
Gino Gonzales, "Ang Huling El Bimbo" (Full House Theater Company)
Joey Mendoza, "Silent Sky" (Repertory Philippines)
Ben Padero, "'night, Mother" (Philippine Educational Theater Association)
Female Featured Performance in a Play
Sheila Francisco, "A Doll's House, part 2" (Red Turnip Theater)
Caisa Borromeo, "Silent Sky" (Repertory Philippines)
Sheila Francisco, "Silent Sky" (Repertory Philippines)
Issa Litton, "A Comedy of Tenors" (Repertory Philippines)
Elle Velasco, "Manila Notes" (Tanghalang Pilipino)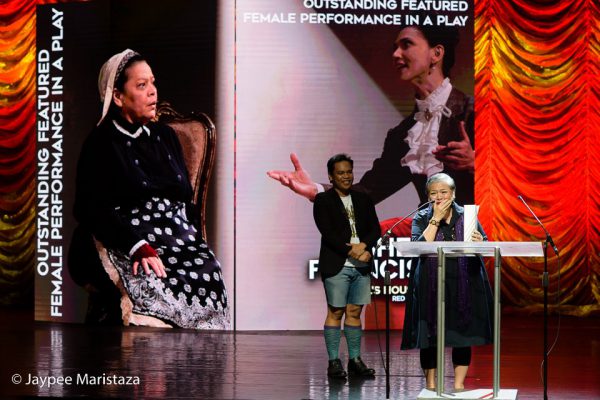 Male Lead Performance in a Play
Carlitos Siguion-Reyna, "A Doll's House, part 2" (Red Turnip Theater)
Jake Cuenca, "Lungs" (The Sandbox Collective / 9 Works Theatrical)
Lorenz Martinez, "A Comedy of Tenors" (Repertory Philippines)
Gabs Santos, "Lungs" (The Sandbox Collective / 9 Works Theatrical)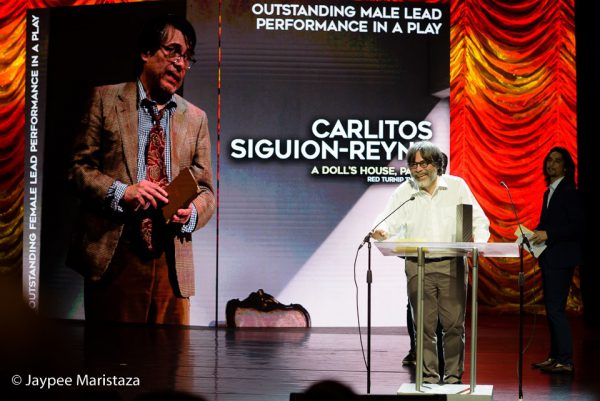 Female Lead Performance in a Play
Sherry Lara, "'night, Mother" (Philippine Educational Theater Association)
Cathy Azanza-Dy, "Silent Sky" (Repertory Philippines)
Meann Espinosa, "Manila Notes" (Tanghalang Pilipino)
Sab Jose, "Lungs" (The Sandbox Collective / 9 Works Theatrical)
Menchu Lauchengco-Yulo, "A Doll's House, part 2" (Red Turnip Theater)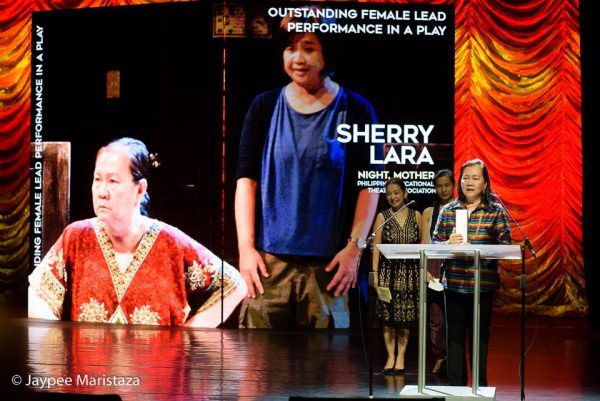 Male Featured Performance in a Musical
Jon Abella, "Eto Na! Musikal nAPO!" (9 Works Theatrical and Globe Live)
Steven Hotchkiss, "Rapunzel! Rapunzel! A Very Hairy Fairy Tale" (Repertory Philippines)
Sandino Martin, "Himala: Isang Musikal" (The Sandbox Collective / 9 Works Theatrical)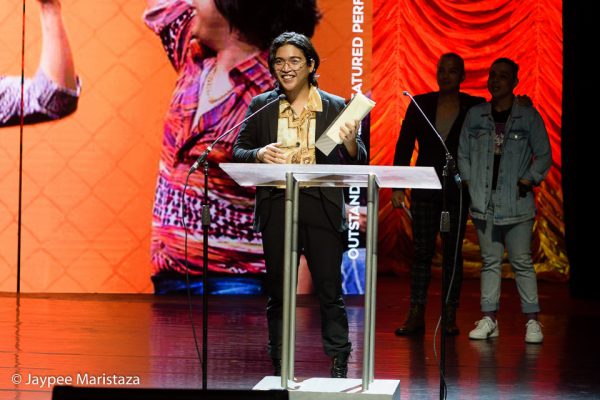 Female Featured Performance in a Musical
Bituin Escalante, "Himala: Isang Musikal" (The Sandbox Collective / 9 Works Theatrical)
Sheila Francisco, "Ang Huling El Bimbo" (Full House Theater Company)
Neomi Gonzales, "Himala: Isang Musikal" (The Sandbox Collective / 9 Works Theatrical)
Carla Guevara Laforteza, "Rapunzel! Rapunzel! A Very Hairy Fairy Tale" (Repertory Philippines)
Kakki Teodoro, "Himala: Isang Musikal" (The Sandbox Collective / 9 Works Theatrical)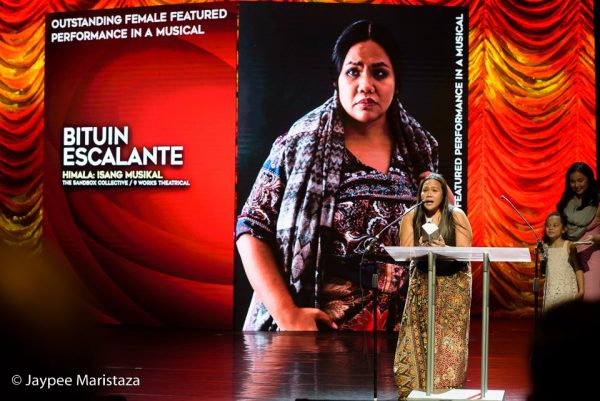 Male Lead Performance in a Musical
Jobim Javier, "Eto Na, Musikal nAPO" (9 Works Theatrical and Globe Live)
Reb Atadero, "Ang Huling El Bimbo" (Full House Theater Company)
Alfritz Blanche, "Eto Na, Musikal nAPO" (9 Works Theatrical and Globe Live)
Boo Gabunada, "Ang Huling El Bimbo" (Full House Theater Company)
Gian Magdangal, "Ang Huling El Bimbo" (Full House Theater Company)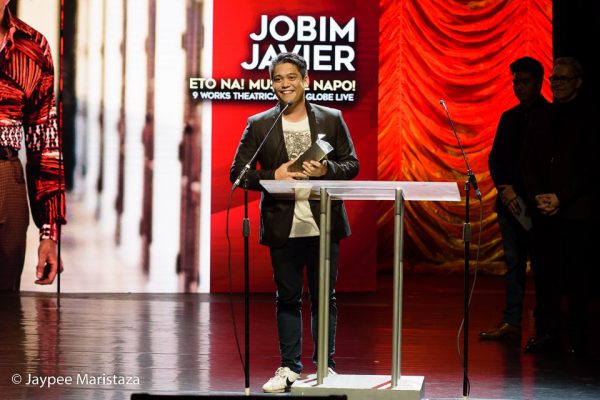 Female Lead Performance in a Musical
Aicelle Santos, "Himala: Isang Musikal" (The Sandbox Collective / 9 Works Theatrical)
Tanya Manalang, "Ang Huling El Bimbo" (Full House Theater Company)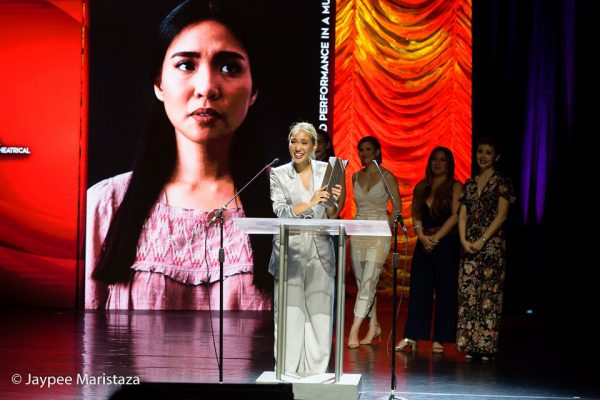 Outstanding Ensemble Performance for a Play
"Manila Notes" (Tanghalang Pilipino)
"A Doll's House, part 2" (Red Turnip Theater)
"Silent Sky" (Repertory Philippines)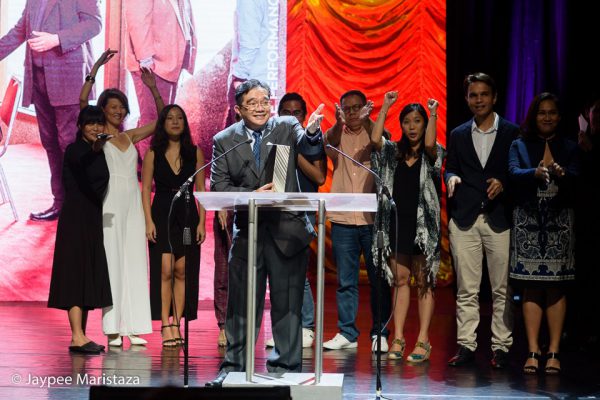 Outstanding Ensemble Performance for a Musical
"Himala: Isang Musikal" (The Sandbox Collective / 9 Works Theatrical)
"Ang Huling El Bimbo" (Full House Theater Company)
"Eto Na! Musikal nAPO!" (9 Works Theatrical and Globe Live)
"Rapunzel! Rapunzel! A Very Hairy Fairy Tale" (Repertory Philippines)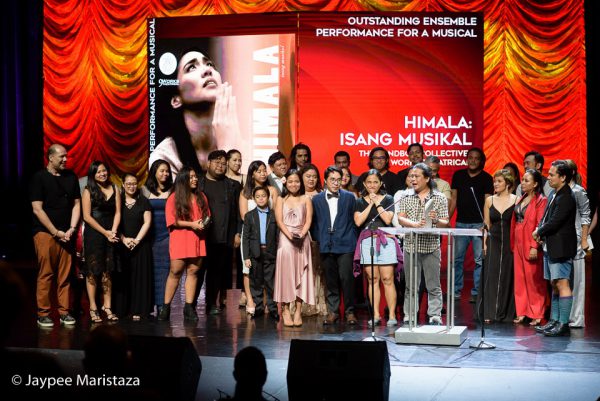 Outstanding Stage Direction for a Play
Cris Villonco, "A Doll's House, part 2" (Red Turnip Theater)
Oriza Hirata, "Manila Notes" (Tanghalang Pilipino)
Melvin Lee, "'night, Mother" (Philippine Educational Theater Association)
Andrei Pamintuan, "Lungs" (The Sandbox Collective / 9 Works Theatrical)
Joy Virata, "Silent Sky" (Repertory Philippines)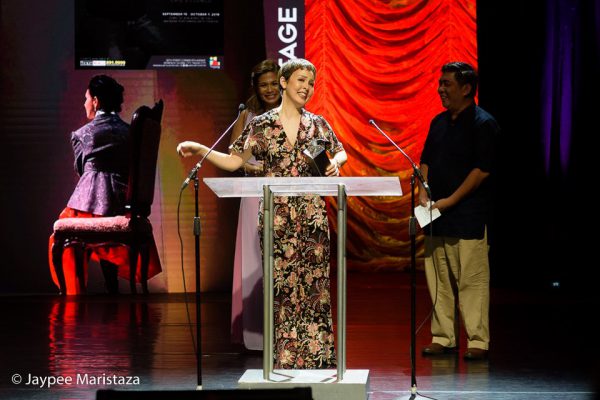 Outstanding Stage Direction for a Musical
Ed Lacson Jr., "Himala: Isang Musikal" (The Sandbox Collective / 9 Works Theatrical)
Robbie Guevara, "Eto Na! Musikal nAPO!" (9 Works Theatrical and Globe Live)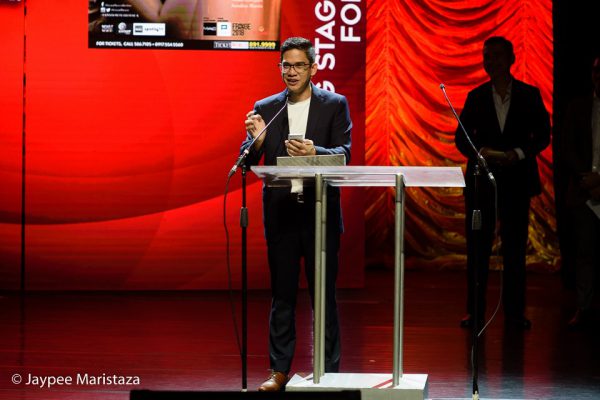 Outstanding Production of Existing Material for a Play
"A Doll's House, part 2" (Red Turnip Theater)
"Lungs" (The Sandbox Collective)
"Silent Sky" (Repertory Philippines)
Outstanding Production of Existing Material for a Musical
"Himala: Isang Musikal" (The Sandbox Collective / 9 Works Theatrical)
Outstanding Play – Original or Translation / Adaptation
"'night, Mother" (Philippine Educational Theater Association)
"Manila Notes" (Tanghalang Pilipino)
Outstanding Musical – Original or Translation / Adaptation
"Eto Na! Musikal nAPO!" (9 Works Theatrical and Globe Live)
"Ang Huling El Bimbo" (Full House Theater Company)