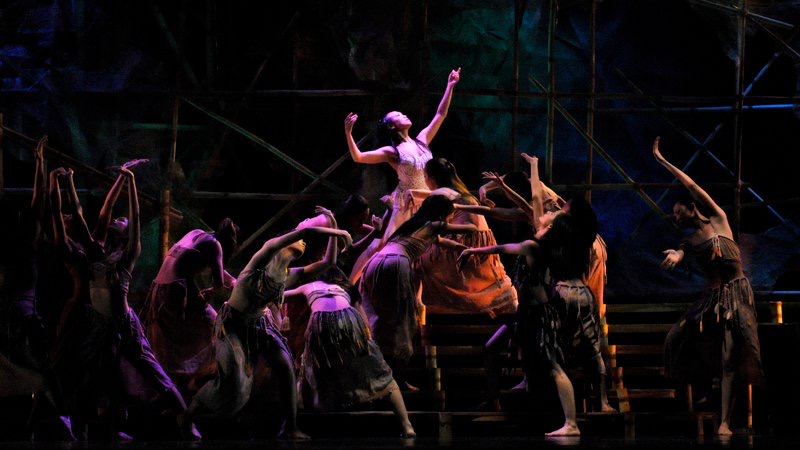 'Encantada' by Agnes Locsin Returns to the Stage this April
National Artist for Dance Agnes Locsin's Encantada is set to return to the stage this April in two separate theaters– at the Samsung Performing Arts Theater from April 14-15, and at the Metropolitan Theater from April 21-22.
A collaboration with Joey Ayala for music, Al Santos for the libretto, and National Artist Salvador Bernal for production design, Encantada features the artists of the Cultural Center of the Philippines' Professional Artist Support Program and Alice Reyes Dance Philippines (ARDP). It is a showcase of Locsin's Neo-Ethnic Dance Style as she explores Filipino folklore, history, and culture, while at the same time bringing awareness to the consequences of man's destruction of nature. The dance production premiered in February 1992.
"Agnes Locsin's Encantada is not just dance for the sake of dancing, but in truth it stands on solid research where Philippine history, folk religion, traditions, and practices are painted into the creation of the whole," says ARDP President Tats Manahan. "Adding to that, this showcases the uniqueness of her movements which she herself conceived in creating her own dance genre – the neo-ethnic style. Thematically, she touches on women's issues and most especially, the destruction of the environment; issues that are relevant to this day, 31 years after she conceived this masterpiece. It's well worth a re-staging as well as a re-watching. Its a learning curve for the younger generation."

Drawing inspira­tion from Philippine tribal dances, practices, beliefs, and stories, Locsin reworked and reinterpreted these into the frame­work of existing classical ballet and modern dance techniques, resulting in a unique dance form suited for the Filipino's physical frame, temperament, and culture. 
Presented by the Metropolitan Theater, the Cultural Center of the Philippines, and Carmen D. Locsin Foundation, the production was last staged in 2011, garnering 10 Gawad Buhay Awards, including Best Modern Dance Production, Best Choreography, Best Musical Composition, Best Production Design, and Best Lighting Design by John Batalla who returns to light the 2023 production. 
Other citations include Georgette Sanchez-Vargas for Female Lead Performance and Carissa Adea for Female Featured Performance. Both of them will reprise their roles for the current 2023 production.
Also joining the cast is Kris-Belle Paclibar-Mamangun, an acclaimed Filipino Dancer and former member of Cirque du Soleil, who will be alternating the role of Babaylan with Carissa Adea.

Show Schedule:
April 14, 2023 | Friday | 7:30 PM | Samsung Performing Arts Theater*
April 15, 2023 | Saturday | 2:00 PM | Samsung Performing Arts Theater
April 15, 2023 | Saturday | 7:30 PM | Samsung Performing Arts Theater*
April 21, 2023 | Friday | 7:30 PM | Metropolitan Theater*
April 22, 2023 | Saturday | 2:00 PM | Metropolitan Theater
April 22, 2023 | Saturday | 7:30 PM | Metropolitan Theater*
*With live music performed by Joey Ayala and Ang Bagong Lumad with Bayang Barrios.
Encantada is the first show to be staged in ARDP's 2023 season line-up.

Alice Reyes Dance Philippines (ARDP) is the newest addition to the Filipino dance scene, born out of the need to give displaced artists a home during the pandemic. Founded by National Artist for Dance, Alice Reyes, the company features a breadth of Filipino Works by National Artists and top Filipino choreographers and showcases the best in Filipino dancers and talents for the local and world stages.
For season subscriptions and ticket reservations, email ardancephilippinesinc@gmail.com. For more information, check @ARDancePh on Facebook, Instagram, and TikTok.
Comments