Five national artists come together for the upcoming re-staging of Ballet Philippines' Rama, Hari.
The production is a collaboration with Ballet Philippines Founder and Artistic Director Alice Reyes (National Artist for Dance), Ryan Cayabyab (National Artist for Music), Bienvenido Lumbera (National Artist for Literature), the late Salvador Bernal (National Artist for Theater Design), and the late Rolando Tinio (National Artist for Theater and Literature).
Rama, Hari is an ancient Sanskrit epic that follows Rama in his pursuit to rescue his wife Sita from Ravana. Through the help of an army of monkeys, Rama sets out to save his beloved and reclaim the throne that rightfully belongs to him.
Rama, Hari is Ballet Philippine's fifth and final production for its 50th Golden Season. Reyes says, "This rock opera interpretation translates Rama, Hari into very human and contemporary terms."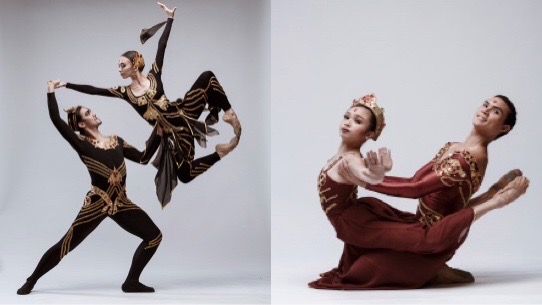 Inspired by the Ramayana, the production premiered in February 1980 for the company's 10th season and in November in the same year for its 11th season. It was produced once more in 1983 for its 30th season and in 2012 for its 43rd season, the latter featuring Christian Bautista alternating with OJ Mariano as Rama, and Karylle alternating with Kalila Aguilos as Sita.
The musical theater cast this year, who will be performing alongside Ballet Philippines' company of dancers, will feature Gian Magdangal alternating with David Ezra as Rama, Aicelle Santos alternating with Shiela Valderrama-Martinez as Sita, Poppert Bernadas alternating with Nar Cabico as Ravana, Jimmy Marquez alternating with Kakki Teodoro as Soorpanakha/ Kooni, Sweet Plantado Tiongson alternating with Celine Fabie as Kaikeyi, Audie Gemora as King Dasaratha/ Lakshmana, and singer, dancer, and choreographer Brezhnev Larlar as Hanuman. They will be joined by the Ryan Cayabyan Singers, the PWU Indayog Gong Ensemble, and the ABS-CBN Philharmonic Orchestra.
Rama, Hari will run on March 20 (8pm), 21 (2pm and 7pm), 22 (2pm), 27 (7pm), 28 (2pm and 7pm), and 29 (2pm).
You can buy tickets HERE.