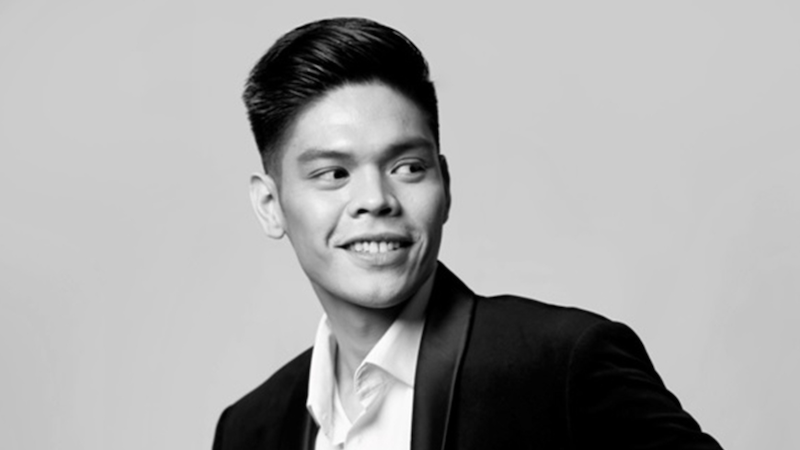 Arman Ferrer to Stage Solo 'Triple Threats' Concert this November
Arman Ferrer, who most recently played the titular role in the MET's streaming production of Lapulapu, Ang Datu ng Mactan, will be mounting a solo concert at the CCP Black Box Theater this November.
Entitled All of Me, Ferrer is the second performer in this year's Triple Threat Concert series, preceded by Markki Stroem in October and succeeded by Poppert Bernadas in December.
Apart from Lapulapu, Ferrer has had a significant number of roles since beginning his musical theater career in 2010– Beadle in Sweeney Todd (Atlantis, 2019, a member of The Drifters in Beautiful: The Carole King Musical (Atlantis Theatrical, 2019), Luis in Guadalupe: The Musical (Julia Borromeo Productions, 2018), Jake in Side Show (Atlantis Theatrical, 2018), Ah-Tiong in Binondo: A Tsinoy Musical (Synergy 88 Digital, 2018), Carlo Nucci in A Comedy of Tenors (REP, 2018), Julio Madiaga in Maynila sa mga Kuko ng Liwanag (Gantimpala Theater, 2017), Fred in A Christmas Carol (9 Works Theatrical, 2016), Emilio Aguinaldo in Mabining Mandirigma (Tanghalang Pilipino, 2016), Emilio Jacinto in San Andreas B (Tanghalang Pilipino, 2013), Tenyong in Walang Sugat (Tanghalang Pilipino, 2012 and Tanghalang Ateneo, 2010), and Crisostomo Ibarra in Noli Me Tangere: The Opera (Dulaang UP, 2012). He was also a featured performer in Daluyong ng Diwa at the Dubai Expo 2022 and in the recently staged CCP Anniversary concert, Musikal II.

The upcoming concert will be directed by Floy Quintos, with special guest performers Shiela Valderrama-Martinez, Carla Guevara Laforteza, Byeongin Park, The Company, and The Ateneo Chamber Singers. When asked about what audiences can expect from the show, Ferrer says, "The title of the concert is All of Me, which means I will be showcasing everything that I have– my heart, my music." Ferrer is a classically-trained singer who trained in classical music at UP Diliman's College of Music. "As you can see, black and white iyung picture ko doon [sa poster], representing the classical world, so there will be classical excerpts there." 
"And then of course, we're performing in the Cultural Center of the Philippines so hindi mawawala ang may culture at iyung relevance ng mga piyesa ko. So it's not all musical theater, there's Broadway of course, but there are also songs of inspiration, songs about our country, and lahat lahat, kaya siya tinawag na All of Me. 
He adds, "To be granted a solo concert [at the CCP], it's an honor because you know, College of Music, kapag doon ka galing, kapag estudyante ka, ang sinasabi sa iyo ng mga professors mo, na kapag kumanta ka na sa CCP, you've made it. So medyo may ganung feeling kasi, kumbaga, sa opera world, this is the A-house for opera and classical music, so if you perform in it, nagawa mo na.
The Triple Threats concert series started in 2013 with the title Triple Threats: Leading Men and Women in Philippine Musical Theater, which featured solo concerts by Nonie Buencamino, Audie Gemora, and Menchu Lauchengco-Yulo. It was followed in 2014 with the same theme, featuring Sheila Francisco, Michael Williams, and Bituin Escalante. In 2015, the title was changed to Triple Threats: Composers, which was headlined by Jesse Lucas, Vincent de Jesus, and Rony Fortich.
It was succeeded by Triple Threats: The Ensemble in 2016, which featured 8 of the country's fresh-faced triple threats from the English musical theater scene: Nacho Tambunting, Kyla Rivera, George Schulze, Maronne Cruz, Steven Hotchkiss, Abi Sulit, Vince Lim, and Chinie Concepcion. Special guests included Carla Guevara Laforteza, Shiela Valderrama-Martinez, Jay Valencia Glorioso, Sweet Plantado Tiongson, Lani Mabilangan Ligot, Lorenz Martinez, Joaquin Pedro Valdes, and Audie Gemora.
In 2018, the series featured musical theater couples– Juliene Mendoza and Stella Cañete Mendoza, Robert Seña and Isay Alvarez Seña, and Franco Laurel and Ayen Munji-Laurel.

Arman Ferrer's solo concert will be staged on November 18, 7:30 at the CCP Black Box Theater. You can watch the three tenors Markki Stroem, Arman Ferrer, and Poppert Bernadas perform a song from their concerts below.

Comments